We all have that one friend who has a creepily messed up toe. You know, the guy that you ask to bust it out when conversation can't stay fueled during an evening of hanging out. For some of us, that guy is our uncle. That uncle that you see once a year around Christmas time and he'll pull his socks off and show you his messed up toe against your will.
Well, unfortunately for all of us, there is an NFL Network analyst with the same problem.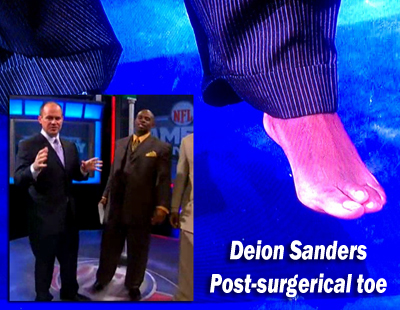 Meet Deion Sanders.
You know, the former two professional sport athlete who gave himself the nickname, "Prime Time." Well, for those who pay good money to get the NFL Network were able to get the inside coverage from the former Pro Bowler. And by "inside coverage," I mean, "inside of his shoes and socks coverage." Deion went barefoot to share his messed up toe with the world.
This little piggie went to the market.
This little piggie stayed home.
This little piggie ate roast beef.
This little piggie had none.
And this little piggie didn't fit in with the rest of the little piggies. Probably mainly because it's a freak and is pointing at you no matter where you are standing.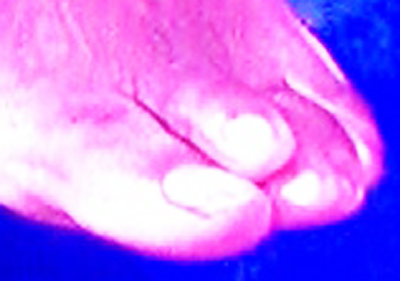 I could write here a joke about Rex Ryan and his foot fetish, but those jokes by now have proven to be over played. So instead, I'll take this route…
If the whole NFL analyst thing doesn't work out for Deion (which if he keeps taking off his shoe on national TV, it probably won't), his foot could definitely help him get a job in Hollywood. I know of a few movies that Deion (or at least his toe) would be able to land easily. Like the trash compactor monster from Star Wars Episode IV: A New Hope…
Moral Of This Post: Next time you go to your doctor for basic foot surgery, make sure your toes aren't looking back at you when you leave the hospital. If you question whether or not your foot is messed up, you'll know the answer when you try and put on a sock.
Both Foot Photos Courtesy Of: Sports By Brooks