St. Louis is good at a lot of things. A LOT of things. Having good baseball teams, being the gateway to the west for the rest of our country, toasted ravioli, and producing cheek band-aid enthusiast rappers are just a few of the things at which their town is good. However, nowhere on that list is football. At least it hasn't been since Bill Belichick filmed their Super Bowl XXXVI walk-thru.
Although after the NFC West was won (pun intended) with only 7 wins last year, and having the best Native American to walk the grounds of St. Louis since Sacajawea at quarterback, the Rams feel pretty optimistic about this season.
However, we're a long way removed from Super Bowl XXXVI. Rams fans have forgotten their glory days. Heck, there was a point where they even forgot they had a football team. But no more. The football buzz is almost completely back. (Just wait till baseball season is completely over. And wait until the buzz of the beginning of hockey season dies down. And THEN the football buzz will be back. …If the Rams still have a shot at the playoffs.)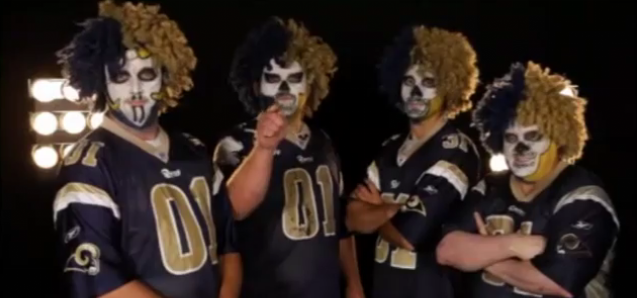 Gone are the days of the "rah, rah, sis koom bah!" cheers. St. Louis wants to have the loudest stadium in the NFL. The only thing that will help them to claim that title, other than a miracle, is a video teaching their fans how to cheer.
Here is that video:
Here are the Ram Rules listed:
Ram Rule 1: When the Rams Offense is at work at the line, shhhhh!
This rule shouldn't be that difficult for Rams fans. They were already pretty quiet (hence this video being made) and there is not a whole lot to cheer for in the Rams' offense anyway.
Ram Rule 2: Every first down for the Rams, the announcer says, "St. Louis, you scream" FIRST DOWN!
You might want to practice this rule at home in front of the mirror. Have a friend act as the PA announcer saying, "St. Louis you scream…" You'll want to have this cheer perfected for both times it happens.
Ram Rule 3: On 3rd down, let's help our Rams by making some NOISE! YAHH!
In the video, Elvis says, "I can't hear you." Yeah, well, that's probably because you're dead, Elvis.
Ram Rule 4: Every time we get to the quarterback, I want to hear you yell, "SACK!"
This is good advice. Before, Rams fans would yell, "A TACKLE OF THE QUARTERBACK BEHIND THE LINE OF SCRIMMAGE!" This new idea is much simpler.
Ram Rule 5: Leading up to every kickoff, let's slow clap it out.
What can we say? Rams fans have a thing for that crash scene in Cool Runnings.