The Phillie Phanatic Got A Makeover
Everyone's favorite pelvic-thrusting green alien got himself a new look. Why? I'm not sure. Feels like a decision the NFL would make, trying to improve something that's already perfect.
The Phillie Phanatic is the greatest mascot in sports. He can't be beaten. Unless he's going up against Tommy Lasorda.
But someone within the Philadelphia Phillies organization must have felt like it was time to change things up. Fortunately, this isn't another unrecognizable Renee Zellweger facelift, but there are some substantial changes if you look close enough. Let's break them down.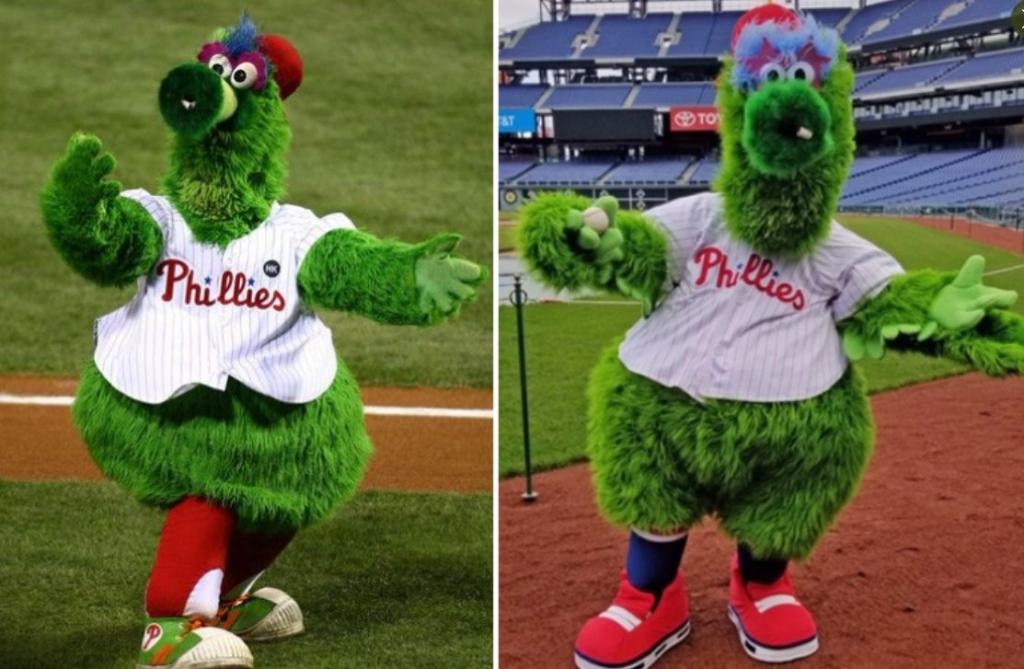 Overall Appearance
He's a lighter shade of green, but then again, emerging from the cold, early nights of winter, who amongst us isn't a lighter shade of our own colors.
He lost weight. Kinda. He slimmed down in the waist, but added some junk in his trunk, which seems to be all the rage these days. Dad Bods are so 2000 and late. It's all about super-wide child-bearing hips and fat asses. The Phanatic is definitely trying to become Instagram famous. My guess is he took a few zoomba classes, opted for a little more time on the stair-master, and never misses squat day. Either that or Mrs. Phanatic guilted him by buying him a Peloton for Christmas.
I also find it funny how the Phillie Phanatic can be added to the list of people who showed up to spring training in the best shape of their life.
He also has what appears to be scales on the underside of his arms, but I'm not certain. Seriously, what are those things? I guess they could be shingles – either the kind on your skin or the kind on your roof.
Eyes
He now has purple stars surrounding his eyes, as opposed to purple fuzz. Not exactly sure why we had a change there. He also now has blue eyes instead of black, but you never know, they could just be colored contacts.
Socks
He's – or is it it's? – also had a wardrobe change, opting for blue socks instead of his white socks with red stirrups. Whether you're a fan of theis change or not, I think we can all agree the Phanatic was well overdue to change his socks. The only negative is he ditched the stirrups, which is an endangered species in the game of baseball.
Shoes
He's also rocking a pair of new kicks. The biggest difference, other than the color, is these new shoes have laces drawn on as opposed to having actual laces, which again, I can't really knock. When Marty McFly first hinted that the future would have power laces in Back to the Future II, we were all jealous. Good on the Phanatic for getting some of his own.
Snout
He also got a nose job. Or a snout job. Whatever you want to call it. His new snout is shorter, which I get. No one wants a Doug Funny-sized honker. I bet all the other mascots used to laugh and call him names, like the other reindeer used to with Rudolph.
Side note: what kind of doctor do you go to for a snout job? Is it still called a rhinoplasty?
Why did the Phanatic make any changes at all?
I know, I know. It was already perfect. Best mascot in sports. But there's a new favorite mascot in town. And when I say "in town," I legitimately mean "in town." Gritty, the Flyers new mascot, has stolen the hearts of America, so I'm sure the Phanatic has felt some pressure. Hit that midlife crisis. Felt like it needed to do something drastic. And since there is no Just For Mascots hair dye, he had to make changes in other ways.
Especially now that Gritty is essentially the bad boy of mascot-ing after *allegedly* punching an 13-year-old boy.
You know how America's public is instantly attracted to bad boys. Well, Gritty fits that mold, so in an effort to win back the love of the people, Phillie Phanatic had to do something drastic, and did so with its appearance. Let's just hope he doesn't go the route of Lindsay Lohan and just keep getting cosmetic surgery until he's unrecognizable and looks like this: