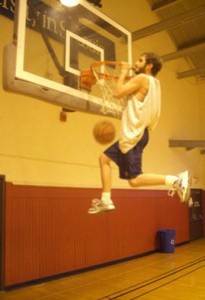 When I was in high school, I tried out for the basketball team all four years.  Each of those four years, the head coach (and my dad's close friend), told me I just didn't have what it takes to play high school basketball.  If that wasn't embarrassing enough, I decided that I should try out for the University of Dayton's Men's Basketball team my sophomore year.  I chronicled the effort here for the student newspaper.  It was rigorous, but I'm glad I tried hard and went through the experience.  Many of my friends thought I was crazy. In fact, until today, I thought I was crazy.
But then I heard about Zachary Feinstein.  This individual decided he would enter the 2008 NBA draft.  His experience, you ask?  Zachary hadn't played organized basketball since the third grade.  But he looked up the process for declaring for the draft and sent his letter of declaration to David Stern himself.
The NBA responded to his request as an early applicant (he was only 20 at the time) for the draft.  He was listed on all major sites as an "unknown draftee."
To boost his draft stock, Feinstein created his own web site.  Here he lists his career statistics:

Feinstein also used the site to determine what nickname he should adopt upon entering the NBA.  Some of my favorites include: The Jerusalem Jammer, The Hebrew Highlight Reel, Jewbacca, Smallocaust, Punch Line, The Dunking Dreidel, The Hebrew Hammer, Pro-Zach, Zackie Chan, and Undraftable.
He also has a section on the web site with his official scouting report: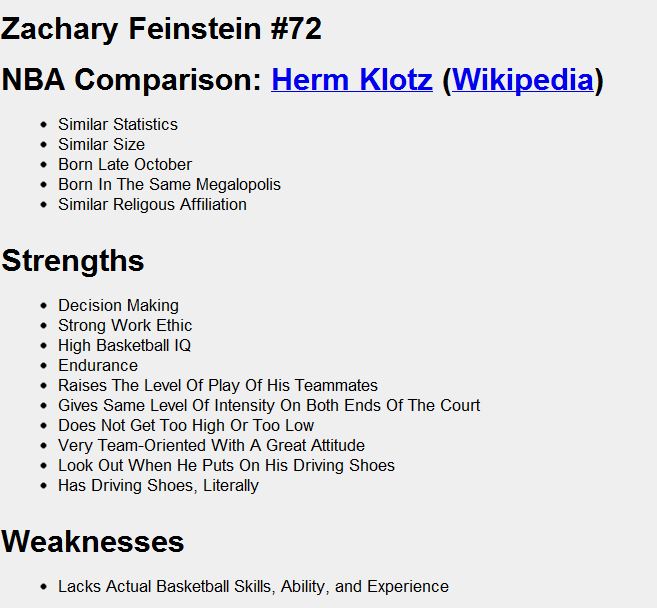 Feinstein's story was picked up by mainstream media and he appeared on dozens of news shows, web sites, and radio programs.  Unfortunately, he never made it to the draft, he was doing research towards his degree in China… figures.