The New Name Of Seattle's NHL Arena Is… Climate Pledge Arena?! WTF?!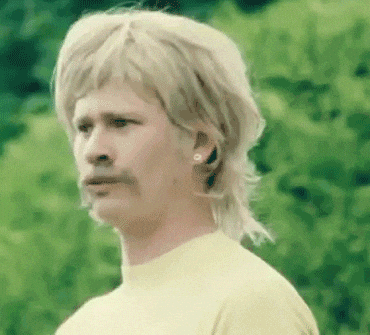 So let me get this straight. Amazon bought the naming rights for an NHL arena and didn't name it something like Amazon Arena, The Prime Center, or even Alexa Square Garden? But rather, named it CLIMATE PLEDGE ARENA?!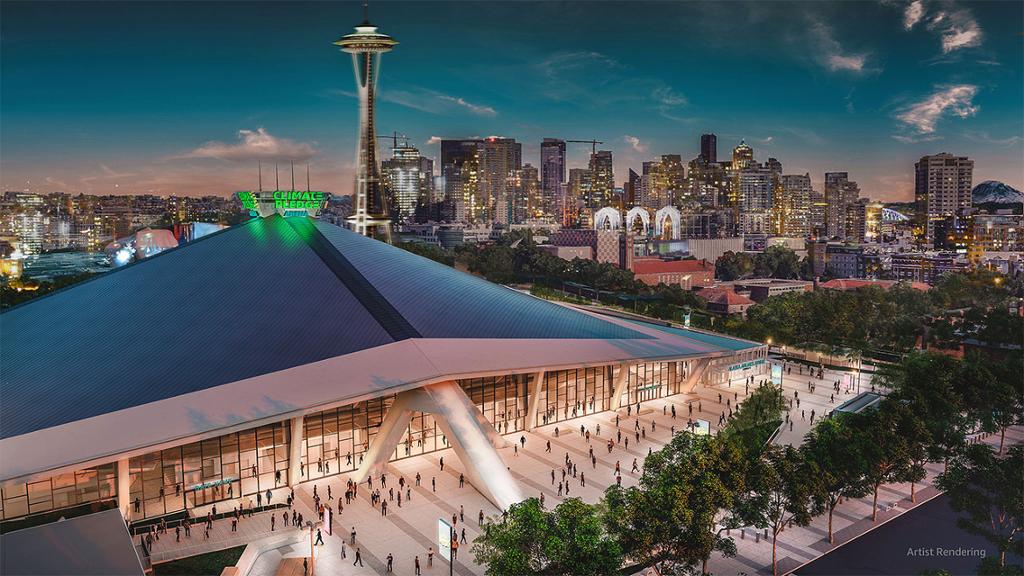 Was Save The Whales Arena taken? Didn't want to go with Meat Is Murder Center? There's No Hope With Dope Fieldhouse wasn't good enough for you?
Don't get me wrong. I'm all for recycling, going green, reducing our carbon footprints (or is it carbon feetprints?). In fact, they're recycling the old KeyArena and making it better. And if any sport should be trying to fight global warming, it's hockey. I also think it's awesome that this new arena is the first zero carbon footprint arena in the world.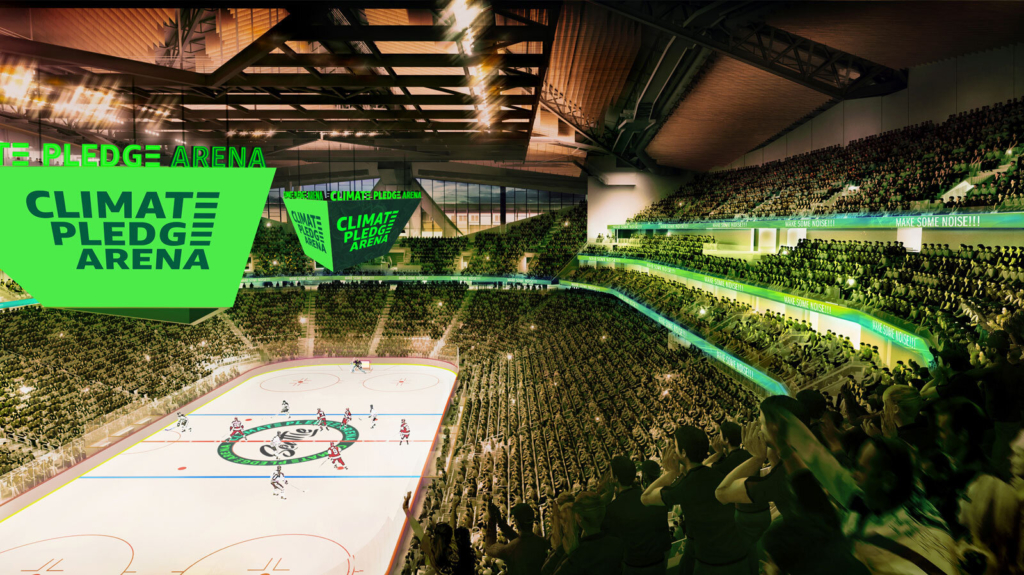 NHL Seattle said the new facility will be the world's first zero-carbon arena, powered solely by renewable energy, including on-site solar panels and off-site solar farms. The extensive renovation project is set to be completed next summer, featuring a completely new arena constructed beneath the landmark roof built in 1962.

In addition to renewable energy, owners outlined several other practices to lower its carbon footprint:

• Single-use plastics will be phased out by 2024, replaced with aluminum or biodegradable bottles.

• Fans will see only compost and recycling bins — no trash cans on site.

• Promising the "greenest ice in the world," the rink will be comprised of rainwater and refrigerants with no greenhouse gas emissions.

• Electric Zamboni fleet.
Electric Zamboni Fleet was actually the name of my band in high school.
I just don't know how I'd feel as a fan. It's not very intimidating to welcome opposing team's players into Climate Pledge Arena. Not sure how rowdy a Climate Pledge Area crowd can get when the fans are too busy untying their scarves so they can sip their fair trade coffee and talk about their favorite authors.
Or is there some sort of nickname we would call this building for short? Like The Pledge? The Footprint? Or Massaging Bezo's Conscious? Because really, that's all this is. An ego/conscious stroke for the richest man on the planet. It's one thing to keep a low carbon footprint. It's another to plaster it on the side of a damn arena. This feels like when an influencer or blogger does something good, and then wallpapers it all over their social media to get the likes and retweets. This is just how billionaires do it. They spend money to show their support of a cause, but then never actually do anything for that cause, or simply known as the Al Gore.
I mean, it is a tad ironic when 99% of vehicles on the roads right now are Amazon delivery trucks. It's one thing to name your arena after a Climate Pledge, it's another to actually implement it. This is like Leonardo DiCaprio fighting against global warming before hopping in his private jet and flying to Monaco to sail on his yacht.
And speaking of yachts, here's Jeff Bezos's!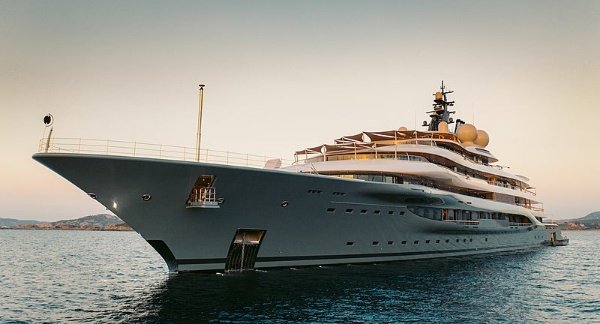 …allegedly. Last year, Amazon discredited the fact that Bezos owned this yacht, The Flying Fox. But of course they would. Not like Bezos is going to cop to owning this mini-Titanic in this day-and-age. It should be noted, however, that as of today, the owner of The Flying Fox is listed as "Unknown Billionaire (Italian media claim it is Jeff Bezos)." Stay woke, people.
Look, I'm not here to go all SJW on the global warming debate. I just find it extremely funny that Mr. Maybe Owns A 450-Foot Yacht / Mr. Definitely Flies Private Everywhere He Goes / Mr. Looks Eerily Like Pitbull names his arena Climate Pledge as if making sheets of ice out of rainwater makes up for everything else he does. Again, not knocking the guy. I would gladly be rumored to own a yacht, and if I did, I'd sail it all across the world like I was Christopher Columbus (sorry, he's canceled) Hernando De Soto (he discovered the Yucatan Peninsula).
I just hope this doesn't start an avalanche of people buying arenas and naming them after social causes like they're GoFundMe's for billionaires' social causes. Because that will only start a slippery slope. Ten years from now, I'd rather not my favorite NBA team play in the "Ashley, Will You Marry Me? Arena," named by some famous TikTok-er. Or I don't want an Instagram blogger to buy the naming rights for "This Skin Care Creme Is The Best #ad Arena."
Again, I'm all for taking pledges that have to do with the climate. I'm just not for those pledges being the name sake for my team's home arena. All in all, it's just pretty lame. With that said, I do hope Seattle names their hockey team the Seattle D.A.R.E. To Keep Kids Off Drugs.