A SPOILER-FREE Review of 'The Lost City'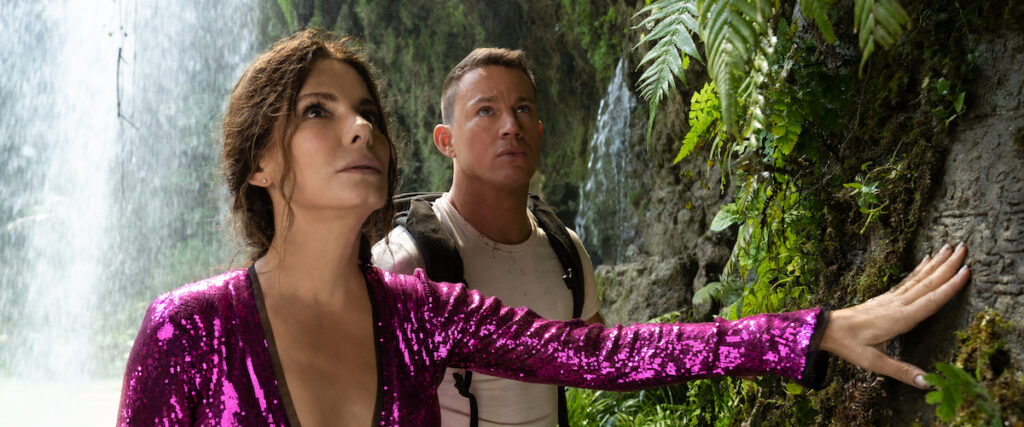 It's the Monday after the Oscars which means–it's officially Oscar season once again. Movies never stop. What better time than now to go ahead and start doing in-depth reviews of weekly releases? Now that we're seemingly out of COVID (probably just jinxed it) and my Alamo Season Pass has officially restarted we can really get the ball rolling.
This week's major release was THE LOST CITY starring Sandra Bullock and Channing Tatum. A movie that doesn't take too many chances and results in a safely-entertaining, yet mostly unmemorable film.
All Roads Lead to the Jungle
THE LOST CITY a film directed by Aaron Nee. It is the story of burnt-out romance novelist, Loretta Sage, played by Sandra Bullock who finds herself reluctantly beginning a press-tour for her latest book. Her character is also still dealing with the loss of her archeologist husband. This has led her to pivot into a career she excels at, but was not the life she originally planned for herself. On top of this she also is forced to do the press tour with Channing Tatum's character, Alan, the long-time cover model for Loretta's books. The vibe of these tours seem to center around Alan and his good looks as opposed to Loretta's work.
At the beginning of this tour, Loretta is kidnapped by billionaire-boy Abigail Fairfax. Played by Daniel Radcliffe, Fairfax is obsessed with finding a lost-treasure and needs Loretta's help in order to locate it. Alan and Loretta's PR team spring quickly into action in an effort to locate and rescue Loretta from her kidnappers. Thus begins a rom-com adventure set in the heart of the jungle.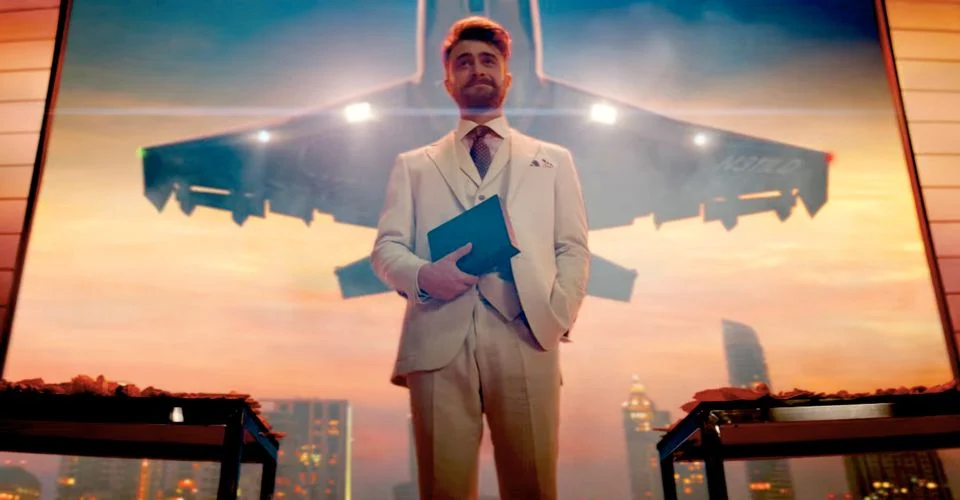 THE LOST CITY is a film that uses a tried-and-true romantic/comedy/adventure formula that really does work to its advantage. It's a seemingly more self-aware version of movies like ROMANCING THE STONE or FOOL'S GOLD. Unlike those movies though, we have characters in an adventure that are particularly out of place in the jungle. This luckily adds to the comedy. The downside though is that the movie takes so few chances that every moment of the film feels very predictable.
This a movie that was made in an effort to be unchallenging to audiences, as most romantic comedies are. That isn't necessarily a bad thing, but leads to a very low-stakes adventure movie. That being said, I doubt most people, including myself, who bought a ticket for this film weren't expecting anything more than what it was and that's ok.
Ladies & Gentlemen, Bradley Pitts
Where this movie truly shines though is with it's cast. Sandra Bullock is perfectly cast as Loretta and Channing Tatum also shines as a slightly self-absorbed yet caring cover model. Daniel Radcliffe is remarkably good at playing an unhinged billionaire and the rest of the cast is filled out with very memorable supporting performances by Da'Vine Joy Randolph, Patti Harrison, and Oscar Nunez. These easy to swallow romantic comedies tend to do big favors for these actors and give them room to shine alongside the bigger names. I would expect to see much more from them, especially Randolph & Harrison, in the future.
Perhaps the shining support role is Brad Pitt's cameo as Jack Trainer. A rugged, ex-military, combat trainer to the stars who is enlisted to help rescue Loretta from her captors alongside Alan. It's a quick, funny, and very memorable appearance from Pitt which really does a fantastic job of setting the tone of the rest of the film.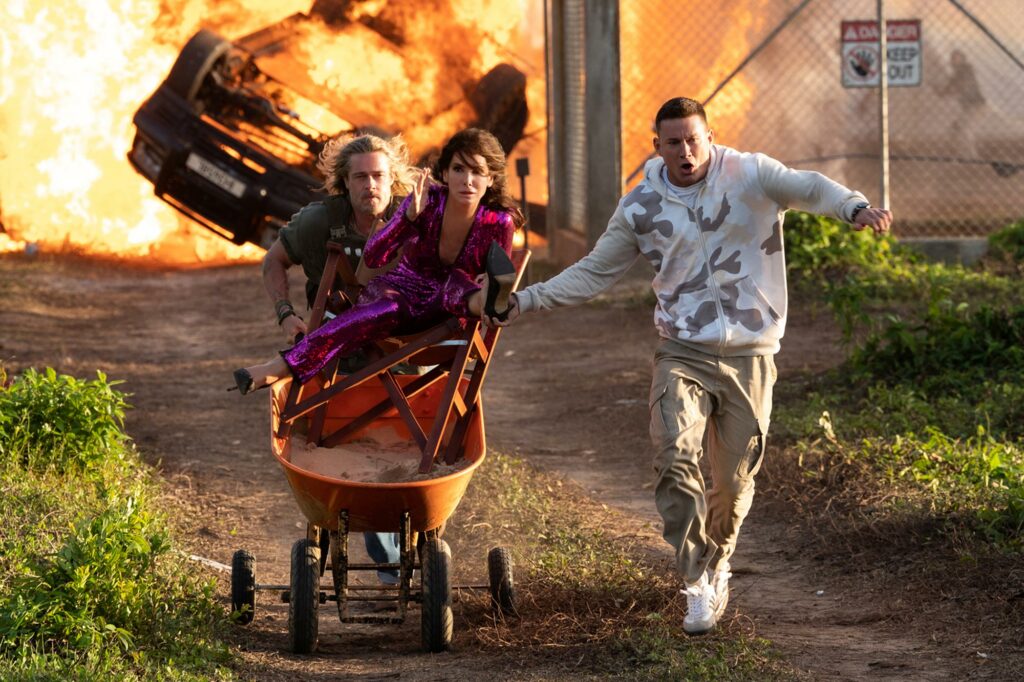 In summary, THE LOST CITY is a decent yet unremarkable film that probably won't take up too much space in the zeitgeist for very long. Not because it's bad, but because it's an easy-to-swallow film that uses a formula which doesn't really set it apart from anything else. However, there is something to be said about putting all of your eggs into the character basket and that's what truly works here. It's a well-casted, well-acted film that relies on its ensemble as opposed to any individual performance. The established actors reminded us why they are established, box-office draws and we get to see newcomers shine and set themselves up for the future.
VERDICT: 3/5 Stars
THE LOST CITY is in theaters everywhere now.
So what do you think? Be sure to holler at us on Twitter (@thecineboiz) and Instagram (@thecineboiz) and let us know how you feel. Also, be sure to follow Korked Bats on YouTube and The Cineboiz on Twitch to catch us live, and subscribe to The CineBoiz Podcast wherever podcasts are found!