The LEGOhio State University
Question: What do you get when you mix a million lego pieces, 1,000 hours of work, a lonely guy with a lot of time on his hands, and a university that before this year, couldn't beat a team with a Southeastern Conference patch on it's chest?
Answer: This.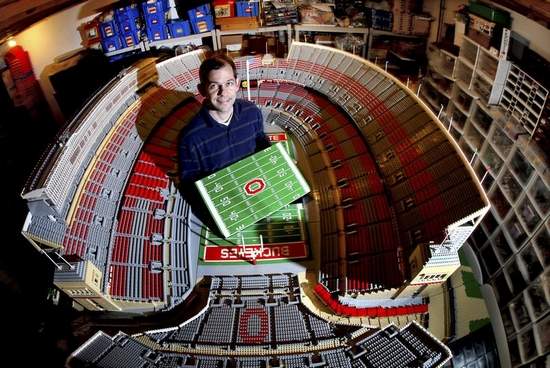 Paul Janssen, an associate professor in physiology and cell biology (a career that explains why he has so much time to build such a thing), took over a year to build the 8-foot-by-6-foot stadium. It is a near exact replica of Ohio State's 103,000+ seat Ohio Stadium. He spent over three years just obtaining the pieces. Meaning, it is going to take him longer than that to obtain his social life back. Of course, what would you expect from a school who's head coach wears sweater vests every Saturday?
There is no word yet if any Ohio State players had Paul make this for them in exchange for the autographs. I mean, I wouldn't put it past them.
The stadium is built to hold roughly 6,000 Lego people in the stands. Surprisingly enough, it's also able to hold their yearly disappointment in their team. Paul did his best to be extremely detailed with his model. He didn't want to miss a thing. In fact, you can even see miniature Lego people in Ohio State clothes beating up and pissing on a Michigan fan near one of the entrances. And the Lego man security guard is standing right there letting it all go down. Truly impressive.
Being an assistant professor, it's no question that Paul Janssen is a leader, but now with this creation of his, he is now also a legend.
For a more detailed look at the Lego built stadium, here are some pictures: