Before we get started, I just realized that I included both 'The Ladies Room' and the word 'duece' into the title of this post. Please note that I was not referring to poop. I was merely referencing the fact that this is the second 'Ladies Room' post. And if any boys are reading this, women do not poop. Or fart. Or sweat. (…we glisten) Let's get on with it…
The Daytona 500 just happened.
The Daytona 500 is what exactly?
That's a fair question.
NASCAR. It's technically a sport, but some sports elitists will argue,
"Whats next? Cheerleading?"
The Daytona 500 is the Super Bowl of car races.
(The Super Bowl is to football as Pride and Prejudice is to chick flicks.)
(The five hour long version though, with Colin Firth.)
People need to know two things about the Daytona 500:
1. It happens only ONCE a year. Like Christmas. (minus the gifts, but that one creepy uncle without his front teeth will most definitely still be there.)
2. Nobody will remember the winner from the year before unless it's that guy who makes Pepsi Commercials.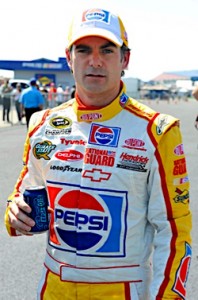 Oh, and raise of hands, how many of the ladies out there (or men that wear skinny jeans) watched the NBA All-Star Game?
Nobody?
That's because the Celebrity All-Star Game came on first. And by that, I mean, Justin Bieber was playing in the NBA.

Your fight, is my fight…
And I was like, baby, baby, baby, ohhh…
Never Say Never…
Justin, if you're reading this, When You Smile, I Smile…
Not because I want to date him or anything. He's young.
(But if you're reading this, age is just a number.)
Lady Home Work:
Throw the following sentence out around the sports lovers around you:
"Oh, Man. Can you believe that Carmelo Anthony is going to the Knicks?"
Make sure to only throw this sentence out if you are sure there are at least two people listening that will understand what you have just said. They will look at you, realize that you are cooler than they first realized, and the conversation will take off. Just sit back and look alive.  If at some point they come back to you in the conversation, just agree with the last thing you heard.
I'm telling you, it works.
If they catch on to what you're doing, just grab your stomach and say something like, "being a woman is the worst."