The Greatest Catch in the History of Monday Night Football
This post is Guest Post from Korked Bats co-founder and former writer, Zach Osborne. Zach is currently a teacher in the Kansas City, Missouri area.
• • •
15 years prior to last Sunday, something magical happened. Chicago Bears kicker, Kevin Butler, boomed some sort of short field goal or extra point, and that is when the magic began to happen. Somehow Kevin made the kick, but was able to avoid the massive net behind the uprights that prevents fans from getting their hands on an authentic NFL pigskin. To the dismay of the fans in the stands, the ball's trajectory was heading straight for the tunnel where some neon shirt wearing Event Staff man would return the ball back to the field of play.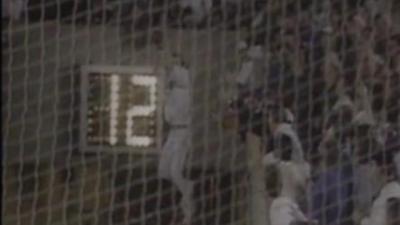 But Michael Pantazis would not give up that easily. You see, Mike played high school football. He played both offense and defense, and he has great hands (1:48 into the video below). Michael saw that the ball was just a few feet away from the rail and so without hesitation, Mike jumped. He jumped and fell 25 feet. 25 FEET! That is two and a half high dives.
Amazingly, Michael's timing was perfect. He met the ball mid-air, and plucked that baby out of the air in a way that I so desperately wish Dwayne Bowe could emulate. After landing, Michael hops up uninjured, and is allowed to return to his seat. Then he is able to snake his way to the side line reporter, where he gives one of the greatest interviews I have ever seen. Michael seems genuinely convinced that given a shot, he could make the league.
I just can't get over it. It is remarkably athletic. Maybe the most athletic moment for anyone with a mullet? There are just so many variables at play. If he had mistimed his jump, he is the biggest fool ever. He could have rolled an ankle, broke a leg, or died! And he had like 2 seconds to make his decision. The size of his stones! I would have been indecisive. I would have looked back and thought that I could have caught that ball, but I let the one chance in my life to do it slip through my hands. But not Michael Pantazis.
I found an article from 2006 about him. He still has the ball, and has erected quite a shrine celebrating the catch. He even won an ESPY for it.
Michael, you are a legend. Some may see you as an idiot, indecisive, or just flat dumb. I respect you. You jumped. I wouldn't have. But I didn't play high school football in the North Side. Someday I would love to buy you a bear. In the meantime, I hope this little post will do.
"I play defense, I play offense, I've got great hands. I've played football my whole life. I love it baby!"
-Michael Pantazis
• • •
Want to contact Zach and discuss Kansas City sports or why its better to always ask for "no ice" in your beverage? You can follow him on Twitter: @zosborne
If you would like to write a guest post for Korked Bats, check out our 'Write For Us' page at the top of the site.