Wow oh wowie. It's nearly 2011… And I just said wowie. Can you believe how fast this year has gone? I mean, it seems like just yesterday Mike Leach was getting fired for locking Craig James' kid in an electrical closet, Tiger Woods was getting betrayed by his mistresses, and I was celebrating the new year by wearing my whip cream thong and singing Hinder songs at the top of my lungs… Wait. What? Sorry.
Anyway, when ever the new year comes around that only means two things. One, the YMCA is going to be so packed for the next month due to new years resolutions, and two, it's time for the second annual Korkie Awards! You may remember last year's and all of it's winners. Well, it's time to see who takes home the prestigious honors for 2010.
Without further adieu, here are your 2011 Korkie Award winners:
• • •
Best Patriotic Sports Moment
Landon Donovan's goal against Algeria in the World Cup
When USA scored in stoppage time versus Algeria, a cried a little bit. There had been no moment in my life where I had felt more proud to be an American than then. I felt like shaving the letters U, S, and A into my head, painting my face red, white and blue, getting the preamble to the U.S. Constitution tattooed on my back, petting my newly purchased bald eagle, and eating a Big Mac. I didn't do these things because I would have looked like an idiot. But I sure did feel like doing them. Instead, I just cheered and yelled like the other hundred or so people I was watching the game with at a local movie theater. That game taught me three things:
1.) America is the greatest country on the planet.
2.) It's true, if you believe it, you can, indeed, achieve it.
3.) Hipsters and emos only care about sports once every four years… during the World Cup.
• • •
Best I Wish I Wasn't Patriotic Sports Moment
Sidney Crosby's Game Winning Goal In OT of the Olympic Gold Medal Game
Well, crap. Just when we thought we had bragging rights over Canada in absolutely everything but mounties and maple syrup. And no one even cares about mounties. We had beaten Canada in pool play earlier in the Winter Olympics, surely we could beat them again. We had the upper hand and all the momentum. I had even written a post rubbing it in all Canadians' faces about how much better we were than them. However, I was quickly given my words to eat when the fighting Inuits from up north beat us to win the Hockey Gold Medal leaving us Americans to just sit and say one thing: Well, crap.
• • •
Biggest Perv
Ireland National Soccer Team Head Coach Giovanni Trapattoni
You thought we were going to pick Brett Favre, didn't you? Nope, this Irish coach is pretty perv-ish and takes the award.
• • •
Biggest Pevre
Brett Favre
For as long as someone whose name is Farve spells it Favre, Brett will be a perv who spells it pevre.
…and who wears Crocs.
• • •
Best Sign That, If The Person Had A Time Machine, Would Go Back And Reword A Little
This Cincinnati Reds Fan
Fast forward to now: The Reds were swept from the playoffs, the Bengals currently hold the #4 spot in the NFL Draft, and those "1-2 Rams" will be playing for the NFC West and a playoff spot on Sunday. #Embarrassing
• • •
Highest Career Moment
Miley Cyrus taking bong hits
All she had to do was wear the Hannah Montana wig and none of us would have known it was her. But don't worry, her best friend Lesley says, "She's just being Miley."
• • •
Unemployed Head Coach Who Looks Most Like A Pedophile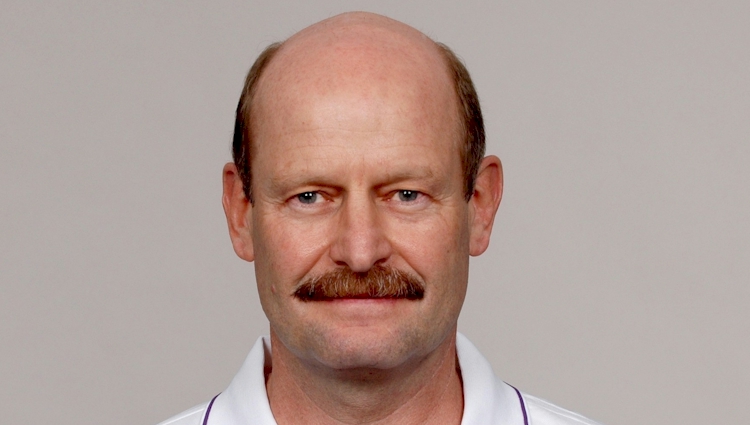 Brad Childress
For those of you that are worried about Brad Childress' future, don't be. You'll be able to catch him on his new gig on MSNBC when they air new episodes of To Catch A Predator with Chris Hansen. When it comes to Chilly, don't worry about hidin' ya wife. Just hide ya kids.
• • •
Truest Music Video Ever Made
Miracles – Insane Clown Posse
"[Expletive] rainbows after it rains, there's enough miracles here to blow your brains." If this video of two grown men known for their face paint doesn't speak to you, then I don't know what will. This has got to be the first video to encompass everything in the world in an expletive manner. It's genius. Thank you, Insane Clown Posse for taking the dedication of one rap song away from, pardon my French, "bitches and hos," and deidicating your lyrics to the wonderful designs of everything.
"[Expletive] magnets, how do they work?!"
• • •
Best Spoof Of A Korkie Award Winner For The Truest Music Video Ever Made
SNL's Digital Short – Magical Mysteries
The best part about spoofs, other than the ridiculous word spoof, is the fact that they take ridiculous things that may already be funny and make them funnier by pretty much doing the same thing. This video captures that as well as any spoof, ever.
• • •
Cutest Fast Food Employee
Denise from the Taco Bell commercials
This commercial may be old, but who are we kidding, Denise is the only non Mexican cutest employee that works for a fast food company or ever will work for a fast food company.
• • •
Best England Goalie
Robert Green
England's goalie Robert Green was our best player in America's first game of the 2010 World Cup. Green missed a slowly rolling ball that eventually helped the U.S. to a 1-1 draw which helped the fighting Uncle Sams to win their group for the first time since 1930. Not to mention, it allowed us to bring up and talk trash about the Revolutionary War again.
• • •
Best Nobody's Perfect Moment
Armando Galarraga's Perfect Game Ruined By Jim Joyce's Missed Call
For a pitcher who didn't make the opening day roster and was called up to the majors a month before, Armando Galarraga was probably the last pitcher at any level of baseball that you would think would pitch a perfect game… still. Umpire Jim Joyce blew the only chance Armando Galarraga had at getting his name in the MLB history books. In honor of your almost achievement, we have dedicated this sound to Armando Galarraga's June 2, 2010 outing against the Cleveland Indians:
But don't worry about Galarraga, he was given a Corvette the very next day. Seriously?
Speaking of Jim Joyce…
• • •
Umpire Who Looks Most Like The Leader Of A Biker Gang
Jim Joyce
He may be the worst at getting perfect game clinching out calls right, but he's the best at being the worst at getting perfect game clinching out calls right while looking like the leader of a biker gang.
• • •
Head Coach Who Looks Most Like The Leader Of A Biker Gang
Fresno St. Head Coach Pat Hill
Pat also could have won a Korkie for head coach who most likely uses Just For Men hair coloring.
• • •
Happiest Asian Couple
These Two
China's Shen Xue and Zhao Hongbo (I swear I didn't make those names up) celebrate after getting the highest score, to win the gold, in figure skating at the Vancouver Olympics in February. It's also good to see excited Asians in North America with out taking pictures with their cameras or giving the common double peace signs.
• • •
Best "Title IX Was A Good Idea" Moment
UConn Women's Basketball Winning 89 Consecutive Games
UConn Women's Basketball team won their 89th straight game apparently breaking a record held by a different team in a completely different sport. UCLA men's basketball team had an 88-game winning streak from 1971 to 1974. The sports media world felt it would help bring attention to women's college basketball if they compared this streak to the great streak held by the late UCLA head coach John Wooden. I don't want to dispute whether that was a good idea or comparative or not. I just long for the olden days when women weren't craving for their sports to be treated as equal to men's sports. The same days when most women barely even knew the rules to sports, and we would have to explain the rules to them.
• • •
Craziest Hand Model
This Lady
It's not that we know a whole lot of hand models, it's just we assume that this lady is the craziest of all hand models. Even crazier than David Duchovny's character in Zoolander.
• • •
Most Rebellious Child
Baylen Brees
Although Roger Klotz was heavily favored for this award, it's Baylen Brees who takes it home. Why Baylen? Well, let's go back to the night the New Orleans Saints won Super Bowl XLIV. Baylen's father, Drew, or as some of you may know him – That Quarterback With The Mole, had just won the Super Bowl and MVP honors. Baylen obviously wanted to make a statement of not giving a lick, so he kept his noise canceling headphones on during the entire post game festivities. Our guess is he was listening to Rage Against The Machine, Korn, and Avril Lavigne. Or if he is a truly rebellious child, then a playlist of all three.
• • •
Best Premature Celebration
This Clip
Ha, I could watch this for hours! Not necessarily this clip, but foreigners playing basketball. In fact, sometime I'll go to my local YMCA. Not necessarily to play, but just to watch guys who speak broken English take goofy jump shots and hustle more than anyone else on the court. But the fact that the team in this clip and everyone at their arena thinks they've won, and out of nowhere a shot is made giving the other team the win. Wow. Just wow.
• • •
Best Dressed
Isaiah Thomas
He's obviously a better dresser than he is coaching or managing a professional basketball team. Actually, we'll be honest, we don't even know if Isaiah Thomas is a good dresser or not. We just wanted to share this picture of him wearing a mink coat.
• • •
Worst Dressed
Kobe Bryant
Although Dodgers outfielder Andre Ethier was heavily considered for this award, it's Kobe Bryant who ultimately takes it home. The photo shoot he did for LA Times Magazine last spring was so horrendous that even Lady Gaga would admit to never wearing those outfits.
Shameless Plug: Check out our video ripping on Kobe for this ridiculous photo shoot.
• • •
Worst Dressed That We're Not Allowed To Comment About Without Getting Suspended
Hannah Storm
I would comment on the pro-Blood gang outfit Ms. Storm has on, but I don't want to get suspended from my duties here on Korked Bats by ESPN. But in all honesty, Kornheiser deserved to be suspended for his rude and insensitive comments. I mean, who does he think he is? Regina George?
• • •
Not Dressed
Sylvester Stallone
This picture may be old, but Sly Stallone wins the Korkie for Not Dressed. A close second goes to David Beckham.
• • •
Brett Favre on Monday Night Football – 12/20/10
All senior citizens should have Life Alert.
• • •
Best Movie
Inception
This movie was not only captivating to watch, but it also messed with your head. Everytime I go to bed and have a crazy dream, a little bit of me wonders if that dream was messed with by Leonardo DiCaprio or the guy from 3rd Rock From The Sun. Plus, this movie will help tide us over until 2012's new Christopher Nolan directed Batman movie.
• • •
Second Best Movie
Marmaduke
No, we're kidding.
• • •
Best Sports Blog That Nobody Reads
Korked Bats
Once again, we're honored to win this self proclaimed title for a second straight year… we think.
Honestly, thank you all for all your support this past year. We appreciate all of our readers whether you have our website set as your homepage or if this is your first time coming to our site. We promise to continue to work hard to bring you the most comedic side of the sports world every single day. Thanks again for everything and we hope for your continued support.
Have a Happy New Year and be safe!