Tennessee To Go Door-To-Door To Find Head Coach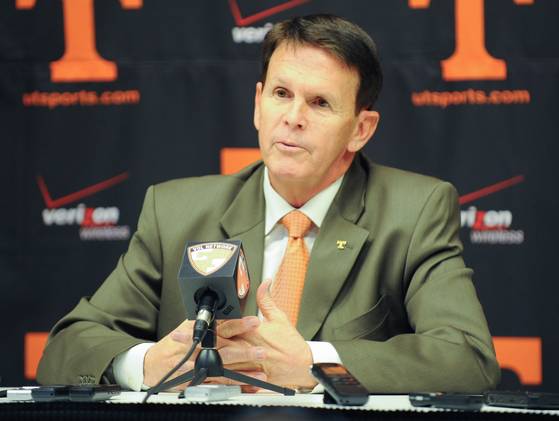 KNOXVILLE – The University of Tennessee is still waiting on who will accept the position of becoming their next head coach of the Volunteers football team.
After receiving word that Louisville head coach Charlie Strong turned down the offer, Tennessee Athletic Director Dave Hart is resorting to think outside of the box.
"That's only because we've already tried everything within the box," Hart said. "We have an idea that we think will work pretty well."
The Tennessee Athletic Department released a statement on Thursday morning that the school will be sending out representatives to go door-to-door to find it's next head coach.
"We're calling them Jehovols' Witnesses," Hart continued. "So be ready to open your door and hear what they have to say about this wonderful opportunity."
Hart further explained how they decided on this idea after going through 3/4 of the phonebook, with no luck. Hart told us the Jehovols' Witnesses process, saying they will knock politely on your door. When you answer, they will begin conversation with a series of questions.
Examples of the questions are, "Would you like to be Tennessee's next head football coach?" and "Will you please be Tennessee's head coach?" and "For the love of all that is holy… I'm not allowed to see my children again until I find someone for this job. Please?"
Meanwhile, schools like Kentucky, Purdue, and Idaho have filled their vacancies before Tennessee. The Volunteers' search is now garnering attention from across the country.
Actress Jennifer Aniston has even weighed in on the Volunteers current situation.
"They're like the like the me of college football," she said. "We just can't find a match."
When asked if Jennifer Aniston was interested in taking the job for herself, she answered, "HEYELL NO!"
However, Dave Hart remains optimistic, claiming there is a col de sac in Maryville full of old women who might just be desperate enough interested.
Volunteers fans have really felt the pains of this coaching search. We spoke with Bradley Vennison, a junior at the University of Tennessee, who tried to find any avenue for optimism.
"I've never felt more in touch with Taylor Swift music. That's a plus, right?" Vennison said.
It's becoming more clear that Tennessee truly has hit Rocky Bottom.
• • •
This post was created by Austin. You can follow him and his jokes on Twitter: @TheAHuff
Also, for up-to-the-minute sports jokes, follow Korked Bats on Twitter: @KorkedBats