Tebowing Is The New Planking
A few months ago, you may recall us writing a post about the latest craze on the internet, planking. We collected images of famous athletes planking. Well, planking, much like pogs, hakey sacks for non-hipsters, and Zune players, is a thing of the past. A fad that has fallen by the wayside. However, with the exit of one fad comes the birth of another.
Ladies and gentlemen, I introduce to you, TEBOWING.
Yes, Tebowing is beginning to take the country by storm plague.
"How do you Tebow?" you ask. Well, unlike Tim's throwing motion, it's simple. You just get down on a knee, put your fist to your head, and pray. Pray, pray, pray. Also, have someone take a picture of you doing it. Here are a few examples from tebowing.com: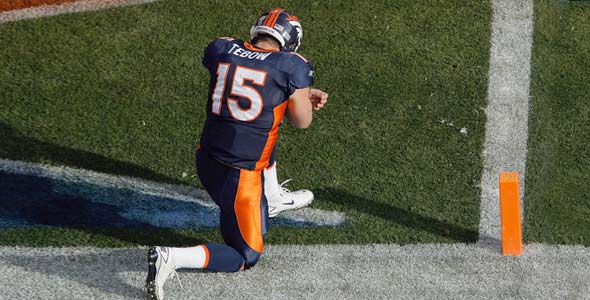 If you want to get in on the fun, tweet us (@korkedbats) some pictures of you Tebowing. We'd like to see them and post them to our site. The more creative, the better. And be sure to include the hashtag #Tebowing in your tweet.