Tampering SZN Has Begun With So Many Tamps And Everyone Is Tampin' But The Titans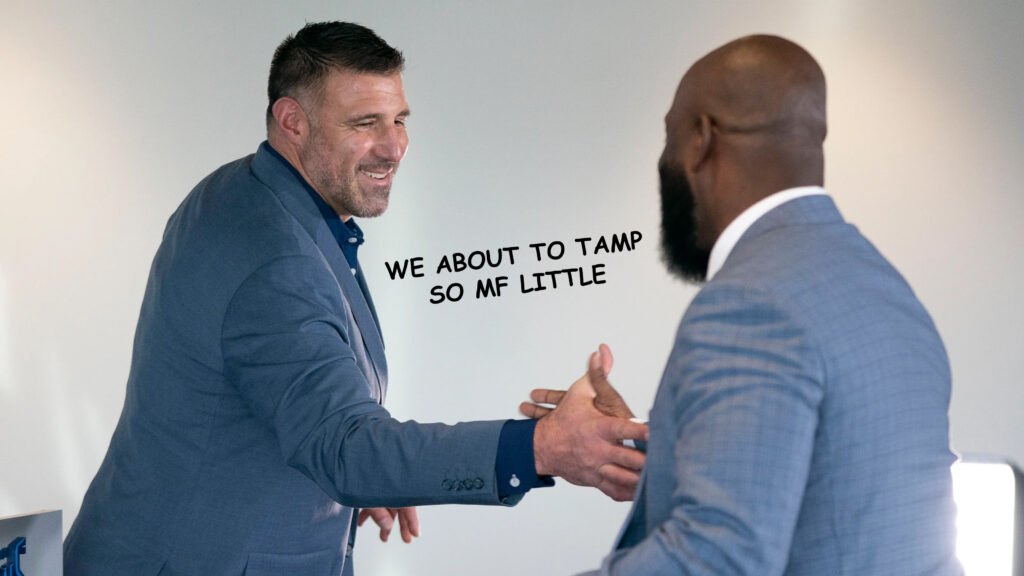 The NFL's legal tampering window opened today at noon, and let me just say the tampering has been alive and well. So much tampering. Some might say too much tampering, but in my opinion, there can never be too much tampering. But look, if you're going to legalize tampering, you have to expect to see some tampin.
Well, everyone except the Titans apparently. They pretty much have five offensive linemen openings to fill (four if you count them inevitably re-signing Dennis Daley) and yet, the only tampin' they did was by signing a backup tackle. C'mon, Titans. What gives? It's tampin' time! So start tampin'!
Instead of watching the Titans tamp with the best of 'em, we've instead seen the best of 'em do the tampin' the Titans should be doing. Especially in the trenches. Check out all the o-linemen tamps from today.
Even the Bears tamped one of the Titans own.
That's a lot of o-lineman on the move, and not one of 'em got tamped by the Titans. In fact, there was very little tampin' by the Titans. And look, I get it. The Titans only have enough cap space to shop at Aldi's, but still, you'd think they maybe do a little tampin. Give it a nice little tampy. Tamp, tamp tamparoo.
At very least announce you've restructured some contracts to clear up some cap space. Allow yourself a little spending money to maybe upgrade to Trader Joe's.
But nope. The Buffalo Bills did that instead. That's not even a tamp. At this point, we don't even need a tamp, Titans. Just do something. This is a franchise currently sitting on a 7-game losing streak. We haven't been happy since a mid-season Thursday night in Green Bay. Please, just tamp a little. Or don't and do something else.
But hey, at least they re-signed David Long.
Oh son of a bitch.