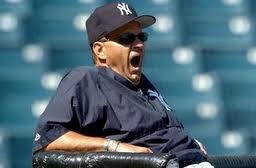 Sports are at peak excitement right now.  We are all on the edge of our seats to see who is going to win four out of seven games in the first of four rounds of the NBA Finals. Riveting.  Then we have the hockey playoffs.  They are like the World Cup for any city lucky enough to host an NHL team.  That one city is excited, but the rest of America has no idea that anything different is going on.  Golf is getting back in the swing of things (see what I did there?).  And the baseball season is already shaping up to be an eventful season, especially for the players that used to do steroids in the prime of their baseball performance.  Right now the only thing that is keeping me going during this dry sports spell is knowing that the Lakers could be knocked out of the playoffs any minute by the Hornets.  HA.  No Lakers 3-peat.  No more 3-peats for Phil Jackson.  No more 3-peats for Peter Jackson.
So, during this sports down time I have started looking into a few ideas to get us through until football season starts again.
See what you think…
1. Referee Fight Club.  The only rule of this Referee Fight Club is that we WILL talk about it.  And put it on TV.
2. Give the WNBA a reality show where the best looking WNBA players are picked to live in a house and see what happens when people stop being polite and start getting real.
3. Have Charles Barkley wear a monocle all of the time.
4. After March Madness we should follow those basketball players back into the classroom and watch them as they get ready for finals.  Who is a flashcard maker, who wings it, and who just studies and studies and studies, but still gets a C- in Geology.
5. And since we have nothing better to do, for number 5.  Let's see if we can get Donald Trump to actually run for President.
So during this time of college baseball and watching Remember the Titans on repeat, just remember that we will have months and months more of baseball so settle in eat some hot dogs and sign my petition for that Referee Fight Club.  That junk could be huge.
• • •
Guys and girls, be sure to follow The Ladies Room on Twitter for more sports fun from a lady who knows little about sports but a lot about fun: @LadiesRoomKB