SOURCES: SportsCenter Airs Non-LeBron James Highlight, Devastates America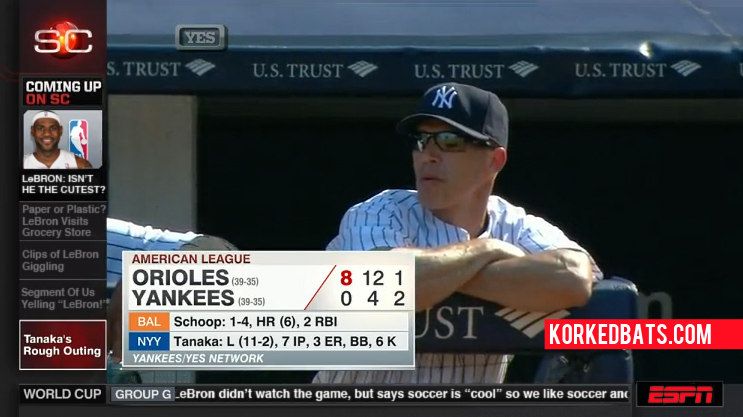 BRISTOL, CT — Multiple sources are reporting that ESPN's flagship show SportsCenter aired a baseball clip that in no way featured NBA superstar LeBron James.
Reports say that during the 11pm EST SportsCenter last night, anchor Steve Levy went through a full highlight package from the Yankees-Orioles game.
"I initially thought I had accidentally changed the channel," one source said. "I was about to punt my cat across the room for stepping on the remote again. Turns out, the problem wasn't my cat, Douglas. It was SportsCenter."
"I don't know what to do? They clearly did it on accident," another source said. "But do they expect me to sit and wait through an entire baseball highlight without hearing about LeBron James?"
In a day and age of the Internet, On-Demand media, and Rosie O'Donnell returning to The View, people have the ability to get what they want, when they want it. For many, when SportsCenter turned away from their LeBron coverage for a short highlight package, many turned off ESPN. Neilsen ratings show that SportsCenter's overnight rating from yesterday plummeted to just above 0 during those highlights. Many speculate that the only reason a few people didn't change the channel was because most Heat fans are Yankees fans too, but that doesn't negate the mistake SportsCenter made by reporting on something other than LeBron James.
The FCC is contemplating taking action after fielding complaints all night from upset viewers. "First they show two men kissing during the NFL Draft, and now they're airing something other than LeBron? How am I supposed to explain this to my kids?" read one email from an angry viewer. Even Best Buy's Geek Squad claimed they received many requests for house calls to repair broken TV's. "One guy had a lamp sticking through the screen of his TV," Brad Renfro, a Geek Squad employee said. "Apparently, people just threw the closest thing around them when SportsCenter stopped LeBron coverage."
The hashtag #PrayersForESPN quickly began trending nationwide on Twitter last night. Multiple tweets from across the nation showed a wide array of emotions.
"@SportsCenter WHERE IS MY LEBRON COVERAGE?!" –@Mike_Nafziger
"Something is wrong with @SportsCenter #PrayersForESPN" –@gehler_kyle
"Just timed it. @SportsCenter went :40 seconds without mentioning LeBron James' name. This is absurd." –@RichardDeitsch
"I remember the good ole days of @SportsCenter when it used to be a full hour of LeBron news. Times have taken a turn for the worse. :( #PrayersForESPN" –@Oprah
"@SportsCenter RT plz?" –@GRAHAMMM_GRAHAM
"Can't believe @SportsCenter @espn would do this to us. LeBron duz not play bassball for Yankees or Indins." –@pizzadadlives
"I think I'm going to be sick." –@RealSkipBayless
"What a joke. @SportsCenter just tried to show something non-LeBron. That's it, I'm switching to @FoxSportsLive!" –@ILoveLarryJones
"@SportsCenter I found some revealing photos of you online. Click this link: http://spam.co/fJk219g" –@Cblaske23
"@SportsCenter Sry about that tweet, my account was hacked." –@Cblaske23
A representative for SportsCenter released a public statement apologizing for the gaffe and promises the show will never make this mistake again. "Even though it may not seem possible, we are now vamp up our LeBron James coverage even more. Our apologies to those who saw the mistake last night."
• • •
This post was created by Austin. You can follow him and his jokes on Twitter: @TheAHuff
Also, for up-to-the-minute sports jokes, follow Korked Bats on Twitter: @KorkedBats