Roger Goodell Confiscates Hornets No. 1 Pick As Part Of Saints Punishment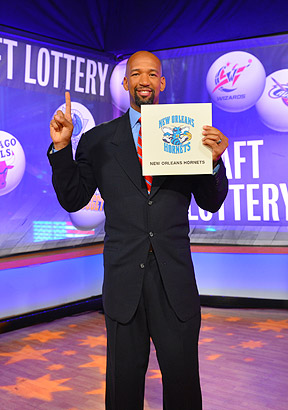 The New Orleans Hornets are still a team. We learned this last night after they won the number one overall pick in the NBA Draft Lottery. Their celebration, however, ended quickly when NFL Commissioner Roger Goodell issued a statement claiming he is confiscating the pick as part of the New Orleans Saints bounty program punishment.
Here is Goodell's statement:
"In my continuous effort to make the NFL the ABC Family of sports leagues, I will punish the Saints to the fullest extent. Sure, I suspended players without proper evidence. Yeah, I took out their coaches and owners. Now, I'm taking out their basketball team, too."
The Hornets front office quickly turned to NBA Commissioner David Stern to stop Goodell.
"I realize sports have played a huge role in the recovery of New Orleans, and this motion by the NFL Commissioner counteracts all of that. Unfortunately, I can't show favoritism toward a city. Off the court, at least. And, let's be honest, last year's Bobcats team was as much of a disaster to Charlotte as Katrina was to New Orleans," Stern said. "Plus, there's nothing really I can do to stop Mr. Goodell. He's a lot bigger than me."
In a phone conversation with Goodell, the commissioner admitted the no-contact rules of basketball have always been a favorite of his, so he wanted to work more with the NBA. When we asked him how he felt for Hornets fans who may not necessarily be Saints fans, Goodell said, "Well… I'm sure it has to STING!" Goodell then laughed longer than what seemed necessary.
Fortunately, Hornets fans remain somewhat upbeat over Goodell's decision.
Mike Winters, a New Orleans resident, didn't seem too bothered by the news. "The Hornets won the number one pick? At least they won something this year." Other New Orleans residents also failed to share strong opinions on the matter. "They moved here from Charlotte, right? Yeah, I'm pretty sure I had a Charlotte Hornets Starter jacket when I was like six," claimed Grant Yunis, a local New Orleans shop owner.
Other New Orleans sports fans hope all this negative news surrounding the Saints and Hornets will lead to more fans for the other teams in the city, like their Arena Football League team, the VooDoo. "I hope all this negative news surrounding the Saints and Hornets will lead to more fans for the VooDoo," said Kurt Rocco, New Orleans VooDoo quarterback.
The Hornets plan to appeal Roger Goodell's decision to Roger Goodell sometime in the near future when Roger Goodell feels like it.
• • •
This post was created by Austin. You can follow him and his jokes on Twitter: @TheAHuff
Also, for up-to-the-minute sports jokes, follow Korked Bats on Twitter: @KorkedBats