Kobe Bean Bryant passed away today in a helicopter crash in Calabasas, California. This is one of those deaths where the entire country stopped in their tracks, places a hand over their mouth in disbelief, and prays it's not true. Kobe was 41-years-old.
My gut is wrenched.
It wasn't supposed to end like this. The legend of Kobe Bryant wasn't supposed to end suddenly on a Sunday morning. We didn't even get to say goodbye.
I'll admit, like many people, when Kobe Bryant was still in the NBA, I hated him. I wasn't a Lakers fan, so by default, I was a "Lakers hater." As a Pacers fan, he ripped my heart out and took turns stomping on it with Shaq during the 2000 NBA Finals. However, my hate for Kobe was much like my hate for brussel sprouts. I knew they were really good, and made everyone better and stronger. So although I didn't cheer for him, I still had a massive amount of respect for him. An unfathomable amount of respect for him. Just like he had an unquantifiable amount of respect for others. His final tweet is evidence of that.
LeBron James passed Kobe for 3rd on the NBA's all-time scoring list the night before Kobe passed. Furthermore, LeBron just so happened to open up about Kobe in his postgame.
There aren't many people who have their number hanging up in the rafters at Staples Center, let alone TWO numbers. Try and top that, Taylor Swift.
Speaking of, I always like to brag that I once got to see Kobe Bryant in Staples Center. That's usually where my brag suddenly stops because I didn't get to see Kobe play basketball in Staples. Hell, I didn't even get to see him drop a ceremonial first puck at a Kings game in Staples. No, I got to see Kobe Bryant come out as the special guest during a Taylor Swift Concert. It was the first of four consecutive nights at Staples Center during her 1989 tour. Kobe was brought out and gifted her a banner to hang from the rafters for her record number of sell-outs in that building. There I was, a grown man amongst many teenie-bopper Swifties, and I may have shrieked the loudest when she brought him out.
I got to see Kobe Bryant two more times in L.A. Neither of which were for basketball games.
I had the opportunity to see a John Williams concert at the Hollywood Bowl with the Los Angeles Philharmonic. During the concert, the legendary film score composer John Williams brought Kobe Bryant out on stage. At this point, I'm thinking Kobe just gets called on stage at every concert in Los Angeles. Taylor Swift, John Williams, Alien Ant Farm, it doesn't matter. As it turned out, John Williams called him on stage to read the poem he wrote for the Players Tribune, Dear Basketball.
The poem was turned into a short film and Kobe asked John Williams to compose the score for it. John Williams admitted to the audience that night that he was honored to be asked. The man known for iconic scores for Star Wars, Harry Potter, Jaws, Jurassic Park, Indiana Jones, and countless other films was honored to take the time to make a score for Kobe Bryant's five minute short film. That night at the Hollywood Bowl, Kobe narrated his poem while it played on screen as John Williams conducted the L.A. Philharmonic. It was an incredible moment.
The short film went on to win an Academy Award, which brings me to the third time I had the opportunity to see Kobe in L.A.
I was offered the opportunity to be a seat filler at the 90th Annual Academy Awards at the Dolby Theater in downtown Hollywood. Kobe, again, was in attendance, and ultimately was called on stage (AGAIN!) to be awarded the Oscar. Think about that. Kobe Bryant has as many Oscars as Leonardo DiCaprio.
It got to point where I couldn't go anywhere in Los Angeles without Kobe Bryant being called on stage. I mean, whenever I went to In-N-Out, I half-expected Kobe to be called to accept my order for me. But that was Kobe, he was a man who transcended basketball. Notice how I just told three separate stories about Kobe Bryant, and not one of them involved him being on a hardwood court?
That's how big this man was. This is how talented he was. How many NBA Finals MVP's do you see winning Oscars? I'll answer that for you: none.
Kobe was a hard worker at everything he did, but not only that, he wanted to dominate everything he did. This is random, but Kobe was the first person I ever saw doing squats with both plates and chains weighing down the bars. It was in a Sprite commercial. I don't know why I felt necessary to share that, but if he was working that hard in Sprite commercials, think about how hard he would work NOT in Sprite commercials.
And damn, that smile.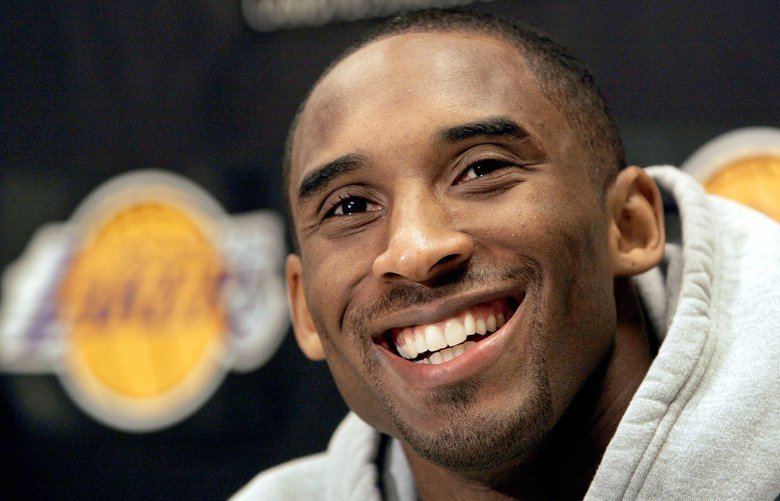 The smile we saw so often: after dropping 81, after winning the NBA Dunk Contest as a rookie, after winning any of his 5 Larry O'Brien trophies, after dropping 60 on his final night in the NBA, or any of the countless times with his daughters either pre or post retirement.
That's another aspect that makes this loss so painful. The loss of his 13-year-old Gianna as well. A young girl who was obsessed with and pursuing soccer until a couple of years ago, when she told her dad she wanted him to teach her the game. And he did.
My stomach remains gutted as I write this. There is an empty pit in my chest as I try to come to terms, and I didn't even know Kobe. So I can't imagine how the thousands of people he did know are feeling, and I can't even begin to comprehend how his family, his surviving daughters, and his wife, Vanessa, are feeling right now.
This is an American tragedy by all accounts. It tugs at anyone's heartstrings, for we lost not only a sports icon, an incredibly successful businessman, a mentor to thousands, but a family man by every sense of the term as well.
Kobe Bryant won 5 NBA championships, 2 NBA Finals MVPs, and one NBA MVP. He was a two-time NBA scoring champ, an 18-time All-Star, and won 4 NBA All-Star Game MVPs. He was named to the All-NBA first team 11 times, the All-NBA second team 2 times, and the All-NBA third team 2 times. He was one of the most decorated NBA players of all time, and yet, the thing that made him most proud was his family. It was rare you didn't see him in retirement sitting courtside without his daughters sitting right next to him.
Kobe loved his girls, he loved his wife, he loved basketball, he loved life. And we loved him. Even if we hated him.
Rest in peace, Mamba.
Oh, and lastly, one thing will forever remain true…