REPORTS: Jacksonville Jaguars Franchise Is Just One Elaborate SNL Skit They Don't Know How To End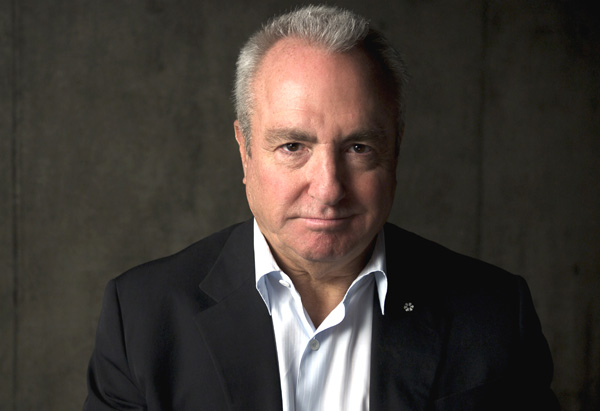 NEW YORK- Reports are surfacing that the NFL's entire Jacksonville Jaguars franchise is just one elaborate Saturday Night Live skit in which the show's writers didn't know how to end.
"We thought it would be really funny to produce a skit where an NFL expansion franchise goes to the AFC Championship a couple times in it's first few years and then does nothing for the rest of the team's existence," SNL Executive Producer Lorne Michaels said.
The Jacksonville Jaguars came into existence in 1995. The team had success early on, making it to the AFC Championship in 1996 and 1999, but then they proceeded to accomplish less than a Kardashian.

"Yeah, the Jaguars first head coach, Tom Coughlin, was actually a character made up and played by Darrell Hammond," Michaels admitted. "He's such a true professional. He stayed in character even after the Jaguars "fired him" in our skit in 2002. It was pretty funny… until the actual New York Giants hired him in 2004. He's been there ever since."
Michaels continued, "For those of you wondering what ever happened to Darrell Hammond's career… Well, there you go."
Upon hearing the news, NFL Commissioner Roger Goodell released a statement on NFL.com:
It has been brought to our attention that the entire Jacksonville Jaguars franchise is an elaborate Saturday Night Live skit. Are you kidding me? That [expletive] is HILARIOUS! LOL! BEST [expletive] THEY'VE DONE SINCE CANTEEN BOY!
"We thought this skit was a killer idea," SNL Season 21 (1995-1996) Head Writer Steve Higgins said. "But like most of our skits, we just didn't know how to end it."
The skit continued to drag on for years. "In improv, you're always taught to end it on the biggest laugh," Higgins explained. "Well, in hindsight, we should've ended it when the Jaguars drafted a punter in the third round in 2012. That got the biggest laugh."
Most of the show's writers are actually surprised no one realized the team was just another SNL spoof.
"We actually had Norm MacDonald return to play the team's running back in 2002," Higgins explained. "We thought for sure someone would recognize him, but no one did."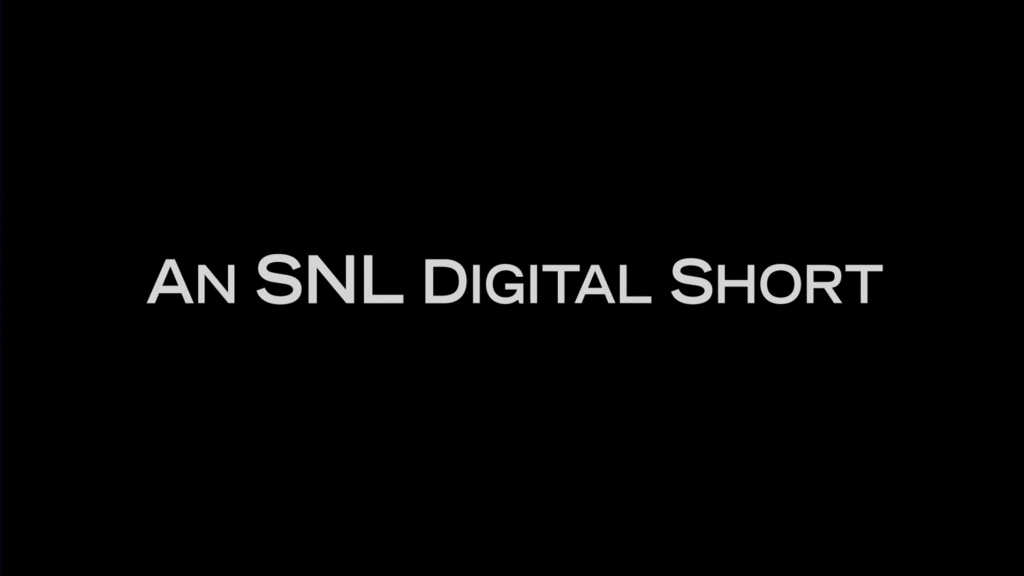 With the previous cast, Michaels felt it was time to make it really obvious for the viewers. He wanted them to be let in on the fact that this team was one giant SNL skit. "When Andy [Samberg] was on the cast, we decided to just throw up the 'SNL Digital Short' titling before every 'game,'" Michaels said. "It didn't work. In fact, if anything, it made the games funnier."
Some fans did think some things about their franchise were different than other NFL franchises.
"I thought it was weird that Justin Timberlake kept returning to 'host' our team's games," Jaguars fan Reggie Blankenship said. "Don't get me wrong, he's great, but none of the other teams in the NFL had guests host their games."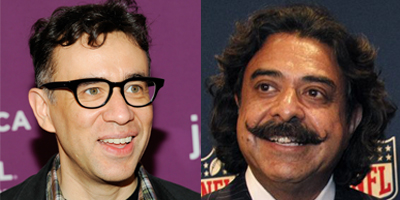 Michaels pulled back the curtain and began to admit the cast of the team. The show's executives realized the skit didn't feature one of their best talents, Fred Armisen, in the skit. So they wrote him in as Shahid Khan, the Jaguars new owner who bought the team in 2012. Blaine Gabbert is actually just Bill Hader left over from the show's reoccurring The Californians skit. And Bobby Moynihan took over the role of drunk Tony Boselli screaming obscenities from the stands.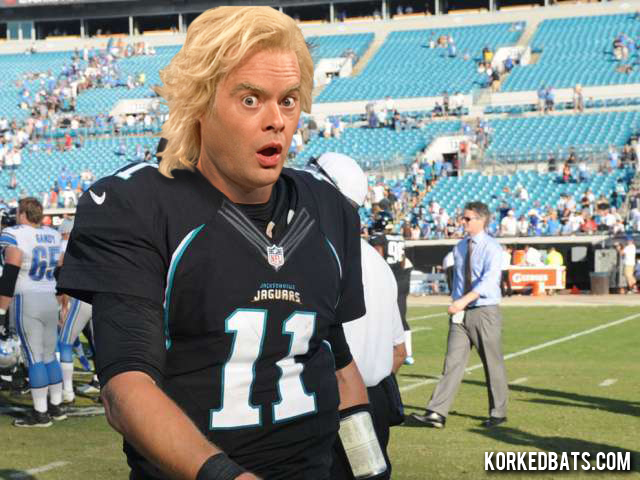 Lorne Michaels and the rest of the cast has no idea how much longer the skit will last, but hopefully soon. The show has Montell Jordan as the musical guest still waiting to sing his hit song This Is How We Do It as soon as the skit ends.
• • •
This post was created by Austin. You can follow him and his jokes on Twitter: @TheAHuff
And also, for up-to-the-minute sports jokes, follow Korked Bats on Twitter: @KorkedBats