REPORT: George H.W. Bush Still Being Wheeled Out For Super Bowl Coin Toss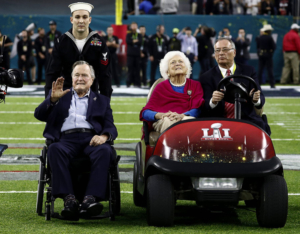 HOUSTON — President George H.W. Bush alongside wife Barbara Bush were scheduled to give the ceremonial coin toss ahead of Super Bowl LI at NRG Stadium in Houston last Sunday, but reports have been confirmed that America's 41st president is still being wheeled out to midfield.
Due to his old age, handlers were informed to take things very slow. "The slower we go, the more time Mr. President will have to realize where he is," Navy sailor Connor McBride said. "Plus, it gives fans more time to enjoy that awkward toothless smile of his."
"I just wish I would've adequately planned for just how long this process would take," McBride added. "I keep feeling my phone vibrating in my pocket. I bet it's my wife wondering when I'm coming home."
NFL officials hope to have the 92-year-old Bush Sr. wheeled out to midfield by Easter 2017.
President Bush Sr. continues to wave and smile, despite fans leaving the stadium days ago.