Replacing The Sweater Vest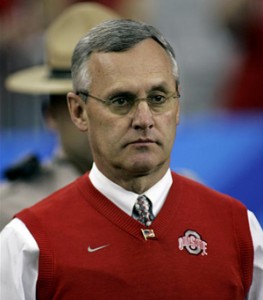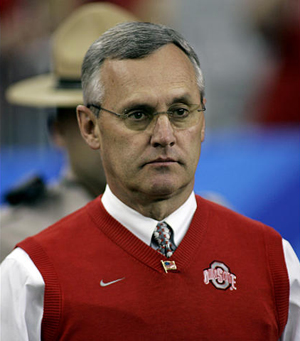 As a resident of Ohio who is not a Buckeye fan, I have had an interesting perspective as the last 24 hours have unfolded. Jim Tressel was (and still is) more revered in Ohio than Oprah is in Chicago. More loved than tourists in Detroit. More honored than Mark Cuban in Mark Cuban's mind. You would think that watching a team I enjoy cheering against suffering this way would be a good thing. Heck, I wrote an entire post about justified sports-hate. But for some reason, it just doesn't seem right. I feel like the Grinch at the end of the story when he realizes he has a heart after all. This scares me. So in an attempt to help the Buckeyes, I've put together a list of THE coaching candidates THE Ohio State should consider.  To make their job even easier, I've categorized them by likelihood.
The Contenders
Folks Ohio State is reportedly considering, all jokes aside.
Bob Stoops – Oklahoma Sooners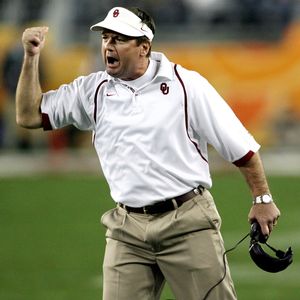 Bob Stoops has lead Oklahoma to several BCS games and multiple National Championship games. And lost most of them. He would fit right in at Ohio State. He would also bring a more balanced offensive and defensive approach to the Buckeyes.
Gary Patterson – TCU Horned Frogs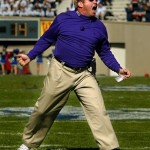 Gary Patterson is known for leading a tough bunch of Horned Frogs to national prominence. Couple his impressive regular season record with back-to-back appearances in BCS games, and Patterson is a serious contender. Not to mention he did it all with TCU. I'm sure he doesn't even know what a booster is.
Urban Meyer – (formerly) Florida Gators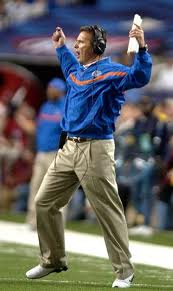 Urban Meyer is the hottest coach in college football and he's not even in college football anymore. He's from Ohio, he's without a job, and he just bought a home in Columbus.  There is one little problem though… He has semi-retired the last two seasons in a row.  If he decides to take the helm for the Buckeyes, can anyone other than Brett Favre take him for his word again?
The Fringe Candidate
Someone OSU isn't pursuing but might actually make sense to interview.
Kirk Herbstreit, ESPN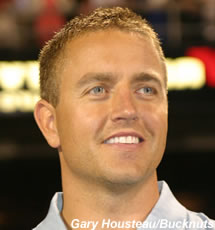 Kirk Herbstreit is the golden boy of college football broadcasting.  He's a former OSU player and Ohio-native.  He knows football inside and out and is highly visible to the general public.  Recruiting would be a cinch for a guy that 100% of recruits would know the second he walked in the door.
The Cross-Overs
Individuals who have had success in other arenas (coaching or otherwise) that have free time on their hands.
Phil Jackson – (formerly) Los Angeles Lakers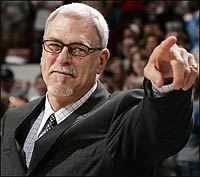 The Zen Master has a lot of time on his hands.  He has proven he can dominate basketball, now it's time for him to prove himself on the gridiron.
Bob Knight – (formerly) Texas Tech Red Raiders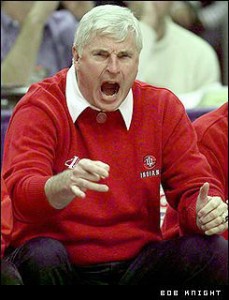 Which is crazier: Bob Knight coaching Ohio State football or Bob Knight? I can't wait to see him try and choke-slam some Buckeye linebacker.  Football players fight back, and have pads on. Watching Bob Knight coach Ohio State football would be like putting three all-stars on the same NBA team (ahem, Miami).  It might not always be pretty, they might not win it all, but it will be entertaining-as-hell to watch.
Oprah Winfrey – (formerly) The Oprah Winfrey Show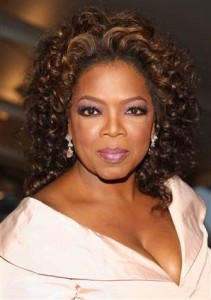 Can Oprah prove she's got what it takes to cross-over into major college athletics?  As one of the richest women in the world who recently retired from her day job, it's safe to say she has the time on her hands.  She could also recruit the Chicago market well for talent.
The Longshots
Characters that would help Ohio State's image and bring some accountability to the program.
The Count – Sesame Street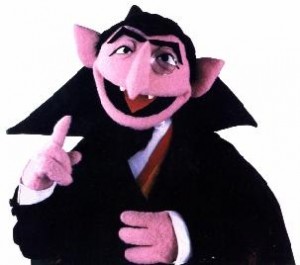 Even though Tressel has resigned, there are certain to be more infractions brought to light. With dozens of players being accused, who better to keep a tally of the infractions than "The Count."  He can be their coach/compliance officer.  Or their defensive coordinator/transparency adviser.  I guarantee you he'll know how much Buckeye players paid for cars, he's all about knowing the numbers.
Arnold makes the list for a simple reason.  His head is shaped like a football.