Random Athlete of the Month – October
The random athlete for the month of October is:
Fred McGriff
Quit drooling people. I know that's tough when there's a 1989 MVP edition of Fred McGriff's Donruss baseball card signed by the Crime Dog himself distracting you above. As if it wasn't already fly enough, just admire that aesthetically invigorating and explosive word art in the background. Can't find that in
Microsoft Word
. Add in the near flawless mustache and I bet
Beckett values that baby at $6.43
at least. OK, now I'm drooling.
Before we get started, I know a question on at least one of your minds is what ever happened to the Random Athlete of the Month post for September? My answer is simple. Shut up. I forgot to do one. Big whoop,
wanna fight about it?
Just kidding, I love you.
But yea, I did indeed forget. The
last Random Athlete of the Month
was of course Caster Semenya. You remember, the gross man-woman-thing that whose status as a female track athlete was being questioned. Well, turns out she is
actually a woman AND a man
. Yea,
I don't get it
either. Another day, another story.
I'm getting carried away. Back to what's relevant. Korked Bats is excited to name Frederick Stanley "Crime Dog" McGriff as October's Random Athlete of the Month. We can all agree it takes a special man to share a nickname with one of the coolest d-o-double g's in all the land (I'm gangster). This guy:
And Fred is no doubt a special man. As one of the most boring superstars of the 90s, McGriff put together quite the resume during his 19 seasons in the MLB (Yea I didn't know he played that long either. In my book, Fred was, and always will be an Atlanta Brave along with
Mark Lemke
,
Jeff Blauser
,
Mark Wohlers
, and
Ryan Klesko
.) Here are some of his highlights:
5x All-Star Selection
1995 World Series Champ
3x Silver Slugger Award winner
1994 All-Star game MVP
And my favorite: Joins Gary Sheffield as the only players in history with 30 HRs in one season with 5 different teams.

Blah, blah, blah, enough about his baseball career. Most agree that Fred McGriff's biggest claim to fame was his endorsement of Tom Emanski's Baseball Training videos. If you don't know what I'm talking about, you are either too young, didn't have cable growing up (cough, cough…Jeff the Titans Beard Guy…cough, cough), or don't watch ESPN (in which case you are gay like Jared Launius). You know, the ones that claimed to to produce back-to-back-to-back AAU National Champions. The ones that were left on the air so long you wondered if you were watching TV Land every time they came on. These ones: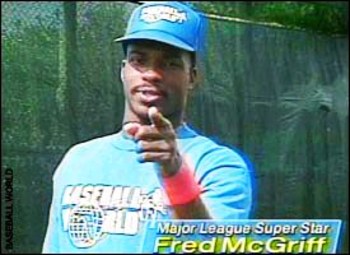 "I'm Fred McGriff. I'm wearing a ridiculous hat. One day I'm going to be the Athlete of the Month for Korked Bats. My shirt looks like the Wayne's World logo. Buy this video."
Note: I'm not certain the above quote is correct, but from what I remember, it is. You have no idea how difficult it is to find this commercial online. How ironic. This instructional video series haunted my childhood and now all that remains is this single screen shot.
So today lets all sit back and reflect on the exciting and dynamic career of my man Fred McGriff. And if you still need some McGriff in your life you'll be happy to know his son, Erick, is a wide receiver for the Kansas Jayhawks football team.