Random Athlete Of The Month – June 2010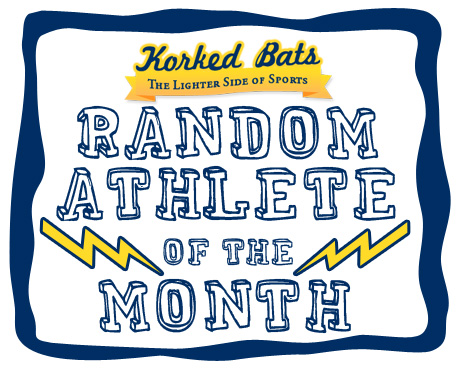 It's that time of month… No, not that time of month, ladies. It's the time of month where everything just seems so random. Everywhere you look is just another exuberant example of randomness. Especially, with our athletes. That's right, children. It's time for our Random Athlete of the Month!
This month's random athlete is…
Raúl Mondesí
Former MLB Right Fielder
Our random athlete of the month can be summed up in one four second cheer:
"Ra-ooooooo-oool!"
Raúl Mondesí is best known for his… well… average play at the plate. He was in the Major Leagues from 1993 to 2005. In that time span, he batted .273 with 271 home runs and 860 RBIs. You really can't get any more average than that. He struggled with plate discipline and often had attitude issues.
However, Raúl has some accolades to his name that set himself apart somewhat from the crowd. In 1994 he won the NL Rookie Of The Year award. Which for those of you who don't know what that is, it is an award that goes to the best rookie of that year. And Raúl won it!
In 1995, Raúl was an All-Star selection and he won a Gold Glove. He later won another Gold Glove in 1997.
Raúl was known for having one of the strongest arms in baseball. Often compared to Roberto Clemente and that one guy from Lady In The Water. Another positive note on Mr. Mondesí was that he always hustled; in the field, running on the base paths (often times taking a big turn at first even if he had no shot of making it to second), and at the billiards hall.
In his 12 seasons in the show, he played for the Los Angeles Dodgers, Toronto Blue Jays, New York Yankees, Arizona Diamondbacks, Pittsburgh Pirates, Anaheim Angels, and Atlanta Braves. But most importantly, he was with the Dodgers from 1993-1999 meaning he probably played with Benny "The Jet" Rodriguez.
Sure, Raúl had a good career in the Major Leagues, but his post baseball career could be noted as one of the coolest post baseball careers. He didn't go the route of becoming an analyst on TV, like Nomar Garciaparra and John Kruk and many other players. He didn't go the route of snitching on fellow teammates and players, like Jose Canseco. And he didn't try and become an actor in any possible Requiem For A Dream sequels, like Darryl Strawberry.
No, Mr. Raúl Mondesí took his own route and became Mayor of his hometown. And I'm not talking just becoming mayor on FourSquare, I'm talking legit, people voted for him, Mayor. His term started last month and lasts for 6 years.
So let's all now refer to Raúl as:
"Ra-oooooo-oool Mayor-desí"
And finally, probably the coolest thing about Ra-oooooo-oool Mayor-desí is that when you Google Image Search for "Raúl Mondesí" this lady's picture shows up. That's awesome.