Random Athlete of the Month – July
God love him. Just when you thought this past week couldn't get any more historic (there was a moon landing 40 years ago…big whoop) Korked Bats is proud to announce the recipient of July's Random Athlete of the Month is fittingly the only man who has to duck at night to avoid bumping his head on the moon, Gheorghe Mureşan.
Gah, I don't even know what to say. Words can't do this Romanian basketball hero justice. After a quick Google Image search on the guy I was confident I was looking at the subject of an Animal Planet documentary, not a retired NBA player. See for yourself:
I'm scared of him. Period.
Who doesn't belong here?
Pretty sure I still have this issue laying around somewhere.
Ok, that's enough. Looking at pictures of this thing confuses my brain. I don't know whether to laugh, feel sorry for "it", or scream because it is the single scariest thing I've ever looked at in my entire life.
Anyway, here's a little info on Mr. Mureşan's NBA career. With the 30th pick of the 1993 Draft, the Washington Bullets (except we call them the Wizards now because the Israeli Prime Minister Yitzhak Rabin was assassinated……excuse me, what?!) selected our big man straight out of the French league, who instantly became tied with Manute Bol (please click that link) as the tallest player to ever play in the NBA. He played 2 comical seasons then decided to head back to France and play where his skill set fit in a little better. But then he came back to AMUURICA! And wouldn't you know it, he won the 95-96 NBA Most Improved Player Award. Upon retirement in 2000, his career stats looked as follows:
9.8 ppg
6.4 rpg
0.5 apg
1.48 bpg
.573 fg%
I'm sorry, but had I been given that height, my career numbers would look as follows:
40 ppg
20 rpg
0 apg
10 bpg
1.000 fg%
But that's neither here nor there. I find it odd that Yao Ming is the toughest freakishly tall athlete we've ever seen. What's the deal? I feel like if it was my job to be an athlete I would work as hard as I could to at least not be embarrassingly uncoordinated. I mean, look at this:
(This is still my favorite Sportscenter commercial ever)
Now, I've been pretty hard on the poor fella so far so I feel it's only fair to highlight some of his positive attributes and moments as well. I mean, every now and then he did something remotely well. Here's his best LeBron impression…
Lastly, It would be a devastating sports sin (yes, those exist) if I didn't mention the single best thing Gheorghe Mureşan gave to the world. The lead role in the film, "My Giant". If you've been living under a rock your whole life and haven't seen it yet, good, you're just like me. But after watching this trailer it will most definitely be my next movie purchase: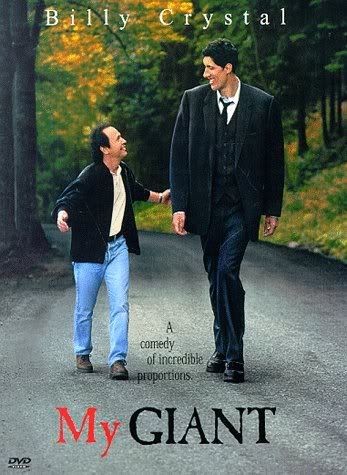 So there you have it. July's Random Athlete of the Month. I'd write more but I just noticed FernGully is available ON Demand currently (Encore channel if you have it) so I've obviously got better things to do.
Do you have a random athlete idea that you think should be next month's

Random Athlete of the Month

? Leave a comment below and see if your random athlete will be next month's

Korked Bats' Random Athlete of the Month

!