Random Athlete of the Month – February 2011
Bobby Bonilla
February is a special month, not only here at Korked Bats, but across America. February contains Valentines Day AND Presidents Day, and not to mention, it's Black History Month and it's racist-ly shorter than all other months, and most importantly the month lucky enough to possess my day of birth.
(It's the 26th. I'll accept payment via PayPal if you've procrastinated purchasing my gift.)
So when selecting a Random Athlete of the Month this month, we had to find someone special. That special man is Bobby Bonilla. And he turns 48 today. That's right. Today is Bobby Bonilla's birthday!
Roberto Martin Antonio "Bobby" Bonilla was signed in 1985 by the Pittsburgh Pirates straight out of high school. Unfortunately, he never played a game for the Black & Yellow due to a collision with Bip Roberts (yes, that guy) in spring training which ended in a broken leg for Bonilla.
He was then picked up by the Chicago White Sox where he was apparently "bullied" by veteran players who would play pranks on young Bobby such as "putting shaving cream in his shoes". I'm not making that up. Wikipedia told me. They're the closest thing to historical fact mankind has to its disposal. I can only imagine the mental and emotional damage such heartless acts could do to a soon to be multi-millionaire baseball superstar.
After what I presume to be countless nights of crying himself to sleep, Bonilla made the Pirates guilty of Indian giving and was resigned by Pittsburgh where he played third base, for two seasons. Why only two seasons? Because he was terrible and somehow managed to commit 67 errors over those two years. His manager, Jim Leyland, did what all baseball coaches do with their worst defensive players from T-Ball on, he sent him to right field.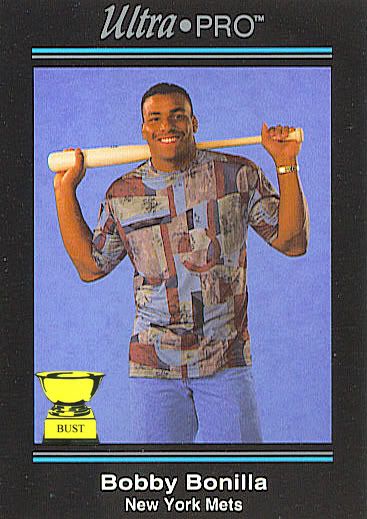 The rest of Bonilla's career was marred with bad decisions. Some say, and by some I mean myself, Bonilla's bad behavior started after he decided to to pose for the baseball card pictured to the right wearing a shirt that Bill Cosby wouldn't wear. In 1989 he was reprimanded for assaulting the Pirates' clubhouse attendant. In 1993 he threatened sports writer Bob Klapisch saying he would "show him the Bronx" (whatever that means) in response to Klapisch's book "The Worst Team Money Could Buy: The Collapse of the New York Mets." Later in his Mets career, Bobby called the press box during a game to argue an error attributed to him. Now we're really dating Bobby. He had to actually call the press box rather than use Twitter to convey his disapproval.
After stints with the Orioles, Marlins, and Dodgers, Bonilla returned to the Mets where in game six of the 1999 NLCS, Bobby spent the entirety of the 11 inning game playing cards with 342 year old Rickey Henderson in the clubhouse.
In some strange delayed payment plan, beginning in July of this year, the New York Mets will pay Bonillia $1,193,248.20 every July 1 from 2011 until 2035. I have never heard of such a thing and am highly jealous  he is somehow pulling this off.
Oh yea, he was also in the movie Rookie of the Year.
Unfortunately I was unable to find a Bobby Bonilla desktop wallpaper for you to use, so you'll have to settle for the next best thing I could find, a high resolution shot of Bobby with an overweight Boston Red Sox fan in a bar where guys wear cowboy hats.