Pulling Clayton Kershaw From A Perfect Game After 7 Sucks, But *Sigh* It Was The Right Call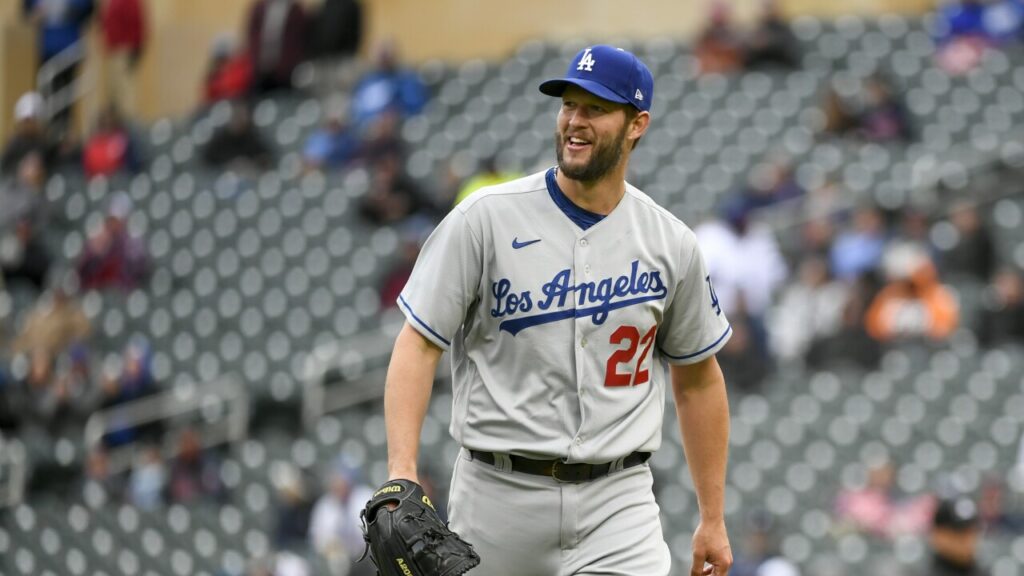 Big day for Hankook tires, amirite?! Clayton Kershaw, arguably the greatest pitcher of our generation, kicked off his 2022 season (his 15th season!) with quite possibly the greatest start of his career. Through 7 innings, he was mowing down twins harder than the dude who sung that Coors Light jingle back in the day. Thirteen (13!) strikeouts. His career-high is 15. And most of all, he didn't allow a base runner through 7 innings. He was perfect. In his first start of the year. In a day and age where LeBron is still posting triple-doubles at 37, Tom Brady is throwing for 5000+ yards at 42, and Albert Pujols is still playing at 56, it's awesome to see Clayton Kershaw still dominating at 34.
But what wasn't awesome was Kershaw getting pulled from the game before being given the chance to finish his perfecto. That sucked. But…… [long pause] I get it.
The Dodgers only led 3-0 with six outs to go, so you might see why Dave Roberts was thinking win over history. But then, as if the universe wasn't hoping for Kershaw to finish the job, immediately after Dave told Kersh he was yanking him, the bottom three guys in their lineup went back-to-back-to-back to pad the lead to 6-0. Because of course.
Would I have liked to see Kershaw finish what he started or at very least try to? قوانين البلاك جاك Of course. But aside from history, what the hell does a perfect game in the second week of April do to benefit the Dodgers? They're not playing for individual accomplishments, they want a World Series. Kershaw knows that more than anyone. And if you leave Kershaw out to pitch more in his first start of the season, in a cold-weather game (high never reached 40 degrees in Minneapolis), after a shortened spring training, you run a major risk of injuring one of the best pitchers in your rotation, a guy who has suffered from lingering back issues and failed to reach 30 starts since 2015.
He was 80 pitches and I guarantee the plan going into the game was not to pitch more than 75 for a guy like Kershaw.
It was the right call.
And it sucks.
Both can be true.
For a likable guy like Kershaw (one of the few on the evil empire that is becoming the Dodgers), it sucks to not see him *potentially* reach history. Especially considering he's never pitched a perfecto in his career and only has his lone no-no in 2014. If only this start could've come during one of those whack-ass 7-inning doubleheader games last year. Then he would've gotten the perfecto.
But look, in a way, this could be better for Kershaw's legacy. Hear me out. In college, I used to play a buddy of mine in ping pong. He kicked my ass for 15 straight games. I got close in a couple of them, but never beat him. 15 games, 15 L's. It sucked. But in that 16th game, I finally won. The feeling was euphoric. So how did the 17th game go? It didn't. We didn't play again. Like ever. Solely for the sake that I will always have bragging rights for winning the most recent game. I'm on a winning streak that will never be broken. To me, this Kershaw start is like that. This was Kershaw's first career game against the Twins. He's technically never given up a hit to that franchise. It will make for incredible bragging rights one day, and at very least, an incredible trivia question. اربح So low key, this was a dope move by Doc. Hell, I know Kershaw was contemplating retiring this offseason. He should do it now. Go out on a perfect 7 innings.
But on top of that, let's not overreact to this decision. The hot takes will be flying. And my least favorite of the bunch is this one.
I'm willing to bet that profile picture-less PeteM199 doesn't watch baseball to begin with. And I'm also willing to bet Clayton Kershaw pitching a perfect game in mid-April wasn't going to change that. People like PeteM199 like to hate on baseball no matter what baseball does. Hell, if Kersh finished the perfecto, PeteM199 probably would've complained that there are too many perfect games and there is no offense in the sport. "wonder why baseball is losing fans" he'd tweet while scratching his nuts on the recliner in his ex-wife's house instead of looking for a new job on Monster.com like he promised her he would. Never mind the fact that this outing was monumental enough to get one of ESPN's *checks notes* NFL REPORTERS (!) Field Yates to tweet about. Nevermind the fact that last year's World Series posted 3-year highs, the All-Star Game saw increased viewership in 2021, and last year's Field of Dreams game between the White Sox and Yankees was the highest viewed regular season baseball game of all-time. But sure, Kersh getting the hook is why baseball is losing fans. Great take, Pete.
And I've also seen a lot of these flying around…
I get it if you want to rip Dave Roberts for the decision, but let's keep in perspective that the guy knows what he's doing. He has the highest winning percentage of any Dodgers manager since they moved to LA, and the third-highest all-time, behind Chuck Dressen and some dude from the 1800s who probably had a curly0sue mustache. And Dave has almost as many wins as the two of them combined. So I'm pretty sure the guy knows what he's doing. And I'm pretty sure he knows more than the doofuses shouting at their phones after tuning into the game on MLB.tv during the 7th inning. This isn't unprecedented either. He's pulled guys during no-nos and perfectos before. Just ask Ross Stripling during his first career start (pulled from a no-no)… or Rich Hill.
Which leads me to this tweet. Seen A LOT of this flying around today.
Context is usually important. Rich Hill was a top-3 pitcher for the Dodgers in 2016. He was also dealing with more blisters than fingers that season. It was a nagging issue for him that sidelined him for multiple starts. That game was on September 10th, not June 10th as the tweet states. They were in the middle of a heated playoff race, among a near-30-year World Series drought. They needed Rich Hill for October, not September 10th. And as for today, well, I literally just laid that out for you. Again, CONTEXT. IS. IMPORTANT.
Does it suck? Of course. We would've loved to see history today. But we'd love to see a healthy Clayton Kershaw throughout 2022 even more. And TWINS!