Preseason Rankings: Top College Mustaches
Websites everywhere are gearing up for the start of college football. There's power rankings, national rankings, coach rankings, hottest cheerleader rankings, best party school rankings, etc. and they are all dedicated to providing the most accurate predictions for the impending season, but there's one ranking that gets less attention. We're trying to put an end to that.

Starting from the top…
5.) University of Idaho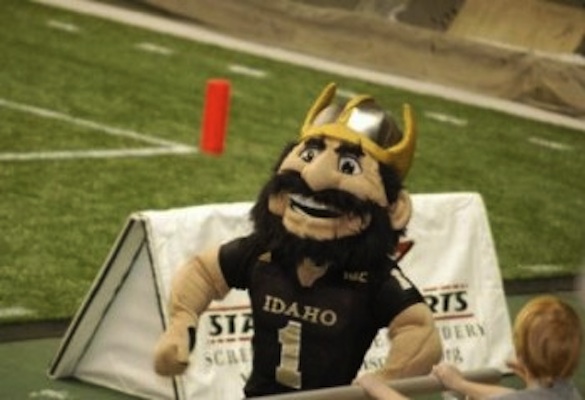 His name is "Joe Vandal" and I have no idea what in the hell that means. All I know is that he kind of looks Italian, but like the kind of Italian that Italian people are either wish they didn't or are glad they don't look like. I think that might be a crown too. I guess it's his vandal crown. Like, head-ware that identifies him as a vandal. Or maybe he has soft skull tissue. Regardless, that mustache is great, and it looks like a horse's mane .
4.) Oklahoma State University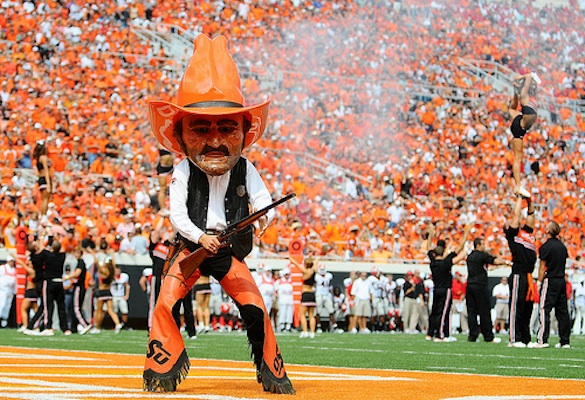 This guy goes by "Pete," he also goes by, "Creepiest Mascot Ever" or "Tom Selleck." With the body of a human and a giant plastic man-face, there's no way little kids aren't terrified of him. Opposing teams… not so much. But we're here to talk about the mustache, and he's got a truly proper cowboy stache going. For this, we say, "well done, partner."
3.) New Mexico State University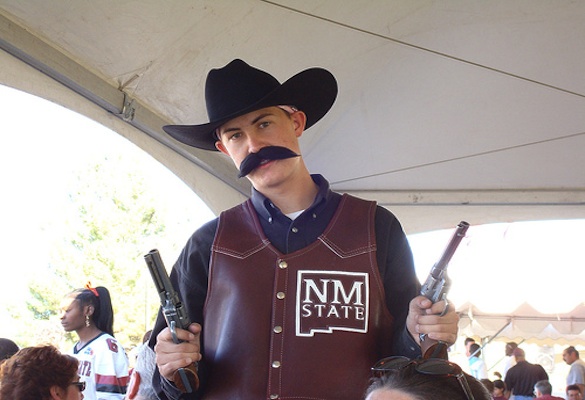 We know you all are wondering, "New Mexico has college? And people actually do college there?" But what you didn't know is: Yes. While the human face/body combo does make him less creepy than ol' Pete up there, the fact remains that this is still not a real mustache. It looks like two dead mice kissing, but with no eyes. For that kind of face-art, we award New Mexico State the honor of third place, and that, friends, that'll get ya to the podium.
2.) Texas Tech University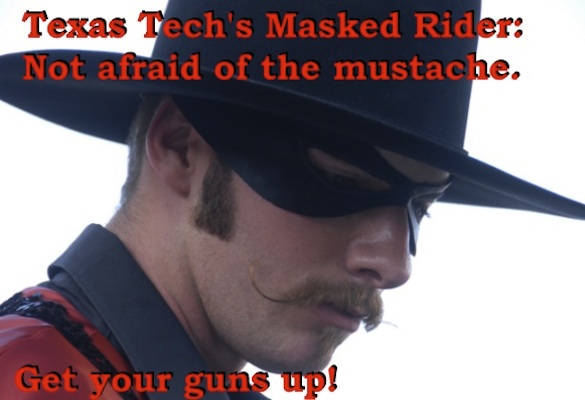 When the masked rider isn't busy ringing his bell, he's probably off trying to save people from being too bored in Lubbock, Texas. This stache is the real deal though. As real as all of the broken dreams left on that Lubbock campus. That mustache is a gift from his maker, and his maker must be proud.
1.) West Virginia University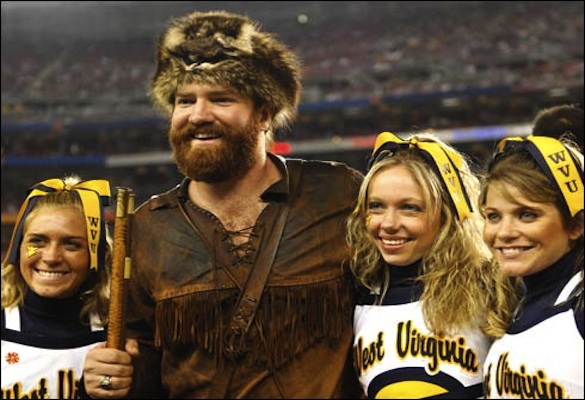 You may have seen this one coming. I know I did. I don't think I need to say much here, folks. He's the clear champion. The man literally killed the clothes he's wearing, and he probably grew the beard while he was busy killing animals and measuring his sleeve length. Look at that hat. That hat used to breathe, and so did his neck.
WVU Mascot, you have officially been awarded: "Best Mustache in College Football" And look, I know the dude has a beard. But we're not here to descriminate. And I dont' feel like writing a separate post about best beards.
And just for kicks, a runner-up:
(First loser.)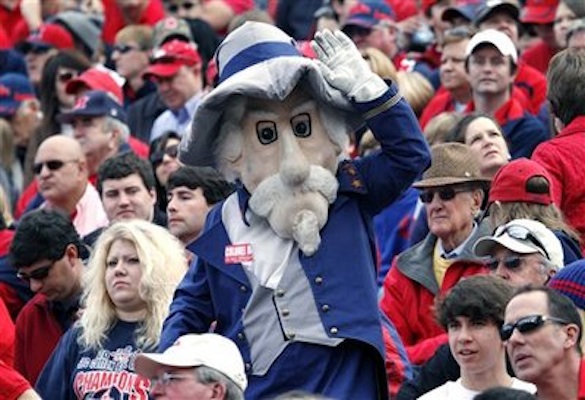 Please feel free to educate me on any I may have forgotten. I stick by my work, but it's always fun to hear people try to convince me I'm wrong so please, let me know.