PICTURE: Why Don Mattingly Is Making This Face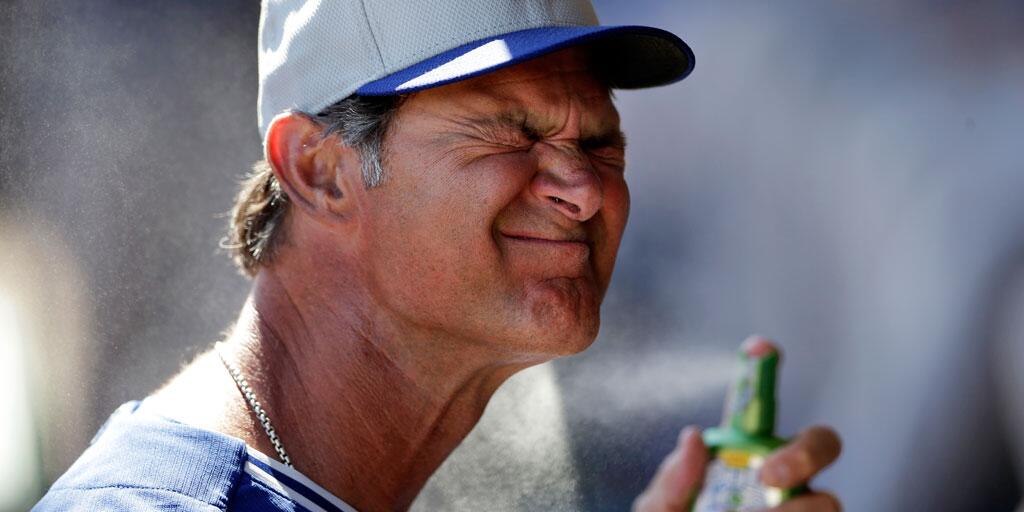 Why is Don Mattingly making this face? The easy answer is because he's spraying sun tan lotion on himself. But quit being a square and think outside of the box. We like to think he's making this face because:
Josh Beckett is pitching today.
He lost his car keys.
He lost his car keys in Brian Wilson's beard.
He decided to not go with Keystone Light and just got bitter beer face.
Brandon League blew another save.
He just opened a mini-pack of Starburst filled with two yellows.
Yasiel Puig missed his cutoff man.
He was tricked by yet another Jimmy Kimmel viral video.
His ace pitcher, Clayton Kershaw, just gave up 7 earned runs in Game 6 of the NLCS.
Someone's walkup music is a Pitbull song.
Yasiel Puig missed his cutoff man again.
He just watched the clip of John Travolta butchering Idina Menzel's name.
Hanley Ramirez replaced his sunscreen with mace.
Two Words: Flappy Bird.
Bud Selig just ended this game in a tie.
He just walked in on his great aunt going to the bathroom.
Juan Uribe is eating him.
He just found out that Moneyball 2: The Don Mattingly Story will be directed by M. Night Shyamalan.
He's doing his best Don Zimmer impression.
• • •
This post was created by Austin. You can follow him and his jokes on Twitter: @TheAHuff
Also, for up-to-the-minute sports jokes, follow Korked Bats on Twitter: @KorkedBats