One question for you: can you feel it?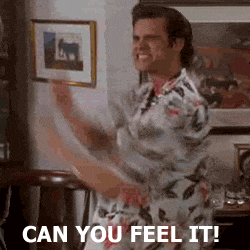 After months of waiting…the 2022 NFL season has arrived. We got a great taste of what's to come on Thursday night with the Bills and Rams. The defending Super Bowl champions started the season on the wrong note. Not just the game, how it all started with The Rock introducing himself and then hyping up the "Rampede." Worst thing in sports? It just might be. I saw that and instantly switched my pick from the Rams to the Bills. Thank you, The Rock.
Week One has a lot of matchups to look forward to, not just as a bettor, but as a fan. You get Mr. Unlimited taking on his former team. Baker taking on his former team. Flacco taking on his. Okay, maybe that's not as exciting, but on paper the narrative is still pretty cool! Storylines aside, there are some matchups to kickoff the season that I'm excited for and know we can win some money, baby.
Every week, I'll provide six picks I am very confident in and then will share my Dog Of The Week, as well. All of these are (allegedly) locks. Let's dive in.
Pittsburgh Steelers @ Cincinatti Bengals Line: CIN -7
The Bengals were the biggest surprise of the season last year. They shocked the country making it to the Super Bowl. Will they repeat this year? Highly unlikely. Can they beat the Steelers? Absolutely. This offense is one of the most talented in the league. Burrow, Mixon, Chase, and the rest of that receiving corps…they are a lot. They are dangerous. Don't get me wrong, the Steelers have a dynamic offense, as well. Lots of talent. However, they're a little more beat up right now. And the quarterback position is pretty important, don't you think? Burrow vs. Trubisky. I'll take Burrow. By a lot.
Pick: CIN -7 Bengals 27 Steelers 17
Baltimore Ravens @ New York Jets Line: BAL -6.5
FS1's Nick Wright says to bet the mortgage on this game. All Lamar and company have to do is beat the Joe Flacco led Jets by a touchdown and we win money? Sign me up! Lamar is out for blood this year after all that contract drama. I expect huge things from him in Week One. The Jets are in trouble. What's new?
Pick: BAL -6.5 Ravens 24 Jets 13
Indianapolis Colts @ Houston Texans Line: IND -7
It was a heartbreaking end of the season for the Colts last year. Their fate was in their hands, and Carson Wentz did Carson Wentz things and they missed the playoffs, and now he's on his third team in as many years. Yikes. They're going to be out to show the country that last year was a fluke and they've corrected the problem. Now, with a former MVP under center in Matt Ryan, I expect them to be more consistent and really rely on that running game. They can get it done against the Texans who are going to be one of the teams fighting for that first draft pick come 2023.
Pick: IND -7 Colts 24 Texans 16
New York Giants @ Tennessee Titans Line: TEN -5.5
Speaking of teams who will be in the running to have the first draft pick next year…introducing the New York Giants! Why on earth is Daniel Jones still a starter? What is going on? However, for those of us betting on the game, it's a great sign! Keep him playing! It's a win for us. King Henry has fresh legs, Tannehill's butt is on fire and needs to play well to avoid losing his job, and they were embarrassed at the end of the year. They fought hard all season and surprised everyone as the number one seed in the playoffs, then Tannehill happened. They need a big week one to correct that national story line. It will happen.
Pick: TEN -5.5 Titans 27 Giants 20
Cleveland Browns @ Carolina Panthers Line: EVEN
I am so excited for this game. Will Baker be mic'd up? Can he please be? He's going to fired up. The Browns are going to be fired up. The crowd is going to be fired up. Let's go! This is such a great game, the spread has been bouncing all around and is currently even, as I write this. The Browns have a fantastic roster. Top to bottom. Their D should be one of the best in the league. As should their running game. The problem? They are without their starting QB because he's (allegedly) a total creep weirdo. On the other sideline, the Panthers were considered not just one of, but the worst team in the league a few weeks ago, before signing Mayfield. Can he correct all of those problems? No. Definitely not. Can he make them better? Absolutely. If Watson was playing, I wouldn't give the Panthers a chance. However, he's not. I think Baker can carry Carolina past his former team in Week One. It won't be pretty. This won't be a shootout. But I think he can do it.
Pick: Carolina straight up
Denver Broncos @ Seattle Seahawks Line: DEN -6.5
The other game in Week One with a great narrative. Russell Wilson and Seattle's relationship really got ugly the past couple of years. Now, they face each other to start the season. Perfect. The line is a little surprising to me. Geno Smith will be starting for Seattle. Geno Smith. The guy who was socked in the face by his own teammate like 20 years ago. How is he still in the league? What's he been doing since taking that punch? Two words: Let's Ride. Broncos start the season on the right note and Wilson really lets them have it.
Pick: DEN -6.5 Broncos 30 Seahawks 13
Dog Of The Week: Jaguars +3 against Washington. Jacksonville now has a Super Bowl winning Coach leading the team. Urban Meyer is a thing of the past…unless you watch College Football on Fox. What were they thinking hiring him already? Anyways…the Jags have a new coach and Trevor Lawrence entering his sophomore season. He needs a big year after a very disappointing rookie season, in my eyes. That all starts on Sunday. He'll be playing Washington led by Carson Wentz. Oh yeah, we've talked about him. I do like Washington, but Jacksonville needs this to make a statement, and I expect them to be ready for it.