Penn State Names Removed Joe Paterno Statue As Their Next Head Coach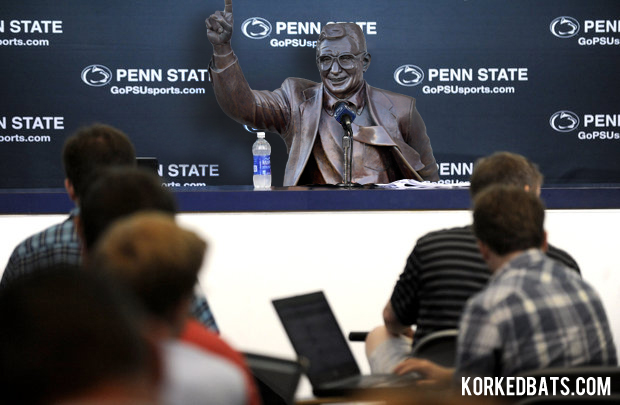 STATE COLLEGE, PA — Shortly after Penn State head coach Bill O'Brien announced he was leaving the school to become the head coach of the Houston Texans, school officials announced the hiring of the recently removed Joe Paterno statue as the school's next head coach.
"We are thrilled to announce our new head coach, that removed Joe Paterno statue from outside Beaver Stadium," Penn State Athletic Director David Joyner said, at a press conference. "We think he'll be a rock-solid foundation, excuse me, a bronze-solid foundation for us to build our program around."
"Plus, it will be a lot harder for him to just up and leave, like someone… coughBillO'Briencough," Joyner added. "Sorry, I've been battling a tough cold. coughYouCanIncludeThatCoughInYourStoriesIfYouWantcough."
Joyner then introduced the new coach and the Joe Paterno statue was wheeled to the podium to answer questions. Many were surprised when the statue refused to answer the question of where he's been since the school removed him from it's usual spot outside Beaver Stadium. In fact, come to think of it, the Joe Paterno statue didn't answer anyone's questions. ماكينات القمار It just stood there, forcing Joyner to rejoin him back at the podium.
"We feel the Joe Paterno statue will help us recall the days of great Penn State coaches from the past.," Joyner said. "Not only because he's an exact replica of one of our former coaches, but also because he stays silent, like most of our former coaches."
The newly signed deal is for 8-years, and the terms include a bi-weekly cleaning from bird droppings, a brand new dolly to wheel him on and off the field each week, and he gets to hire on his own staff. There has been some speculation amongst college football analysts as to who he will hire. Many believe he will get Alabama's Nick Saban statue to run the defense, Boston College's Doug Flutie statue to run the offense and Notre Dame's Lou Holtz statue to spit water out of it's mouth, acting as a sprinkler for the field.
Penn State students began rioting in the streets of State College, shortly after the announcement of the new hire. القمار
"WE ACTUALLY AREN'T MAD! THIS IS THE BEST POSSIBLE OUTCOME FOR OUR PROGRAM! موقع مراهنات كرة قدم " yelled Braxton Bennett, a Penn State junior, while standing on top of an overturned cop car. "I MEAN, HE'S NOT OUR FIRST CHOICE, WHICH IS MY ROOMMATE'S JOE PATERNO CARDBOARD CUTOUT, BUT THIS HIRE IS GOOD ENOUGH FOR US! THE JOE PA STATUE IS A TRUE PENN STATER!" When asked why him and thousands of other students were rioting, Bennett answered, "WE JUST LIKE TO RIOT EVERY TIME WE MAKE A COACHING CHANGE!"
Bennett continued, "PLUS, IF THIS STATUE OF JOE PATERNO STAYS AS LONG AS THE REAL JOE PATERNO DID, WE WON'T GET TO RIOT AGAIN FOR A LONG, LONG TIME!"
If all goes according to plan, David Joyner says he hopes to one day erect a statue of the Joe Paterno statue.
• • •
This post was created by Austin. You can follow him and his jokes on Twitter: @TheAHuff
Also, for up-to-the-minute sports jokes, follow Korked Bats on Twitter: @KorkedBats