Seven years.
It has been seven years of prepping and planning for Canada to host the 2010 Winter Olympic Games.
You can imagine how bad they wanted those opening ceremonies to go.
I feel like I can relate a lot to Canada in this instance. It has felt like seven years, for me, since I entered college, and fingers crossed, I should be graduating in May. Ever since I enrolled at my university, I have been dreaming of the day I walk across that stage. I want everything to go smoothly. I want to walk across the stage with no Dick Van Dyke trips, no wardrobe malfunctions, and if I'm lucky, a hug from the Dean of the Journalism School. Then I will proceed to give two fist pumps towards the audience, move my tassel across my graduation cap, and from there on, I will be a free man. Entering the world for the second time in my life (the first being on October 21st, 1986). I have my graduation ceremony planned to a T. Even though there is no T in the word ceremony… Or planned… I still have it planned really well.
That's what it has been like for Canada.
They have been planning on hosting the 2010 Winter Olympic Games in Vancouver, British Columbia for seven years now. Or as Abe Lincoln would say, "Four score and seven years…"
Canada a lot of times is looked upon as America's younger sibling (mainly by us, Americans). Which, again, I can relate to as I am the younger of two kids in my family. Whenever the spotlight is on you, you try your best to win over the love and adoration of your parents. And in this case, the parents are the world. And Canada wants to show the world that they can do the Winter Olympics better than America did in 2002 in Salt Lake City.
However, Canada has not been able to impress so far. Granted, we are only in the fourth day of the 2 week long event, but Canada has already had it's fair share of struggles.
Vancouver is having its warmest winter in decades thus far in 2010. Simple math tells us that warm weather = no snow. Somewhere Al Gore is leaning back in his chair saying, "I told ya so!" Having an abnormally mild winter has forced Olympic officials to order in snow.
Yeah, I know what you're thinking. Where do you order snow? How do you do that? Do you just log into Amazon and order a few bushels of snow? Or how does that work? Is it a bushel? A barrel? A pint? A gram? This whole concept baffles me. And how did I not know about this when I was in grade school?! I would have utilized this tactic so many times, no matter what the cost.
However, Vancouver, how do you expect to have a solid set of winter games without a winter?
That's strike one.
On more of a serious note, many of you have heard by now, but on the morning of the Opening Ceremonies, 21-year-old Nodar Kumaritashvili was killed in a fatal luge accident on a practice run. The news of this event placed a somber mood on what should otherwise be a joyous occasion of opening up worldwide competition. Not to mention, the downhill run in which Kumaritashvili was killed is said to be the most dangerous in the world. Many lugers and bobsledders say the track is built backwards having some of the worst turns at the end of the course when the sleds are going their fastest. The accident happened close to the finish line.
When Vancouver hosted the World Cup in 2008, three riders were sent to the hospital. That should be hint number one. In fact, Tony Benshoof, an American luger, told NBC, "When I first got on this track, I thought that somebody was going to kill themselves." Unfortunately, we had to see first hand that Benshoof was right.
That's strike two.
And of course, it wouldn't be Olympic Games without some protesters. Canada had to actually reroute their Olympic Torch Relay twice to avoid said activists. This caused a few delays, but nothing major. And since protesters appear at every Summer and Winter Olympic site, we won't hold this entirely against Canada.
So that's a foul ball. Still two strikes.
And finally, at the Opening Ceremonies on Friday night, probably the most watched part of the entire two week long event, there was a pretty obvious/awkward/funny/made Wayne Gretzky sweat worse than he already was with holding that Olympic torch so close to his face/tedious/embarrassing moment for the whole world to see.
During the ceremony, Canada had selected 4 of it's premier athletes to carry the last leg of the torch run into the stadium and light the massive Megazord of torches. However, when it came time for the huge pillars to arise from the ground, they didn't. So awkwardly, Wayne Gretzky, Steve Nash, skier Nancy Greene and speedskater Catriona LeMay Doan all just stood there. Steve Nash flashed a smile and started laughing at one point, but NHL great Gretzky was appeared to be more nervous than Lady Gaga at Cotillion. I'll be honest, there was one full body shot of The Great One where I could have sworn, a little pee pee came out.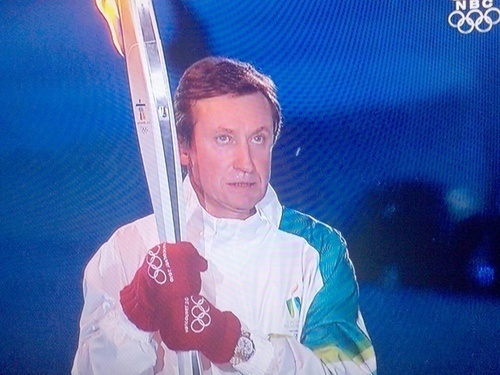 After an awkward delay, the pillars finally arose from the stage. However, only three of the four pillars arose. Somebody's gonna be left out. And that somebody was Catriona LeMay Doan. But look on the bright side, Canadians, at least no one knew who she was. So after three awkward pillars were lit, the massive Olympic cauldron lit up the entire stadium. So aside from the major failure, the opening ceremonies rand smoothly. And heck, at least there was no Kanye West sighting (yes, I am squeezing out every little ounce from that joke.)
That's strike three, Canada.
However, the world will give you another at bat, since you did have a snowboarder jump through the Olympic Rings, which was pretty sweet.
And plus, look at the bright side, you only struck out once. At least you're still better than Ryan Howard.
I would give another strike for no appearance by Canadian native Matthew Perry at the Opening Ceremonies, but having a performance by Nelly Furtado cancels that out. I must admit, you have managed to redeem yourself, Canada.
…for now.