OFFICIAL ANNOUNCEMENT: Korked Bats Is A Braves Blog For The 2021 World Series
This is an announcement: Korked Bats is officially an Atlanta Braves blog for the 2021 World Series.
As the lead purveyor of this blog, I can kinda do whatever the hell I want. And as a Dodgers fan – yes, I know, I'll get to that in a sec – I'm officially turning Korked Bats into Korked Braves for the Fall Classic.
Full disclosure: I am a Dodgers fan. A massive one. If you didn't know that, it's probably because I don't use this blog to flaunt my fandom, at least not like I do with Derrick Henry. Mainly because I know everyone hates the Dodgers and Dodgers fans. Plus, the world doesn't need another obnoxious Dodgers fan. So I keep this fandom (my absolute most diehard fandom) to myself.
But this decision to turn this blog into a fan site for the team that just eliminated mine actually isn't as difficult as you might imagine. At least personally. While losing in the NLCS (yet again) hurts like a papercut in the skin between your fingers, it doesn't hurt as bad when they lose to the Braves. Let me explain. Growing up in Nashville, I was always fond of the Braves. I considered them my second favorite NL team. Can you even have a second favorite NL team? I actually always hate people who root for two teams. I think it's lame. So I'll just say that I have been fond of the Braves from the first time I went to Turner Field in 6th grade.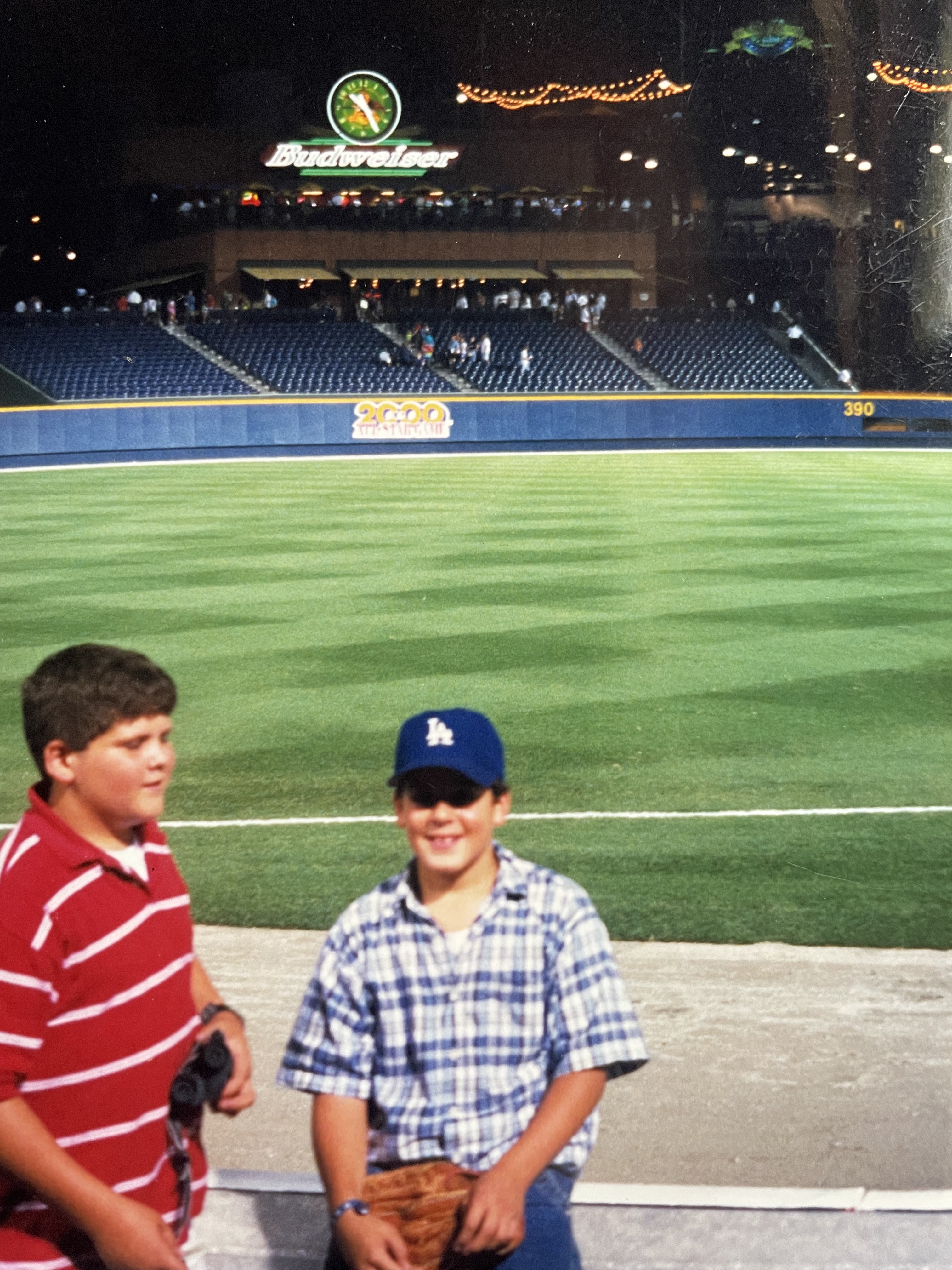 That's me and my buddy Brian. He's a massive Atlanta Braves fan, an avid Korked Bats reader and one of my best friends throughout childhood. Our moms took us out of school early on a Friday. We made the short drive down to Atlanta, went to the game, and stayed in a hotel. As you might imagine, it was dope.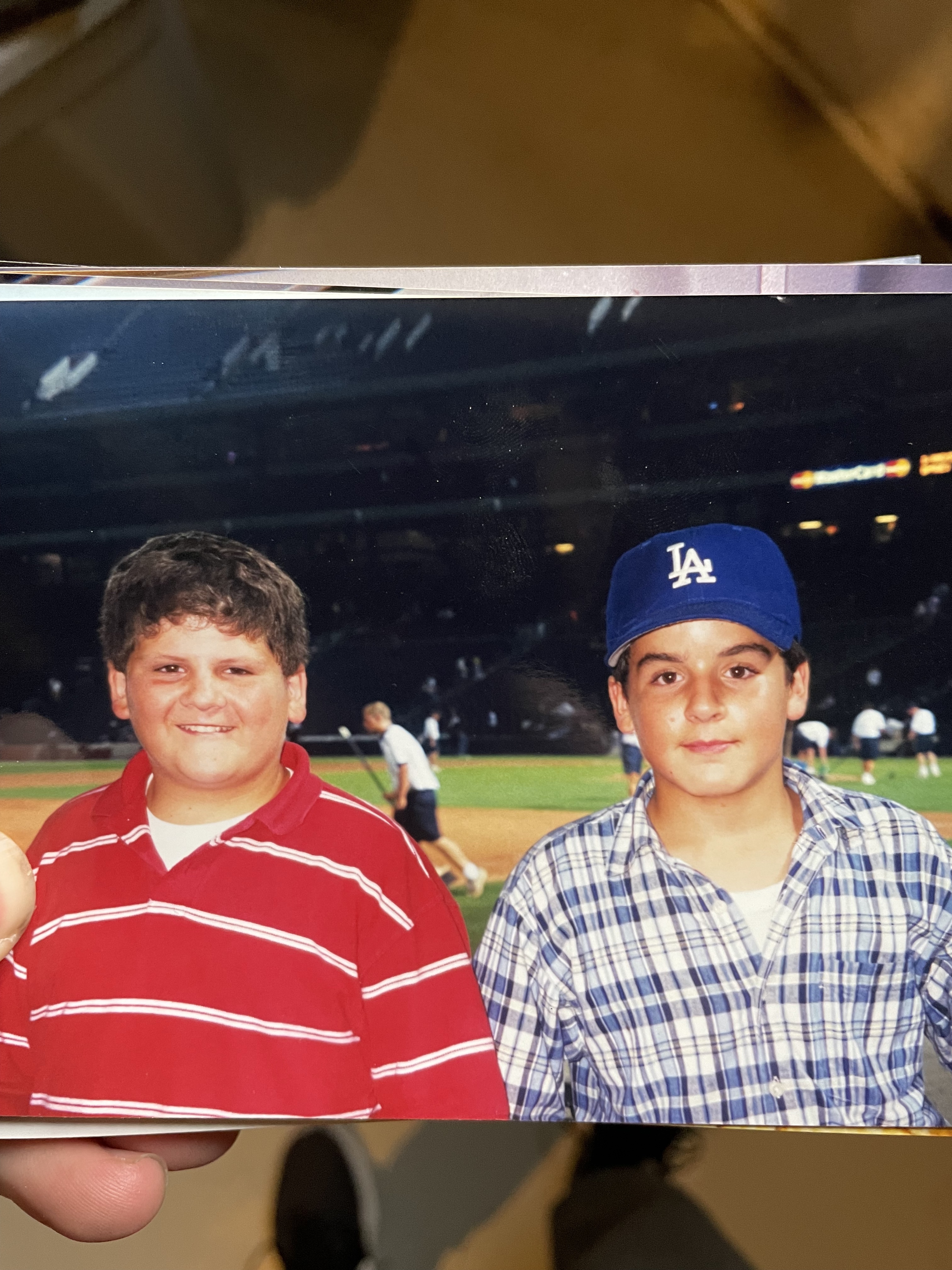 My mom even let me get a hat from the Turner Field Team Store. I got this black and gray Braves hat. It was one of my favorite hats.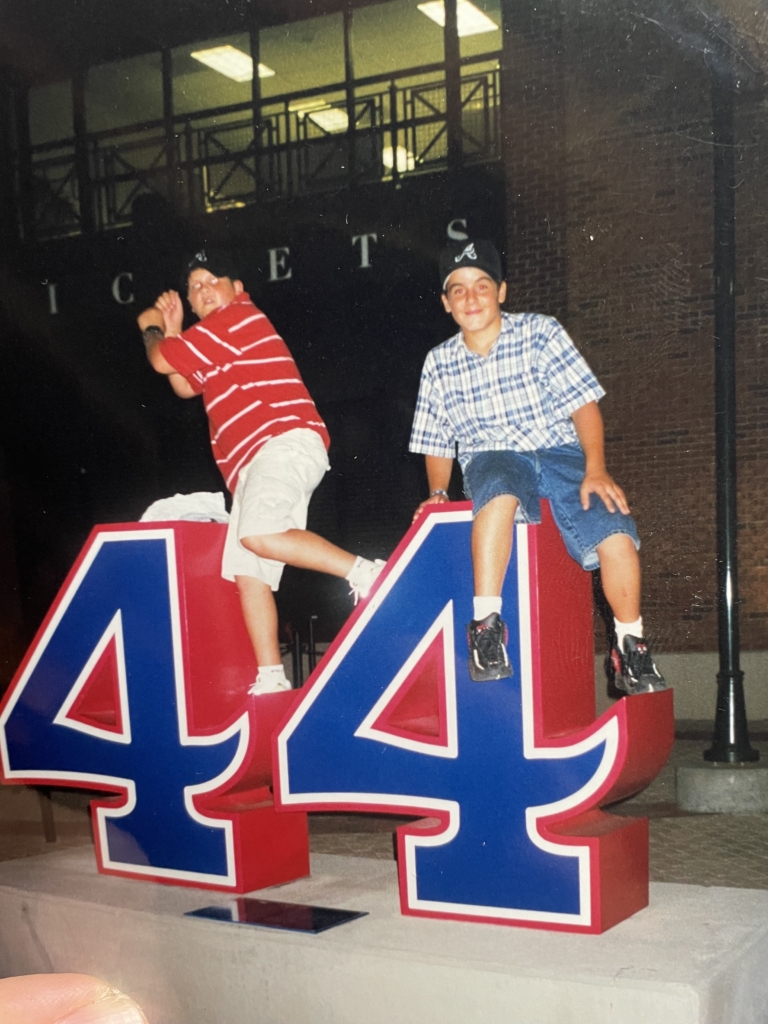 Also, I don't think we were supposed to climb up on Hank Aaron's number like that. But no one was going to tell me what to do. Not in my sick jorts and badass Dennis Rodman kicks.
So not only do I have a soft spot in my sports fandom for the Braves, but a lot of my friends are Braves fans, and like the Dodgers, they've been through the ringer for many years. Always great, but never great enough. So I get it. Plus, I've always been hella impressed and kinda jealous of just how awesome #BravesTwitter is. It's not just relentless, it's also hilarious and damn creative. Shout out Riley's Rakes, Jeff Donahoo, and JDunnah. I want those dudes to be happy because they make me happy online.
Also, can't forget talking to massive Braves honk and comedian (probably in that order) Aaron Chewning last year.
Aaron is insanely hilarious and I want him to be happy.
Hell, this blog also got really into the #RallyPotato movement last season. We even sold some shirts.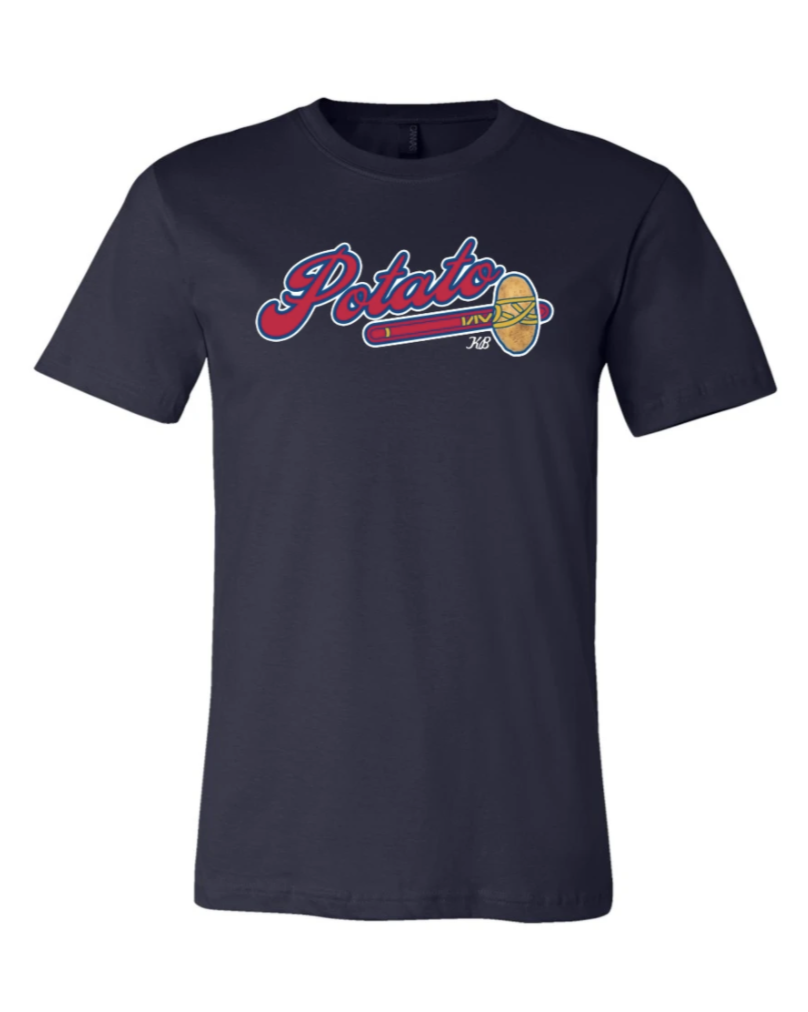 And on top of all of that, Waffle House is my favorite restaurant on earth. The Braves have Waffle Houses in their damn stadium. How can I not LOVE that?
Now look, I understand the optics on this look dumb. You can't just jump onto a bandwagon whenever your team gets eliminated. That's a dick move. You're supposed to feel pain. I actually agree. And I do. I feel a lot of pain. But I want the Braves to win the World Series for a reason that runs much deeper. For a reason that plays into my pain. This isn't a bandwagon jump more than it is revenge. Because more than everything said above, I want the Braves to win the World Series for one main reason:
The Houston Astros suck a big ol' bag of donkey wangs.
As a massive baseball fan, and Dodgers fans, I despise the Astros and what they did to Kershaw, the 2017 Dodgers (arguably the greatest Dodgers team I've ever seen in my life – and the fact that they took a cheating team to 7 games should only prove that), and the sport of baseball in general. They cheated the sport and deserve nothing but bad things. Especially since the commissioner's office refused to punish them with bad things.
I would love nothing more than the Braves to give the Astros a swirley every single game. To kick them square in the nuts every single game. To piss in their cereal and make them eat it every single game. And I don't mean this figuratively.
Especially with reports of them cheating… AGAIN. Listen for the whistles before pitches in the videos below:
So Braves fans, while you're Ohhh Ohhh Ohhhh-ing, be on the listen for whistles.
And then do all of America a favor and kick the living crap out of the Astros, that escaped Santa's workshop elf Jose Altuve, and that human catheter tube Carlos Correa. They deserve nothing but the worst things. And Braves fans, if you're cool with it, Korked Bats is going all-in for the next 4-7 games on the Atlanta Braves.
P.S. Bill Plaschke sucks. If there's one thing Braves fans and Dodgers fans can agree on, it's that Bill Plaschke is the absolute worst. Trust me, #BravesTwitter, Dodgers fans might hate him more than you.