Noah Syndergaard Signs A One Year Deal With The Los Angeles Angels (of Anaheim), Essentially Ending His Career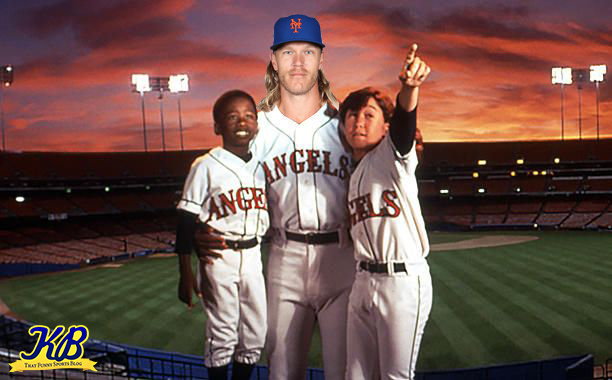 Right-hander Noah Syndergaard and the Los Angeles Angels have agreed to a one-year, $21 million deal, pending a physical, sources told ESPN on Tuesday.

Syndergaard, 29, spent the first seven seasons of his career with the New York Mets, making one All-Star team and displaying perhaps the nastiest array of pitches for a starter in the major leagues. Having pitched only two innings since 2019 because of Tommy John surgery, Syndergaard will join an Angels rotation that was among the worst in the big leagues last season.

via ESPN.com
Oh great, another generational talent signs a deal to join the endless void of wasted talent known as the Los Angeles Angels (of Anaheim).
If MLB players are the dudes from the original Space Jam, then the Angels franchise is the basketball. Just completely rendering all their talents useless.
Think about this: the Angels have housed Mike Trout, the greatest player in baseball since Albert Pujols, for over a decade now and he's played in 3 playoff games. Oh, and they've ALSO HAD ALBERT PUJOLS! And somehow found a way to completely destroy the second half of his hall of fame career (until a late resurgence as a platoon player with the Dodgers). And now they are housing arguably the greatest baseball talent since Babe Ruth in Shohei Ohtani, and only time will tell how they'll destroy that talent.
Here's a list of other notable names the Angels have seemingly destroyed:
Josh Hamilton
both Upton Brothers (Justin and Melvin, aka B.J.)
Andrelton Simmons
Tony Danza (people forget he dies in Angels in the Outfield)
And it's not like all of these guys sucked in Anaheim. They just became forgotten about. Maybe it's because this franchise never plays in October. Maybe it's because they play in glorified mini-mall down the 5 freeway from Disneyland. Or maybe it's just because that's their brand. They've finally become the team in Angels In The Outfield. Sorry, Rodger, but you're never going to be a family again because these Angels are never winning a pennant.
Even with the addition of Thor. Hell, Noah Syndergaard would probably remain more relevant if he returned home to Asgard. And look, I may be coming across as harsh, but I don't hate the Angels. I'm just frustrated as hell with them. As a baseball fan, I respect the fact that they have collected some of the best talent in the world. You'd think they'd be amazing. But they always suck. Meaning the only relevant games their players play in are All-Star Games. And those don't even determine home-field advantage in the World Series anymore. So even they're meaningless.
What I'm trying to say is the Angels are the straight-to-DVD movie of MLB franchises. They just destroy the careers of some of the biggest A-list celebs out there. And it's the first sign the player will soon be forgotten. And if that straight-to-DVD reference feels a little dated, good. It's supposed to. Because the Angels are.