Well, this past weekend was The Masters. (Which means nothing to us ladies.) The prize for winning this legendary golf tournament is a green suit jacket. This green jacket puts you in the Gentlemen In Green Club that people like Tiger Woods, Arnold Palmer, and the Riddler are proud members of.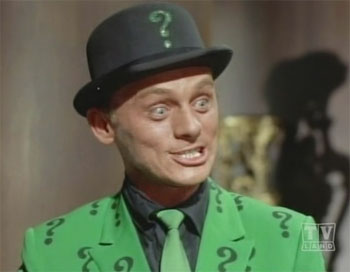 The newest member of the Green Gentleman Masters Club is a young man from South Africa named Charl Schwartzel. Let's be honest though, nobody was talking about Charl, everyone was talking about Tiger.  People were cheering for Tiger like he is now the underdog of golf and like he didn't date every woman in the world while he was married to a supermodel.
Well, this weekend there was also an interesting situation about a woman journalist that did not directly involve Tiger like you would initially be led to believe.
Tara Sullivan is a sports columnist in the New York/New Jersey area for The Bergen Record who went to the Masters to get a good article on Rory McIlroy's not so good golf weekend.  After being a good reporter and following McIlory around for a little while with a pack of reporters, McIlroy headed to the locker room.  The security guard did not let her through based on a policy that would be later redacted as not the actual policy.  Tara being upset and frustrated did what any red-blooded American would do and started Tweeting about it. She then wrote all about her side of the story here.
Okay, now Tara, I understand your frustration with the security guard stopping you from going inside the men's locker room. (If I had a nickel for every time I got stopped trying to get into a men's locker room… what?) I understand not wanting to be told that you can't do something just because you are a woman, but I've also been thinking about the risks of walking into a men's locker room and that may be why security was only trying to protect you.
Because sometimes men just need some time sit down and think about what they could have done better.
(Can I get an "Amen," Ladies?)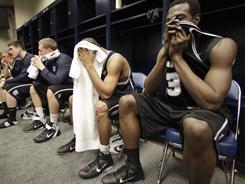 Sometimes men just need to get with their best friend for a new Facebook profile picture.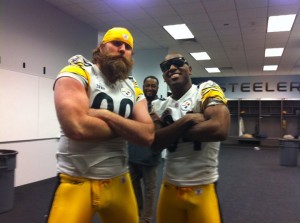 And sometimes they just have to pour alcohol all over each other in celebration.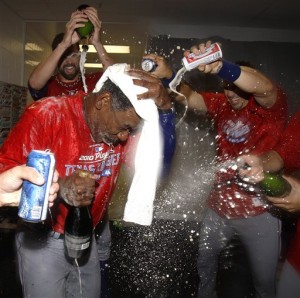 And then hug it out.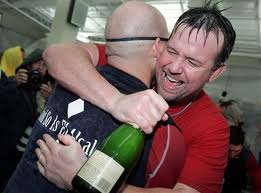 And even sometimes, dance it out.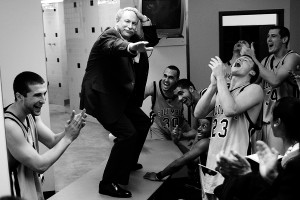 I am all for equal rights just like the next female writer, but I am also for letting the men have their locker rooms for secret dance parties and cry sessions.  As much as I want to see the singing and the dancing and the occasional cry-fest, I also want to help these men maintain the shred of dignity many of them are clinging to.
• • •
Guys and girls, be sure to follow The Ladies Room on Twitter for more sports fun from a lady who knows little about sports but a lot about fun: @LadiesRoomKB