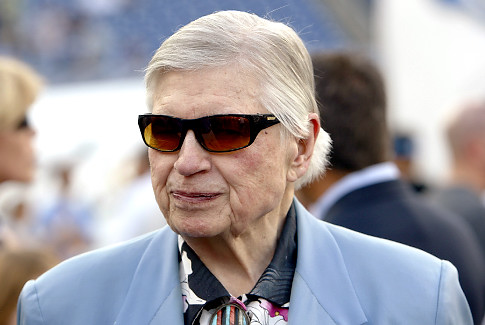 It's official the 88-year-old Kenneth Stanley "Bud" Adams has no earthly idea what he's doing (or where he is at for that matter).
Yesterday, the Tennessee Titans and head coach Jeff Fisher decided to part ways. Fisher, the NFL's longest tenured coach (November 1994), was 142-120 in 16 seasons with the Houston Oilers/Tennessee Titans franchise.
This relationship appears to have ended mutually. It was one of those relationships where the boyfriend and girlfriend decide that after 17 years of dating that you're not really going anywhere. Not to mention, things aren't looking any better. The boyfriend hates the girl's family. And the boy had already been invited by the girl to her families cabin next month. The boy obviously didn't want to put up with that. He was tired and exhausted with having to put up with her so he just decided to get out while he still can. Not to mention the girl is an extremely old man that should probably be locked up in an assisted living home as immediately as possible.
(Also, in that poorly executed analogy, the boy was Jeff Fisher and the trip to the girl's parents' cabin was the potential strike and CBA discussions leading up to the 2011-2012 NFL season. Just wanted to make sure we're all on the same page.)
Bud Adams, the Tennessee Titans senile owner, is noted as being a step up from Oakland Raiders owner and Tales From The Crypt host, Al Davis, who has single-handedly brought the Oakland Raiders from 2002 AFC Champions to the "Raiders of the Lost." So, being a step up from a guy who is in the basement, still technically makes you in the basement. And with how old Bud Adams is, he won't be getting out of the basement anytime soon because he doesn't own one of those electric stair chair lifts.
…and because he continues to make brutal mistakes in running a professional football franchise.
Now, let's get real for a minute. I am in no way able to tell someone how to run a pro football team. I am a blogger. Heck, I don't even have a job. However, I have obtained common sense over my years.
Common sense, a trait that has clearly left Bud Adams years ago.
I mean, it doesn't take a rocket scientist to realize that when you own an NFL team, it's probably best to reside in the same city as that team.
1997: The Houston Oilers pack up and move their entire franchise to Tennessee.
Bud Adams Response: "You guys go on ahead. I have some things to finish up here. I'll stay back and hold down the fort. You know, in case we decide to move them back. Or something."
More on common sense… Its a better idea to literally flush dozens of hundred dollar bills down your toilet than to put that same cash into an Arena Football League team.
2001: Bud Adams resurrects a once-failed Nashville Kats AFL team.
Bud Adams Response: "Football? Indoors?! This is too good to be true! Also, I just found a crap ton of Beanie Babies, including the Garcia bear, online for super cheap! You idiots can just sit back and watch me get rich… er!"
I could go on the common sense train all day. In a league where at any point you could be fined for fake mooning a crowd, it's nowhere in the realm of good ideas to flip the bird to a team in which your beating senselessly. Whether you're the owner or the water boy.
2009: Bud Adams is fined $250,000 by the NFL for the act of displaying an obscene gesture following the Titans 41-17 win over the Buffalo Bills.
Bud Adams Response: "Hey Larry! Larry! Check this out! I'm flippin' off the Buffalo Bills! I'm flippin' off the Buffalo motha' [expletive] Bills! Woooooo!"
And finally, as if this apparent insane asylum escapee couldn't do anything any dumber, Bud Adams made it known that in a decision between head coach Jeff Fisher and quarterback Vince Young, he would pick the latter.
2010: Concluding an overtime loss to the Washington Redskins, Jeff Fisher and Vince Young got into a heated exchange in the locker room after Young had tossed his shoulder pads and jersey into the stands.
Bud Adams Response: "If I have to make a decision between the black quarterback and Jerry Fisher, I choose the blackie. Heck, once you go black, you never go back! Texas pride!"
Many people may argue that his decision to choose Vince Young over the 16-year NFL veteran head coach was a good one. But that would again, go against common sense.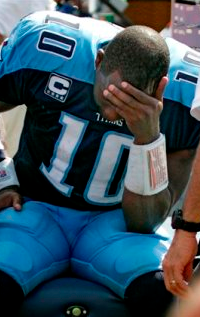 Vince Young has thrown more interceptions than touchdowns in 3 of his 5 seasons in the NFL. He has a career QB Rating of 75.7 on a 158.3 point scale. In 54 games played, he has thrown 42 interceptions, fumbled 38 times, and been sacked 75 times. And don't forget the stats that they forget to show on the back of football cards. He went missing and was on suicide watch once in his early 5 year career. He turned against his fans egging them on to boo him once and as stated before, threw his football pads in the stands concluding a loss once.
For each of those unrecorded stats, that's one more time than Tom Brady, Peyton Manning, Gus Ferrotte, Jay Fiedler, Caleb Hanie, Aaron Brooks, Warren Moon, Drew Brees, Quincy Carter, Ben Roethlisberger, and Michael Vick combined.
Heck, even Brett Favre wouldn't do any of that. Mainly, because none of the negative scenarios that Vince Young has brought upon himself have involved women. But that's besides the point.
Vince Young is a head case and in no mental condition to be the starting quarterback for an NFL team. But Bud Adams would never know that. He's too busy waiting for "G-16" so he can win BINGO.
So it was no surprise that yesterday, when SI.com writer Don Banks broke the story of Jeff Fisher leaving the Titans, Bud Adams was completely clueless. Roughly 37 minutes after the story broke, Jim Wyatt of The Tennessean tweeted this gem: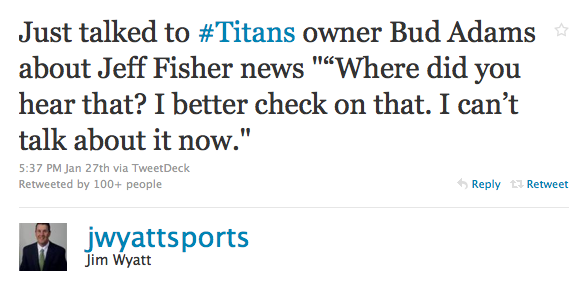 Wow. The owner of the Tennessee Titans didn't even know that his head coach and his team were splitting up and going their separate ways. And he still doesn't know that bolo ties aren't fashionable items anymore.
Someone please get Bud Adams Life Alert, because he's fallen and he can't get up.