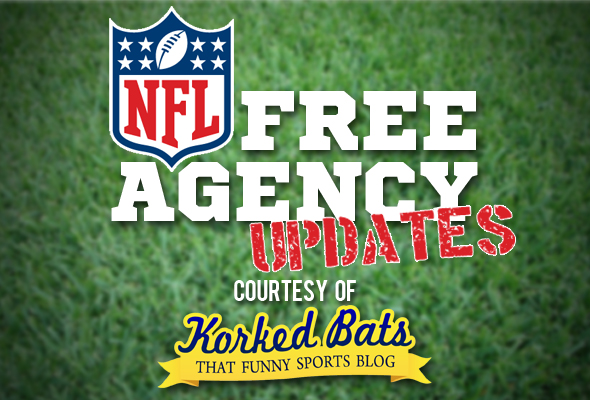 NFL Free Agency is underway, and we here at Korked Bats will provide your one-stop-shop for all your news and updates from the league.
Wide receiver Jacoby Jones re-signs with the Baltimore Ravens after learning he failed to make the latest roster of Dancing With The Stars contestants.
Dallas Cowboys released next season's playoff hopes.
NFL Insiders can't determine if running back Peyton Hillis is now a New York Giant or a New York Giant Bust.
Sources say the Manning family has agreed to release Cooper to free up cap space.
Chicago Bears cut Julius Peppers after realizing it's no longer 2008.
Tennessee Titans sign kick returners Dexter McCluster and Leon Washington, because they plan on returning a lot of kicks next season.
Reports are coming in that the New England Patriots are currently shopping quarterback Tom Brady.
Wait, nevermind. Those reports are just stating that Tom Brady is currently shopping.
If you're a quarterback, odds are the Cleveland Browns are going to cut you.
Cleveland Browns cut quarterback Jason Campbell. Campbell should be a good pickup for a team looking to go undefeated and barely miss out on the BCS Championship in 2004. العاب قمار
Cleveland Browns cut quarterback Brandon Weeden. However, sources say the Browns are "extremely interested" in signing his grandson, Brandon Weeden III.
Sources say the Cleveland Browns are interested in signing quarterback Matt Schaub just to cut him too.
Arizona Cardinals general manager Steve Keim hasn't gotten off the phone for three days. He's on hold with Sprint to see if he's due for an upgrade. Sources say it's really hurt the Cardinals chances of signing any free agents.
New Orleans Saints decide they want to cut running back Darren Sproles.
New Orleans Saints change their mind, decide to trade Darren Sproles.
New Orleans Saints realize they have misplaced and now cannot find Darren Sproles.
Oh gah… Now the New Orleans Saints are asking everyone to check the bottom of their shoes to make sure no one stepped on Darren Sproles.
San Francisco 49ers traded a 6th round pick, a box set of old Ernest VHS tapes, and a mechanical pencil that's out of lead to the Jacksonville Jaguars for quarterback Blaine Gabbert. NFL Analysts believe the Jaguars won that deal. قواعد لعبة الروليت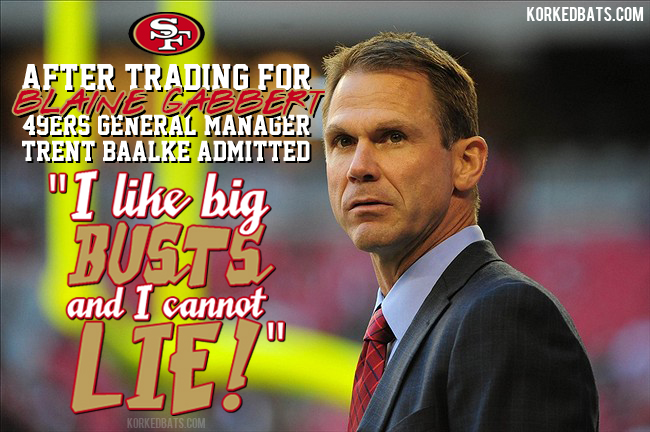 Blaine Gabbert has already thrown six interceptions since joining the San Francisco 49ers.
Reports from NFL insiders claim running back Darren McFadden injured himself while re-signing with the Oakland Raiders. He is listed as doubtful.
Detroit Lions sign Golden Tate because he's a wide receiver.
Tampa Bay Buccaneers released the designer of their new uniforms.
Sources say running back Chris Johnson won't sign with anyone until he learns to spell his name.
Jacksonville Jaguars have already agreed to terms with 14 punters.
Should come as no surprise that cornerback Aqib Talib signed with one of the two teams (Denver Broncos) that play in a city where marijuana is legal.
Many NFL teams are hesitant to sign tackle Alex Mack until learning more details about his secret world.
Dallas Cowboys interested in signing Brandon Weeden, so owner Jerry Jones will have someone else in the building who is his age.
Buffalo Bills release quarterback Kevin Kolb after realizing he was still on their roster.
Cincinnati Bengals Owner Mike Brown said he was told NFL Free Agency was next week, blames his mistake on Daylight Savings Time.
Alterraun Verner signs with the Tampa Bay Buccaneers. Sources say he is excited about his new team, but only because he hasn't seen the team's new uniforms yet.
Houston Texans agreed to terms with a new set of tupperware, thinking it was DeMarcus Ware.
The Denver Broncos have signed all of the free agents.
New England Patriots, New York Giants, Atlanta Falcons, and Philadelphia Eagles are all eyeing Darrelle Revis. Things got really awkward when Revis looked up to see all four teams staring at him. مواقع الرهان على المباريات
Tim Tebow is still waiting by his phone.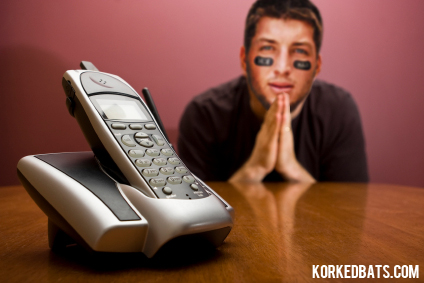 • • •
This post was created by Austin. You can follow him and his jokes on Twitter: @TheAHuff
Also, for up-to-the-minute sports jokes, follow Korked Bats on Twitter: @KorkedBats