Draft Experts Working Hard To Unveil Enough Mock Drafts For Every Possible Scenario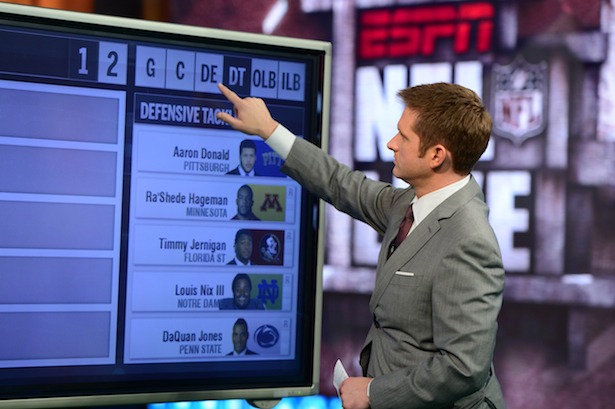 NEW YORK CITY — NFL Draft Analysts are hard at work this week trying to release enough mock drafts to have every single scenario covered, just so they can claim to have gotten it right.
Each year from January to April, SportsCenter is filled with more mock drafts than LeBron James updates. These mock drafts often end up being less accurate than any March Madness bracket, CNN newscast, or Mark Sanchez pass.
"I was actually 39% correct with my 248th Mock Draft in 2011," ESPN NFL Draft Analyst Todd McShay proudly boasted. "According to Guinness, that's still a world record." McShay says he'll release about 400 more mock drafts before next week's NFL Draft. "It's all about making sure you have all your bases covered," McShay said while throwing darts at a custom NFL Draft dart board he made.
"In one of my mock drafts, I have Jon Lovitz going second overall to the Titans," McShay admitted before pausing to think about it. "Actually, it wouldn't be all that surprising if the Titans used their #2 pick on Lovitz, or if the Browns traded up for him."
Upon the release of every mock draft, whether it be from McShay, Mel Kiper Jr., or Frank Caliendo doing a Mel Kiper Jr. or Todd McShay impression, ESPN stops all programming to cover the breaking news. "We treat this as seriously as a Tim Tebow haircut," ESPN President John Skipper said. "The people need to know immediately after it happens, and if there is anyone who's in touch with what the people need, it's us here at ESPN." Skipper then hugged a framed picture of Johnny Manziel on his desk.