I have been thinking about picking a baseball team to love, follow, and buy a a t-shirt for.  I used to love the Mariners, but it is so hard to follow the Mariners when they suck so bad.  I was listening to the radio the other day and learned that if you live in Nashville you have two baseball options: the Atlanta Braves or the St. Louis Cardinals.  Since I am against wearing red to any sporting event to avoid looking more like a tomato than I already do, I had to scratch both of these ideas.  This got me thinking about jumping on the New York Yankees bandwagon.  They are a classic team with a winning streak that I can get behind.  I know I've advised against it in the past, but I change my mind like I change my purse.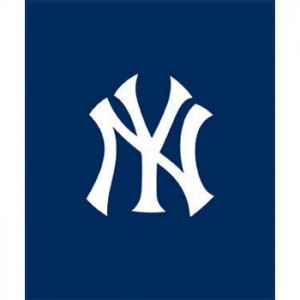 So, after talking about my new love for the New York Yankees and after writing a blog about opening day in baseball I was confronted by a fellow co-worker and member of Korked Bats Nation.  He is from New York and he love, love, loves the Yankees.  He accused me of not knowing anything about baseball and after listing off baseball terms like 'dugout' and 'foul ball' and 'race for the pennant,' he named his challenge.  He wanted me to name three Yankees players.
How hard could that be? I am so ready. One: Alex Rodriguez. He rolled his eyes.  What?  He used to play for my home team Mariners in their glory days.  When I was in the seventh grade and A-Rod was playing shortstop for the Mariners I did not have a hard time deciding if a two hour ferry ride to the King Dome was worth it or not.  It was.  Fifteen years later and there still ain't no mountain high enough to keep me from A-Rod.  Two: Derek Jeter.  Again with the eye roll.  He said, "Every girl knows him too."  Well, excuse me.  It isn't my fault that God decided to give him green eyes and the ability to mend broken hearts with his smile.
Now, I don't like to be a typical girl, so this comment from him was very concerning.  I immediately started naming the only other Yankees players I could think of, which was a short list of dead baseball players.  Babe Ruth, Jackie Robinson, and Mickey Mantle (and I'm not even 100% sure Jackie Robinson ever played for the Yankees). He did not specify that they had to be ALIVE Yankees players.  After this conversation completely destroyed my baseball reputation with the guys that I work with, I decided to do some research.
Ladies, it is important for things like this to not happen to you.  Take the time to Google search your team's roster.  Study the faces.  Make flashcards if it helps.  Be able to say things like, "Oh man, Bartolo Colon gave up four runs during that game. Not a good way to start the season…"  You can't forget a name like Bartolo Colon.  Even if Bartolo Colon looks like he might be that weird uncle on you dad's side that might fart at the dinner table after a big turkey dinner.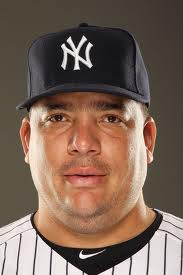 Also note, ladies, it's pronounced like spray you buy for your boyfriends (but only when it comes with a free gift of like a tote bag or something you can take for yourself), cologne. Not like colon, as in the part of the digestive system that extracts water and salt from solid wastes before they are eliminated from the body.
I might have failed the New York Yankees Test the first time, but ask me again.  Okay.  Ask me again.