NBA Takes Away Kevin Durant's MVP Award, Gives It To Wanda Durant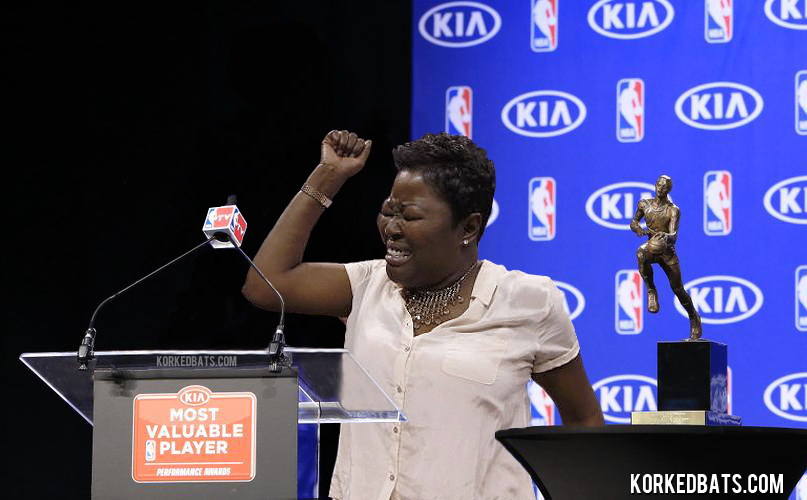 NEW YORK — A day after the NBA awarded their Most Valuable Player trophy to Oklahoma City Thunder forward and human stick figure Kevin Durant, the league decided to strip the All-Star of the award and give it to Kevin's mother, Wanda.
In Durant's MVP award acceptance speech, he claimed his mother was "the real MVP." Shortly after, the NBA began reviewing his claim and motioned for a second vote.
"Upon further review and a league-wide re-vote, the NBA has decided to strip Kevin Durant of his MVP trophy and award it to his mother, Wanda," NBA Commissioner Adam Silver said at a press conference on Wednesday. "She is just an absolute doll, and we must commend her for role in making Kevin Durant." Silver then winked and waved at Wanda, who was sitting in the front row smiling and waving back. "Hey girl! Get yo-self on up here!" Silver said, while giggling.
Smelling of too much perfume and cocoa butter, Wanda stepped up on stage, kissed Adam Silver on the cheek and set up behind the podium to accept her award. "Y'all, I am completely honored and humbled to be receiving this award right now. Like honestly, y'all. I didn't think anything could be better than watching my baby win this award yesterday, but I was wrong. This is so much better! All those years of cutting the crust off of his sandwiches and not driving him to the weight room have finally paid off!"
Wanda continued by thanking her family, friends, and hairdressers who helped her out along the way. However, she didn't forget about her setbacks. "It wasn't an easy road to get here. There were many trials and tribulations," Wanda said. "I mean, did y'all see Kevin's movie Thunderstruck? I didn't leave my house for a month out of sheer embarrassment after that movie came out."
Shortly following the league's announcement, Kevin Durant became noticeably furious. "Wait, I was just being nice," Kevin Durant said. "My momma didn't even score a point this year. How is this possible? Is she even eligible?" Durant then punched a wall before mumbling, "If it's not LeBron, it's my mom. I just can't win."
Even though statistically Kevin Durant is the rightful recipient of the NBA's MVP award, no one disagrees with anything Adam Silver does anymore, mainly because of his Donald Sterling ruling. "Honestly, he could've banned K.D. from the NBA for life and I wouldn't have been upset," Thunder head coach Scott Brooks said. "He can do whatever he wants after nailing that Donald Sterling ruling."
Brooks continued, "Plus, how can you disagree with this decision. Wanda is the absolute best. She is a delight."
• • •
This post was written by Austin. You can follow him and his jokes on Twitter: @TheAHuff
And also, for up-to-the-minute sports jokes, follow Korked Bats on Twitter: @KorkedBats