Nashville's "Iconic" Stadium Inn Is Officially Closed, So Let's Rank Its Best Online Reviews
I learned some horrifying news this week. Nashville's iconic Stadium Inn has shut down. Like the building itself, this is not a new development. I'm pretty sure it may have closed in the Summer of 2019, but as a local Nashvillian who doesn't get home extremely often – and when I do, it's rare I venture off the 65/40 loop near Nissan Coliseum across the street from that Shoney's – this is news to me. I'm really hoping that with the news of the Titans exploring a new stadium, they can find a way to build a new Stadium Inn. Because let's be honest, without that Stadium Inn across the street, how would the Titans have known where to build their stadium originally? Something to think about.
But after taking a few days to mourn and collect my thoughts, I decided to do some digging to help eulogize this Nashville staple as best as I could… with the reviews from it on TripAdvisor.
For those of you who are not from Nashville – or for every Instagram influencer who just recently moved to Nashville – allow me to help explain the cultural and societal impact Stadium Inn has had in the development of Nashville to turn it into the city it is today. And I figure the best way to do that is to first break down the "about" section of Stadium Inn's TripAdvisor page.
Finding an ideal inn in Nashville does not have to be difficult. Welcome to Stadium Inn, a nice option for travellers like you.

While staying at Stadium Inn, visitors can check out John Seigenthaler Pedestrian Bridge (0.6 mi) and Bridgestone Arena (1.0 mi), some of Nashville's top attractions.
Ahh yes, two of Nashville's most iconic and famous attractions. Never mind the Ryman Auditorium – home of the original Grand Ole Opry, and no need for the Country Music Hall of Fame or even the Johnny Cash Museum. What people really need to see is that arena and pedestrian bridge!
Stadium Inn is an inn offering air conditioning in the rooms.
It's actually pretty good that they included this note, because I legitimately had my doubts as to whether they did or not.
Plus, guests can enjoy a pool and a lounge, which have made this a popular choice among travellers visiting Nashville.
A pool AND a lounge??
While visiting Nashville, you may want to try some lobster at one of the nearby restaurants, such as Kayne Prime, Skull's Rainbow Room, or Bob's Steak & Chop House – Nashville.
No offense, but if you're staying at the Stadium Inn, I'm going to guess Kayne Prime and/or The Southern might provide a little too steep of a bill for your food options.
If you are interested in exploring Nashville, check out a military museum, such as Military Branch of Tennessee State Museum.
They're really selling the city with their recommendations, aren't they? (Thank you to our troops, btw.)
Stadium Inn looks forward to welcoming you on your visit to Nashville.
Not anymore they don't.
RIP in peace to what was a truly great inn. Or so I'm told, I never really got within 100 yards of that place because I didn't want to contract tetanus. But others have, and afterward felt compelled enough to leave reviews on sites like TripAdvisor, so without further adieu, I give to you the top Stadium Inn reviews from TripAdvisor.
5. runn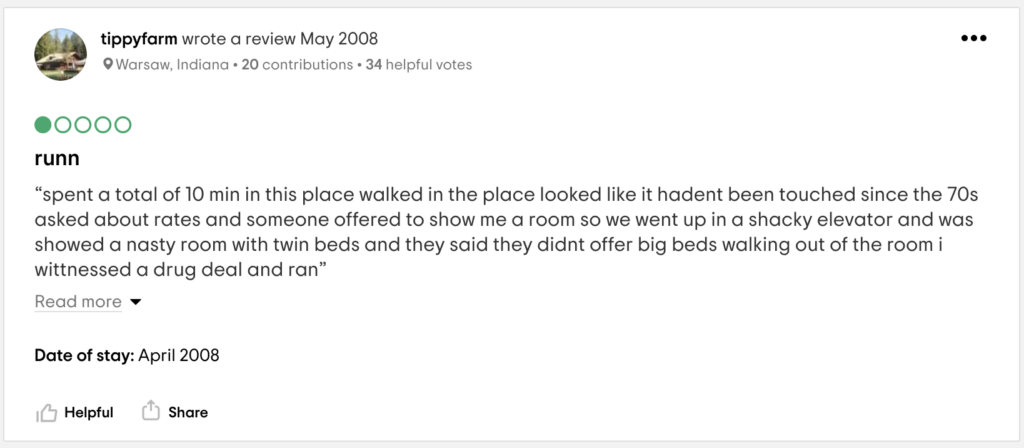 I like to imagine that visual. Person just witnesses a drug deal and takes off down the road like Forest Gump.
4. Fear Factor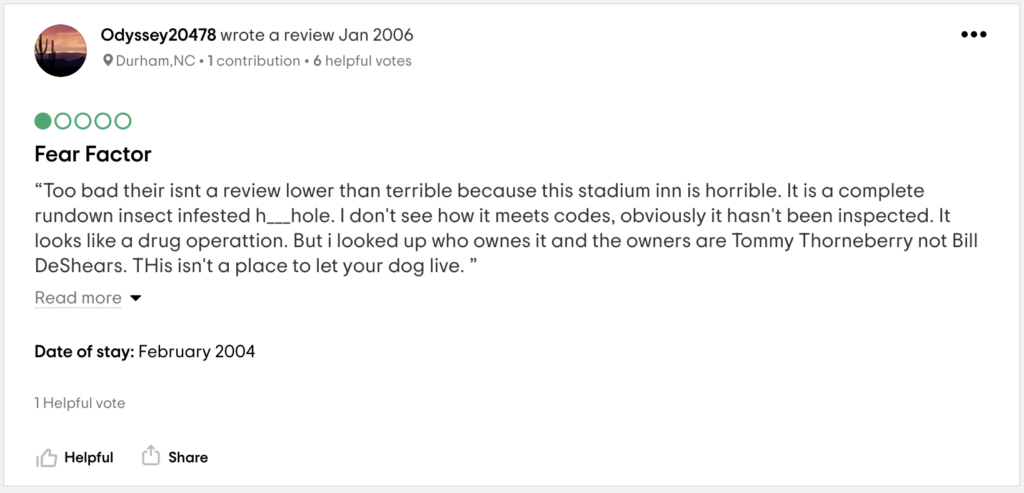 All my time spent playing Wordle, I think I can decipher that Odyssey20478 is referring to this place as a "hellhole." Also, this review was written in 2006. Glad to know this place hadn't upped their service in the 16 years since.
3. Crack house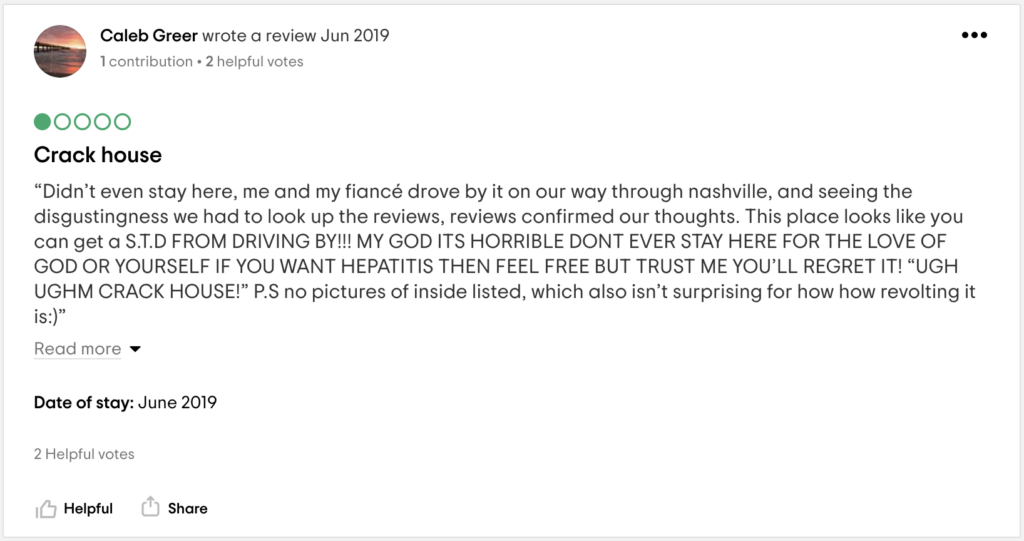 My guy didn't even stay there but still felt compelled to trash it on an online review site. Probably because he got an STD just by driving by! Wouldn't that be a DBTD?
2. Ok if short on money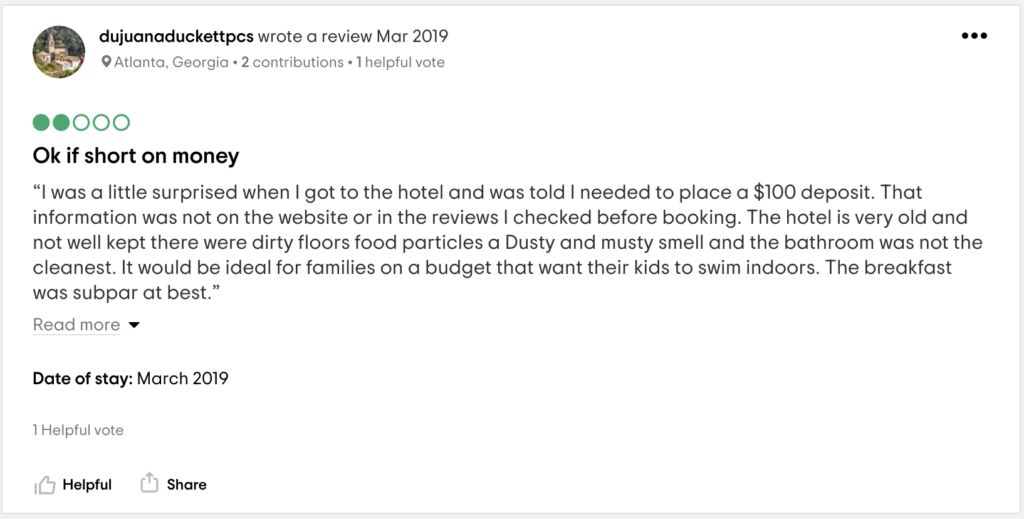 The most scathing part of this review is "the breakfast was subpar at best." It's no surprise Stadium Inn never recovered from this review and ultimately shut down months later. You can call the place a crackhouse, a whorehouse, or whatever you'd like – but when you trash the breakfast as "subpar at best" that's the nail in the coffin. A coffin that's probably found in one of the rooms, based on other people's descriptions.
1. What A place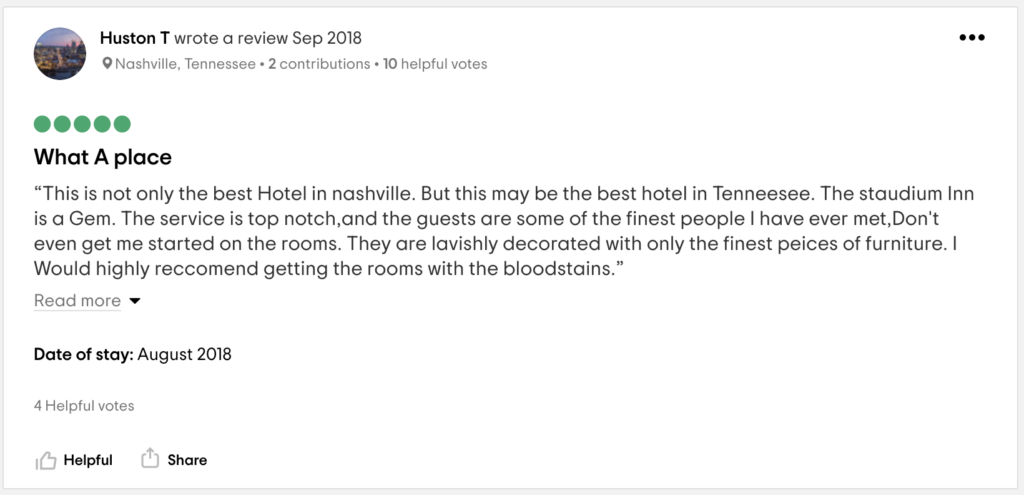 Well done.