WANTED: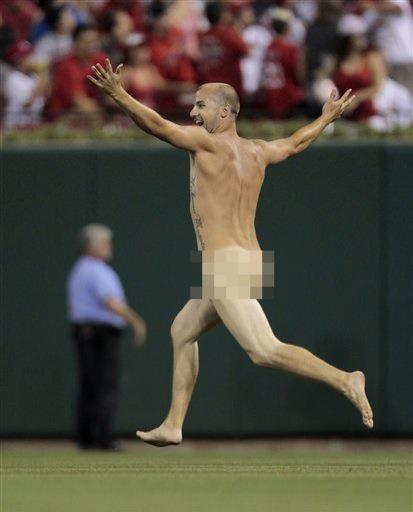 Ladies, I will race you to this guy.
1. Do you see how white his thighs are? This is the sign of a real man. No short shorts for him. Just jorts. Because he's a Cardinals fan.
2. Check out that form. And that height. That took work.
3. Can you see those back muscles? The answer to that is "yes."
4. He has a tattoo. This shows that he is super strong. لعب روليت مجاني Do you know how much those things hurt? Almost as much as having a baby. It's also permanent, so it shows that he is not afraid of commitment. And considering it's a tattoo, it probably says something really manly. العب واكسب Wait. What? It says, "Hakuna Matata?" Nevermind. Oh. Well, still… That means no worries, for the rest of your days… It's actually my problem free, philosophy. العب بلاك جاك اون لاين
5. He clearly has enough charm to make it past all of the security while being naked as a jaybird.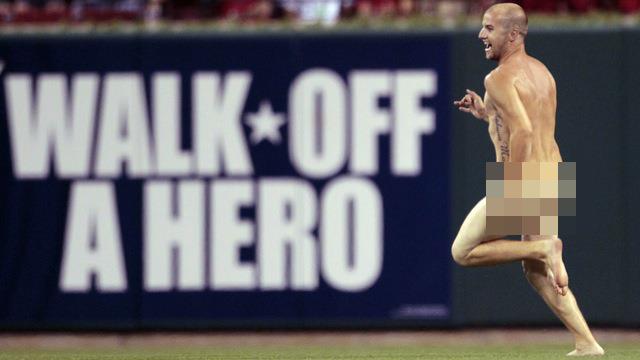 6. I also think it's important to note that he has incredibly clean feet. If he can remember to clean his own feet, he will probably not forget really important things in your relationship like what is your favorite drink from Starbucks or the anniversary of the day that he almost asked you to go on a date with him, but then he got too nervous because you were super beautiful.
I hope this running man applies to be my date for life, let alone, my bosses wedding.
I mean it.
Call me.
Note: The Phillies beat the Cardinals 10-9 in this game, officially making this a losing streak.
• • •
This post is a part of our bi-weekly The Ladies Room posts for Korked Bats.
Follow The Ladies Room on Twitter: @KBLadiesRoom – Or follow Erin, TLR writer: @erinmcgown
As always, be sure to follow Korked Bats and our up-to-the-minute sports jokes: @korkedbats