So if I had to pick a sports figure to be my Valentine, I know exactly who I would pick.
I even follow him on Twitter now.
And I think I have a chance.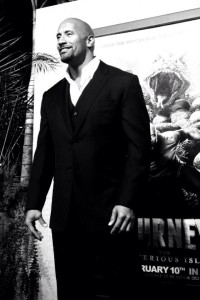 This is supposed to be a funny website, so I think it's important to let you know why he would be my number one choice other than his ability to pull off a well-tailored suit.
The Rock can make this ugly cry face and still hold a squat. You can't argue with that face.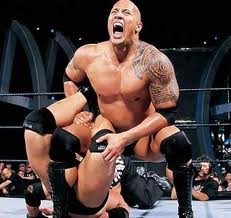 Every girl likes a well dressed man.
Gold chain plus cat-eye sunglasses plus sweet unbuttoned shirt equals DATE TIME USA.
That is not an exact math equation, but it's usually accurate.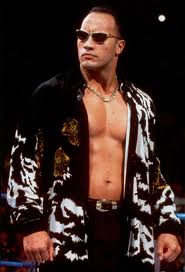 He is flexible and comfortable in a diaper, proving he will be easy to grow old with.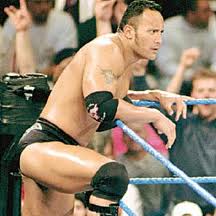 I included this picture to illustrate the importance of lip health.
The Rock isn't afraid to wear lip gloss.
Or to pencil in his eye brows.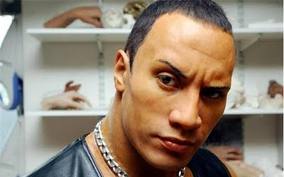 He also shaves his armpits.
This doesn't seem like a big deal right off the bat, but in the middle of a youth skate night, you won't have to worry about his underarm hair while he does the YMCA.
(just look at that picture and imagine "…it's fun to stay at the Y.M.C.A.!")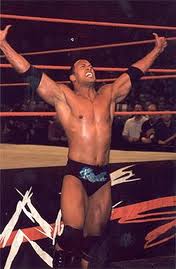 So, if you like movies about intense journeys or if you just like to see what wrestlers are cooking, or if you like to learn about Egyptian folklore.  Dwayne "The Rock" Johnson is your man.
Or my man.
So BACK OFF!
• • •
This post is a part of our bi-weekly The Ladies Room posts for Korked Bats.
Follow The Ladies Room on Twitter: @KBLadiesRoom – Or follow Erin, TLR writer: @erinmcgown
As always, be sure to follow Korked Bats and our up-to-the-minute sports jokes: @korkedbats