I had my first experience with the pressure of picking a fantasy football team last night.
I was at target aerobic heart-rate level.
I had the second pick and people were chatting and there was a countdown and people asking who I was going to pick and the room was spinning and everything was happening so fast.
I tried to pick Tom Brady. Fine.
Instead the computer picked Arian Foster.  Great.  Now who is Tom Brady going to play for?  I know Tom Brady has made some poor decisions in his life, but I was willing to give him a place to feel at home.  A place to be appreciated.  A place in my arms  on my team.
So instead of Tom Brady, the computer kicked in and gave me Arian Foster.
The good news, is that Arian Foster really likes Subway. That really shows that Arian cares about eating healthy, or that he just needed endorsement money. More importantly, however, he wears black rimmed glasses. Those black rimmed glasses show how artsy, but underrated he is.  Hard to find in football.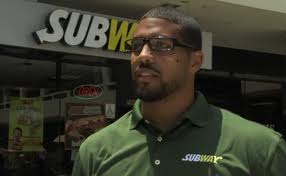 Also, he seems to have those eyes that just seem like he's really listening to how your day was and that is super important.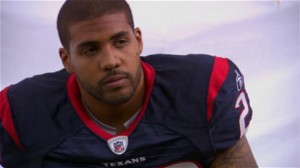 I realized after my first pick, that I wasn't ready for my second pick.
I realized that I didn't know what a D/ST (Team Defense and Special Teams) was.
I realized that I didn't know what BN (Bench) stood for.
I realized that I couldn't remember which Manning was injured.
I didn't understand why I could pick an entire city for that D/ST thing.
I realized that sometimes you just have to pick the quarterback for your hometown, who also pulls off a suit like it's his full time job. See below for Exhibit A.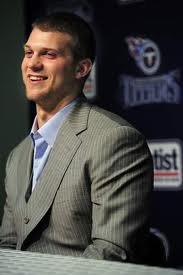 I wish I could pull off a suit. Off him.
Wait, what?
I picked some other top rated NFL players that will get me straight to the top, but for now,
I really need to get back to watching Dance Moms on DVR, so I'll have something to talk to my female roommates about.