The NBA was getting more coverage than ever, lately.  Between The Decision, the Carmelo trade, a chance at a Celtics/Lakers rubber match, and the emergence of Blake Griffin, the NBA has had their fair share of coverage in 2010-2011.
But this is a story that isn't getting press.  It isn't that the San Antonio Spurs are leading the West with the average age of their players being 52.  The most under-reported story isn't that a young point guard (Deron Williams) drove the longest tenured coach in major American pro sports (Jerry Sloan) to retire, only to be traded away from his team within the month.  And it certainly isn't that Blake Griffin recently pulled a John Tucker and did a front-flip dunk while wearing a thong (this may not be true).
The most under-covered story of this NBA season: the mutiny of the Detroit Pistons.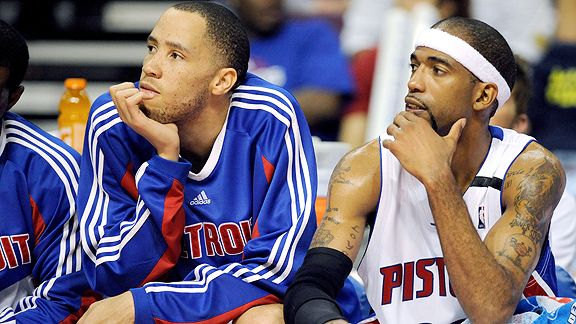 "What mutiny?" "Can you tell me more about this story?" and "Who are the Detroit Pistons?" are all questions you are probably asking right now. Very few people know what's really happening in Detroit for a team so bad that they put the pis in Pistons. Here's the Spark Notes version:
Detroit players hate their coach John Kuester. Many refuse to play for him, mock him, and plot to get him fired. Here are a couple examples of the mutiny in action:
Before the All-Star break, five Pistons players (several starters included) skipped a mandatory shoot-a-round before a game.  All five were not allowed to play in the game per team rules.  Therefore Detroit had to play with six players.  ESPN columnist Bill Simmons likened this to a scene from Hoosiers in a recent podcast.  It's a great analogy except for the fact that the Pistons are 23-41 on the season (and have zero chance to win the Indiana State Championship).
Another example of the mutiny that happened less than two weeks ago, when Pistons players were caught laughing at their head coach after he was ejected from a game.  They mock Kuester more than NFL fans mock Tom Brady's hair (which has now grown into a ponytail, I might add).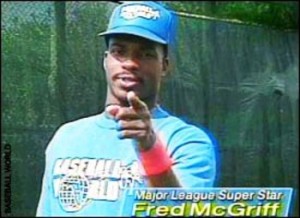 But Kuester isn't oblivious to this.  He's benched former All-Star and NBA champion Rip Hamilton without any official explanation.  That's a good idea, John.  When you're players don't like you, why don't you bench your most popular and skilled player without explanation.  He is clearly not a graduate of the Tom Emanski School of Coaching.
You may be saying to yourselves "why don't the Pistons fire Kuester?" or "Why don't they cut their players?"  The underlying tension in the whole situation is that the owner has been actively trying to sell the team.  Because of this, front office personnel cannot buyout the inflated contracts of worthless players and a worthless coach.  They'd just have to pay someone more to come in and replace them anyway.  So Pistons season ticket holders sulk into The Palace (appropriately named, no?) a couple times a week to watch a dumpster fire that no one is even covering.  They can't even hold on to the fact that they're witnessing history.  At least people heard about the Malice at the Palace.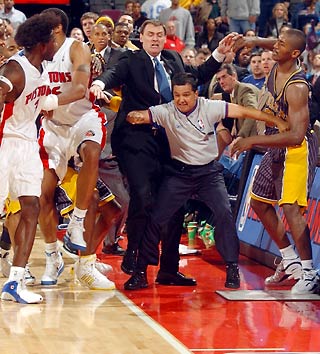 So what's next for the Pistons?  Do they wait until they can sell the team (for pennies on the dollar)?  Do they try and trade players that have proven they will act like spoiled children?  Do they fire John Kuester and hope they can hire some high school basketball coach for league-minimum? Do they forget the NBA and try and make a run at the Indiana State Championship?  Maybe they should use their favorite halftime performers, the Flat Tires (pictured below), as replacement players? Heck, the players they have now play flat and tired, so it wouldn't be much of a difference. Whatever they do, they need to do it fast, because America is tired of not caring about this situation!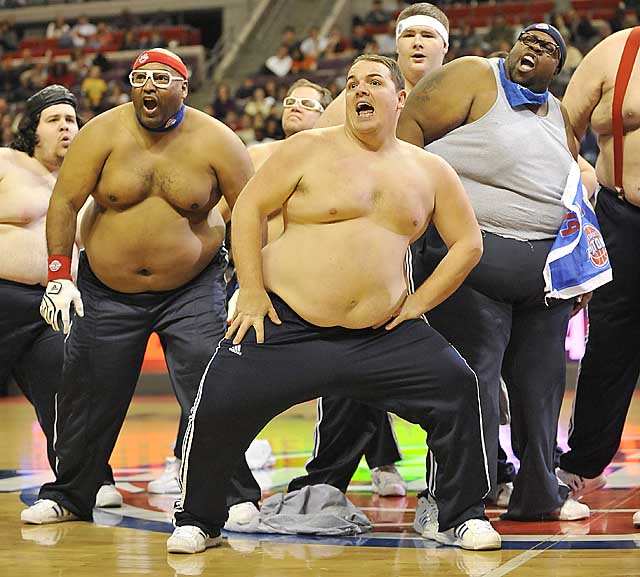 Love this post?  Want to threaten Bryce?  You can email him at BryceStuck@gmail.com or follow him on Twitter @brycestuck.  Comments, criticisms, and any ideas are welcome.