Mighty Ducks 4: Life Off the Ice – Part IV
Click here for Mighty Ducks 4: Life Off The Ice – Part I
Click here for Mighty Ducks 4: Life Off The Ice – Part II
Click Here for Mighty Ducks 4: Life Off The Ice – Part III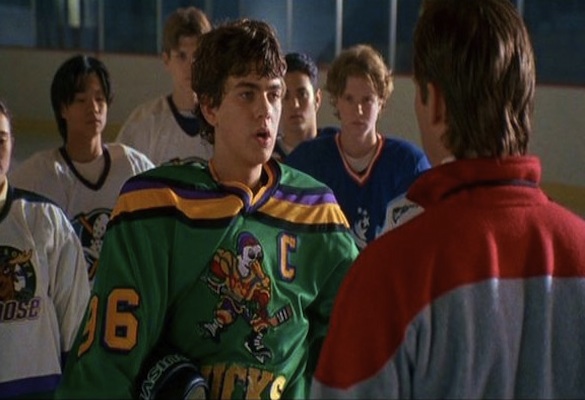 Last time we saw our Ducks they were at Goldberg's funeral and had just received a note from Coach Bombay asking them to come to Mexico City and play one last game in order to save his lover, Rosa.
The Ducks have three months to get into shape and remember how to play hockey. They don't have the full crew, but I have a feeling they'll have a few tricks up their sleeves. First things first, though: they have to remember how to play as a team.
None of them had heard from their former coach or even touched a stick in years, but the thing about Ducks is that they're loyal; always willing to help a brother in need. They are not about to leave Coach Bombay out to dry. It's time to get back on the ice. It's time… to fly again.
TRAINING MONTAGE!
John Cafferty's "Hearts On Fire" plays throughout the entire scene. Editor's note: (You should play it while you read this to get the full effect).
The ducks meet at the local ice rink to work on puck handling skills.
They have a couple of laughs at the fact that they're back in the rink. So many memories.
Averman still sucks at passing eggs, but it turns out that his alcoholism makes him much more relaxed on the ice, and his teammates are surprised to see him gracefully glide up and down the rink.
Fulton retains his role as the enforcer. His training shirt is a constant reminder of his sexual orientation and his style of play with the line: "Men Fear Me" written across the front.
Averman falls down during sprints, but Fulton helps him up and dusts him off.
Who's that silhouette walking into the rink unexpectedly? It's Julie "The Cat" Gafney! Somehow she heard about Coach Bombay and decided to leave her life in Bangor, Maine to come back and play goalie for the Ducks! It doesn't make any sense, but that's OK because it's a movie!
Charlie Conway takes his old captain's jersey out from the glass case hanging above the living room fireplace and puts it on in dramatic fashion. If they're going to pull this off, he's going to have to lead like never before. ALSO he brings his eldest son along for the adventure, Charlie Conway Jr. He's only 15, but he has the heart of a 17 year old (due to a birth defect).
They continue to practice. Getting better and better. Faster and faster. Stronger and stronger. They're starting to look like a team again.
With Coach Bombay, they have a full line and a goalie. Nothing can stop them now. Their hearts are on fire.
The music fades and we hear a faint "quack, quack…" it starts getting louder, "Quack, Quack…" it gets louder and faster until all of the Ducks, old and new, are at center ice with their hands in the middle, "QUACK, QUACK, QUACK, QUACK!" Conway takes the lead, "GOOOOOOOO DUCKS!"
Just then, the lights turn on and a janitor walks out onto the ice, "What the hell are you guys doing here? It's four in the morning. How did you even get in here? Get out before I call the cops!"
Their spirits are too high though to let some dumb janitor bring them down.
They make their way into the parking lot to plan out their trip to Mexico City. Fulton tells the group that he's been in touch with Luis Mendoza, and he said that through his drug trafficking connections, he could get them across the border. It's a long shot, but with the game being only a week away, they have no other choice.
The stage is set. One game. All or nothing. This is the moment they've waited their entire lives for. A chance to be heroes once again.
This is: D4.