Miami Heat Fans Prepare For NBA Finals By Learning Players' Names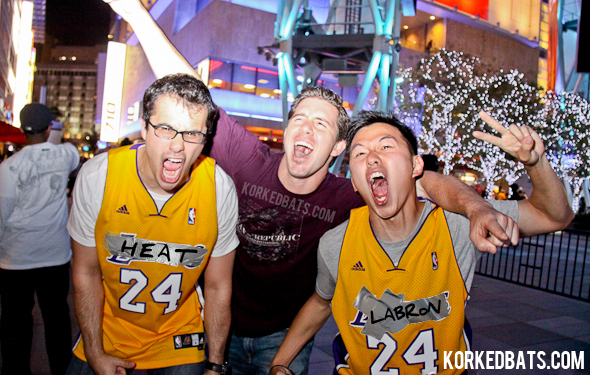 MIAMI — As the Miami Heat get set to play in the 2014 NBA Finals, their fans are in full preparation mode as well.
"Who's the guy that comes off the bench that kind of looks like one of the bad guys in Panic Room?" Miami Heat fan Braden Roper asked his buddies in the room. "That's Udonis Harlem," one of Roper's buddies responded. "No, that's not his name," another buddy responded. "It's Lou Donis Harlem!"
"What about the guy with the Kid n' Play haircut?" Roper asked. "That's Paula Cole's brother, isn't it?"
Like Roper and his friends, Heat fans have been gathering all over town to learn the names of the Heat players so they know what they're talking about during the NBA Finals.
"Heat fever is at an all time high," Miami-area sports talk radio show host Benny Gonzalez said. "It's really cool to see. Like, on game days, you'll see people check their phones for score updates immediately after leaving the night clubs. It used to not be like that. A lot of times people would forget to check the score until the next day, if at all."
Many Miami residents claim Heat fans get really excited for the start of basketball season every June. "It's a shame the season is only like three weeks long, though," Heat fan Ben Tomlinson said. In fact, at times, the city's passion for their team gets so intense, fans will sometimes bring up the Heat in conversations. "I just had a guy ask me the other day what LeBron's last name was. I got excited because I knew the answer!" Tomlinson said.
However, being a Miami Heat fan does come at a cost. "People don't realize just how hard it is to be a Miami Heat fan," Roper said. "Just four years ago, we had to memorize all of the names on the Lakers roster. Now we have to forget all of those guys and learn a whole new list of 12 players."
Roper continued, "Plus, it's hard to find time to learn the players names and go to the games with all the beaches and Latin night clubs we have here in Miami. That Pitbull music doesn't dance to itself, people!"
"It's nice because we sell a lot, and I mean a lot, of programs at the games," Heat Owner Micky Arison said before blowing his nose with a $100 bill.
• • •
This post was created by Austin. You can follow him and his jokes on Twitter: @TheAHuff
Also, for up-to-the-minute sports jokes, follow Korked Bats on Twitter: @KorkedBats