Lou Holtz Runs Out Of Spit, Hospitalized For Dehydration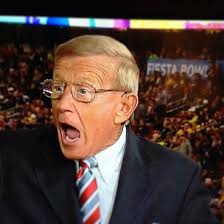 BRISTOL, CT- 76-year-old ESPN College Football Analyst and Hall Of Fame Coach Lou Holtz was hospitalized this past weekend due to severe dehydration suffered during an on-air segment.
Holtz, who coached Notre Dame to a 1988 National Title and is often mistaken for a real life Pixar character, was in the middle of his new segment called Holtz's Hot Seat, (or as Lou calls it: Holtsh'sh Hot Scheet) when he started to feel dizzy during a tough debate with fellow analyst Lee Corso over, well, who knows? Probably something about football.
"Lou was spitting and frothing all over the place," Corso said, as he continued to wipe spit off his tie. "I've never seen him so fired up. It was something about a punter? Or a computer? Something, who knows, but the poor guy just kept spitting like a broken sprinkler."
ESPN told us Lou Holtz's segments can cause anywhere to $5,000 to $25,000 worth of water damage to the studio's equipment. "I had an easier time covering hurricanes for The Weather Channel," ESPN Cameraman Tim Connors said.
ESPN President John Skipper said that while he was worried for coach Holtz he knew it was just a matter of time. "That guy can drown you in two things during conversation. His knowledge of football and his old guy spit. For a while there, his co-host Mark May required a sneeze guard during TV tapings. May told me it was like a Gallagher concert."
Corso went on to add that Holtz's new segment may need to be cut or shortened in the future. "I loved being on there with Lou, but he's not used to talking that much without a water break or something. Maybe ESPN can foot the bill for a giant hamster feeder, or do the show mermaid-style underwater?" Corso then stared off into the distance for the next half-hour making swimming motions, humming The Little Mermaid songs.
While the vast amount of ESPN College Football Gameday studio shows will continue as normal for the sports entertainment giant, President John Skipper said that it's just not going to be the same for a while. "I know Lou will be back. He is a cornerstone of our college football programming. I did just get off the phone with Lou, and he wanted everyone to know he is ok. He then said something about a duck, before the phone sounded like it had a bad connection. Turned out it was just him laughing for some reason. Ill be honest, I have no clue what he said, I never know what he's saying, but he will be back in a couple weeks."
Doctors claim Holtz, who often gets mistaken for a ventriloquist's dummy, literally spit out every fluid he had in his body, thus causing his dehydration.
• • •
This post was created by Joe. You can follow him and his jokes on Twitter: @JoeShowShow
Also, for up-to-the-minute sports jokes, follow Korked Bats on Twitter: @KorkedBats