Let's Relive 8 Of The Greatest, Worst, & Often Forgotten Memories of Antonio Brown
With so much uncertainty in the world these days, it's hard to find news that would be deemed "normal." Before coronavirus dominated the conversation, one thing that was almost guaranteed to be in the news was something related to disgruntled wide receiver Antonio Brown. Antonio kept his name in the news more than the Presiden- OKAY that's a lie, but he damn well tried his hardest to at least keep up with the Kardashians.
Earlier this year (read: six years ago, before coronavirus started) Antonio teased the idea of making his grand return to the NFL after his VERY short stint with the Oakland Raiders and New England Patriots. But fast forward to now, and it appears he's teasing the idea of retiring from the game of football altogether.
If AB is actually retiring (this time), football is going to be losing an absolute content factory. The man, whether he realized it or not, was pumping out headlines more than anyone else in the NFL. Being from Pittsburgh, I may be a bit biased regarding my thoughts on Antonio Brown, but I feel that it is my duty to report on the things that people may not remember. It's like Nic Cage's career. Sure there's been a lot of trash lately, but people forget he won an Oscar for Leaving Las Vegas in 1996. People also forget the gems Antonio Brown gave us early on too. The man is an amazing talent and freakish athlete on the field… it's just off the field, well, not as much. So let's breakdown some of the highlights (or lowlights depending on how you look at them):
"The Lego" haircut

No AB is not playing expert-level tetris, that's his actual hair. Everyone knows wide receivers can't block, but they can certainly block their hair. This is just AB's version of blocking out the haters.
[divider][/divider]
[divider][/divider]
[divider][/divider]
[divider][/divider]
[divider][/divider]
[divider][/divider]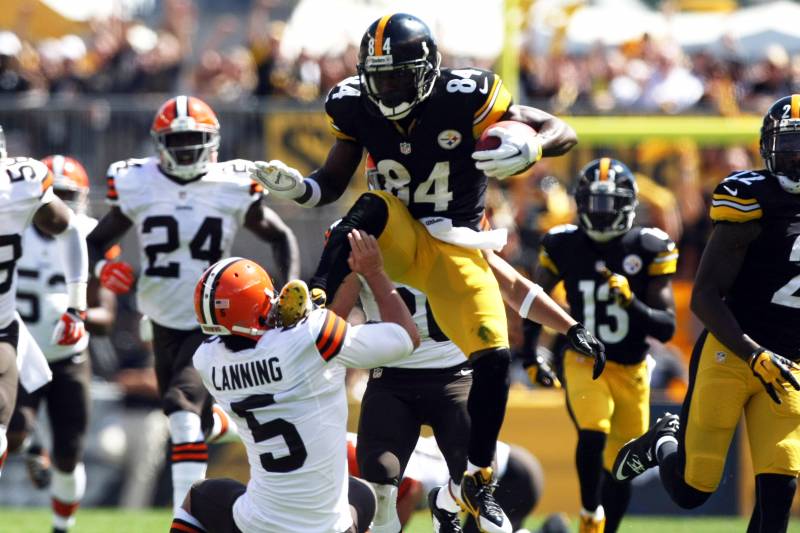 [divider][/divider]
[divider][/divider]
So there you have it, 8 highlights for number 84. Something tells me that this won't be the last we see of him. But if it is (it won't be), thank you for the memories Antonio!