Let's Play A Game Of Rostered Tennessee Titans Player Or Made-Up Name?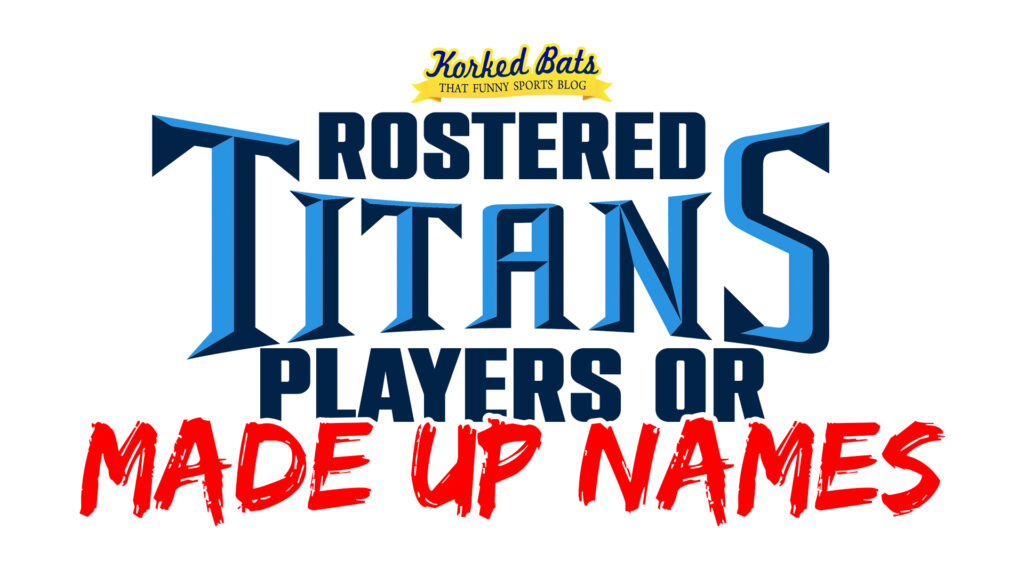 For the second straight season, the Tennessee Titans have played the most number of players in a season due to injury. They are far and above the most injured franchise in the NFL. Meaning each week, Titans fans are greeted with tweets like these:
Are those actual names? I don't know. They could be? But it just goes to show you how deep into the bottom of the NFL player barrel the Titans have scraped to find enough guys to fill out their 53-man roster. But that led me to bust out one of America's favorite games: Rostered Tennessee Titans Player or Made-Up Name?
So we put together a list of names from the Titans' actual roster, practice squad, and injured resrved, and mixed them in with a few made-up names and want to see if you can tell the difference.
Let's play!
NAMES:
1. Tarell Basham
2. Paxton Reesing
3. D'Prentice Rakestraw
4. Le'Raven Clark
5. Davontae Harris
6. Danny Isidora
7. Lonnie Johnson Jr.
8. Mike Hall
9. Kyron Brown
10. John Reid
11. D'Anthony Pettis
12. Rascal Beantree
13. Jamarco Jones
14. Daniel Munyer
15. Prince Kollie
16. David Goodwine
17. Da'Shawn Hand
18. Joe Jones
19. Seven McGee
20. A.J. Green
21. Kevin Strong
22. Thomas Odukoya
23. Donovan Smootskin
24. Andrew Rupcich
25. D'Andre Ferguson
26. Jayden Peevy
27. Caleb Shudak
28. Kobe King
29. Reggie Roberson Jr.
30. Kyle Rapport
[divider][/divider]
ANSWERS:
Real names are in bold.
Tarell Basham – Tennessee Titan
Paxton Reesing
D'Prentice Rakestraw
Le'Raven Clark – Tennessee Titan
Davontae Harris – Tennessee Titan
Danny Isidora – Tennessee Titan
Lonnie Johnson Jr. – Tennessee Titan
Mike Hall
Kyron Brown – Tennessee Titan
John Reid – Tennessee Titan
D'Anthony Pettis
Rascal Beantree
Jamarco Jones – Tennessee Titan
Daniel Munyer – Tennessee Titan
Prince Kollie
David Goodwine
Da'Shawn Hand – Tennessee Titan
Joe Jones – Tennessee Titan
Seven McGee
A.J. Green
Kevin Strong – Tennessee Titan
Thomas Odukoya – Tennessee Titan
Donovan Smootskin
Andrew Rupcich – Tennessee Titan
D'Andre Ferguson
Jayden Peevy – Tennessee Titan
Caleb Shudak – Tennessee Titan
Kobe King
Reggie Roberson Jr. – Tennessee Titan
Kyle Rapport
SCORE GUIDE
If you got…
0 correct… C'mon now, you really thought Rascal Beantree was an actual person?
1 to 10 correct… This is where most people should live. Whether you like the Titans or just play a lot of fantasy football, you should be able to determine at least some of these names.
11 to 24 correct… The fact that you can tell this many fake names from rostered Titans means you clearly need to see a therapist.
25 or more correct… You're clearly either a diehard Titans fan who thoroughly enjoys pain or you're Paul Kuharksy.
Unreleated, here's a video from last year that aptly applies to this year: