Let Me Be Frank With You…
Kyle Efaw was
frank with us.
As most of us saw the other night, Fiesta Bowl MVP Kyle Efaw responded to a question from Fox's Chris Myers regarding whether or not his team has a right of being #1 by saying, "No, probably not."
I like this for obvious reasons.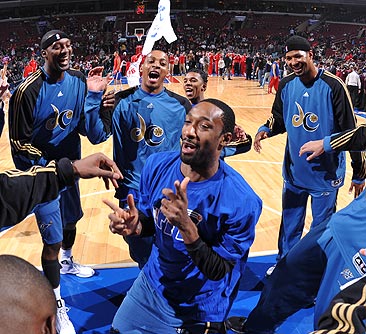 At least Gilbert Arenas
has a sense of humor.
Fresh off of allegations (and now an indefinite suspension) of pulling a gun out on a teammate in the locker room during a dispute, Gilbert Arenas, in an attempt to make light of the situation, fake shot his teammates in a huddle during last night's game. Eh, not the smartest move, but I thought it was funny and I probably would have done the same thing. However, David Stern didn't think it was funny. I don't think David Stern is funny. He doesn't think it's funny because he is the commissioner of the NBA and is a millionaire with a Columbia Law degree. I think it's funny because I write for a non-profit blog with my degree from the University of Tennessee. Speaking of…
It has GOT to be
embarrassing to be
Tennessee Volunteer
fan right now.
I'm not going to dive too far into this because a good portion of our readers go to school there and I get my fair share of hate mail when I say anything negative about them (which these days means text and Facebook messages) but what in the world is going on over there? Lane Kiffin and company have been nothing but a non-stop circus of violations ever since arriving in Knoxville which was capped off with an armed robbery which included three players and a baggy of green stuff. Then all this nonsense comes out about FOUR players in a car with two guns, one of which with an altered serial number, an open container, an odd smell, and you guessed it, a baggy of green stuff. All illegal issues aside, how DUMB can you be? One funny thing that has come out of all this however is Bruce Pearl's accidental pun in a press conference explaining the loss of four of his players in which he said, "We've got weapons. We still have got weapons".
Here's the video
. His reaction to letting these words slip is priceless. Fast forward to the 0:54 mark. Tennessee takes on Charlotte tonight with 9 players. If you feel enraged that I said something about UT, how about you join MVC (Most Valuable Commenter) Will and discuss it in the comments section rather than annoying me elsewhere.
The GMAC Bowl
comes on tonight.
Why? I don't know. Please don't support this silly practice of scheduling bottom of the barrel bowls in the midst of BCS Bowls by watching it.
Al Gore, I hate you.
I'm not even going to look up the temperatures across the U.S. right now because it really isn't necessary. Just go outside. Because chances are you have been trying to avoid that for a week now. It's freaking cold. Horribly, unfathomably cold. And it doesn't look like it's going to get any better any time soon. So please Al Gore, show us some of this global warming crap you've been wasting our time and money with even since your little bitter, emotionless self lost the election to G-Dubya. What a lame excuse for a political figure you are, Al. And you still haven't proved in any way, shape, or form, anything when it comes to global warming. You know why? Because it doesn't exist idiot. The global climate changes with time, sometimes up, sometimes down. Oh yea, and I'm glad you've really taken this tree-hugging "Go Green" stuff seriously as made evident by your
$30,000 electric bill
. Give it up Al. Go invent something like the internet again.