Let Me Be Frank With You…
ALTERNATIVE SPORTS EDITION
In my post last week I asked for more feedback from you all in the form of post ideas, feedback, or hate messages. Well, I did get a post idea. Will Drumright, a University of Alabama Ultimate player (but more importantly Korked Bats' number one fan by a landslide) suggested I do a post on my take on "alternative sports" such as ultimate. You ask and you shall receive. Here you go.
. . . . . . . . . . . .

Ultimate
A few weeks ago I wrote a post about the 5 people you always end up playing in pickup basketball. One of the people on that list was the"guy who never stopped running". Well, that guy also plays ultimate. First of all, when did they drop the "frisbee" part of the name? I must admit, there isn't much manly about a frisbee. This is about like the time Hawaii went through a complete nickname metamorphosis. They were the "Rainbows", then they realized how flamingly awful that was so they changed to the "Rainbow Warriors". That name was about like Ultimate Frisbee. One fearsome word matched up with one just the opposite. So, they dropped the "Rainbow" part all together and our now the Hawaii Warriors. Ultimate Frisbee players took note of the ability to change the name of something to make it automatically cooler and did just that when they dropped the "frisbee" part of the name. And it worked.
Friend: "Hey Frank, want to go play ultimate frisbee?"
Me: "No, that's gay."
A couple years later…
Friend: "Hey man, let's go play ultimate."
Me: "OK, yea, I'll do that."
See, it worked. All in all, I do respect the sport of ultimate because it takes a great deal of endurance, athletic ability, speed, accuracy, and strategy. I just wish I knew how to throw a frisbee.
Rock Climbing
I had a friend in college who always went rock climbing at the rock wall on campus. He used to ask me to join him but the thought of climbing a wall with fake rocks bolted in it just didn't appeal to me for some reason. One day (I must have been really bored) I said OK. Well, it wasn't fun. The easy paths were too easy and the difficult ones were too difficult. The whole experience was just kind of awkward as I waited and waited for the fun part. There was no fun part. Once you get to the top of the wall you don't get a piece of the Agrocrag. So what's the point?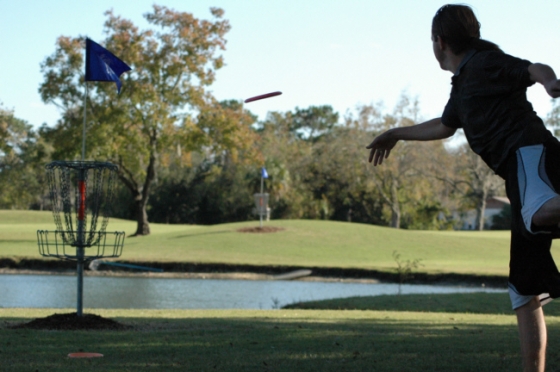 Disc Golf
Let me start out by saying that is by far the best disc golf course I've ever seen. If I were to somehow find myself on a course such as the one pictured above, my opinion on the sport may be a little different than it is now. But that picture must be photoshopped or something because every disc golf course I've seen has just been a series of those ugly metal things propped up in some unused area of land whose owner didn't feel like putting a real sports field on. I will say I have never played so take my opinion with a grain of salt (as if you valued it before). Too much walking, too little fun, and too repetitive are things that come to mind when I think about this lame sport. Why don't you just play golf instead?
X-Games Stuff
There are sports fans, and there are X-Games fans. These two usually don't mix. I feel like skateboarding, snowboarding, biking, rollerblading, and whatever the rest of the sports these types of people play are more like hobbies participated in by a group of people who just didn't get born with the sports gene and needed a way to use their energy. They are more worried about their image and rebellious attitude than the art of competition. Of course, the pros are pretty impressive, but that still doesn't raise my level of caring any.
Lacrosse
Is it just me, or is lacrosse the sport with the greatest percentage of unathletic people people who play it? Don't get offended if you play lacrosse. Maybe you're one of the athletic ones, but probably not. Why do we play this sport still? It's dumb, boring, and too much like that game of toss you play on the beach with tennis balls and that curved slingy thing. Why do they even use that stick? Handball should be more popular than lacrosse and I can't understand why it's not